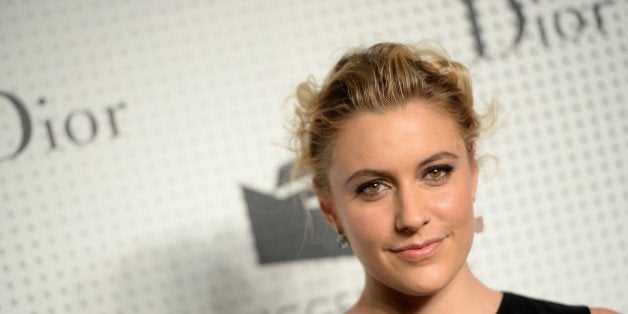 As an actor, writer, producer and director, Greta Gerwig has had plenty of experience both behind and front of the camera. All that experience has given her an often disconcerting look at the absurd expectations we place on female characters and, as she put it, "women in general." The Huffington Post caught up with Gerwig to talk about her most recent role in the film "Eden" and that pesky (and sexist) "likability" problem, which plagues fictional and nonfictional ladies alike.
What drew you to working on "Eden"? Stylistically, you and Mia Hansen-Løve seem like such a great fit.
I was a really big fan of Mia's after [her 2009 film] "Father of My Children." I just thought she was brilliant. I never thought I would get the chance to work with her because she worked with French actors. But then a friend of mine who is a producer told me she was putting together the movie that became "Eden" and said, "I'd like Greta to play our American girlfriend, but I can't get a hold of her." I said I would do anything! And then I did. We were both, from a distance, feeling each other. It's so great when you find out someone you admire also has an interest in you.
You've had a diverse career, managing to act, write, direct and produce. How do you chart your career in terms of choosing what form of storytelling to focus on?
I'm taking it project by project. That's what I've always done. I think I have a compass in a way. I try and check back in with myself to make sure I'm following true north. I don't have an architecture planned for my career or anything like that, but I think it's definitely evolved and I've been very lucky working with people I admire.
Especially with acting, you're so rarely choosing your career. You're hoping you get jobs and then you're hoping you get to work with people you like. So, I find it impossible to micromanage. In terms of writing, I think that's become more of a constant, and much more the meat of what I do.
Next up you have "Mistress America," another collaboration with Noah Baumbach. I've seen it described as "Frances Ha" all grown up. In what ways is it a follow-up?
The story is very different. It's more a madcap '80s movie with larger-than-life characters and a real farcical element. I mean, it's about women again. And I'm one of them, again. It's not a companion piece, but the real similarity was that when we sat down to write it, we said, "Let's write a story mainly about women that has nothing to do with romantic intrigue." I hope to make dozens of movies about relationships between women in different ages and times and configurations that are only about that, and not who they have sex with or don't have sex with.
Do you think removing the romantic interest is a major factor in developing nuanced female characters?
Yeah, even if I look at "Eden" as a movie that's true. "Eden" is about a man, but you rarely see that story told about women. It's a worthy journey ... whether it's a woman's journey or a man's journey. But what I love about Mia is that obviously she's a female and a filmmaker, and it's not just, "Make great female characters." She just makes great characters. Period.
Our world is equally weighted and populated by people of both genders. I mean, I think she's a real voice for people, which is really what it's about anyway.
Even with narratives that may seem interchangeable in terms of gender, we have this pesky "likability" issue for female characters. How have you experienced that?
I don't understand it! Of course, I live in this culture and I think likability is not just an issue for characters, it's an issue for women in general. It can be a real straightjacket limiting life. It can feel like you're operating outside of social norms when that's your highest value: to be liked. I think it's really tricky.
Even now, when I'm talking to you or doing an interview, I'm aware of coming off a certain way or not wanting to be too strident or say something too "out there," because of the potential for it to be taken out of context and become a pillory for me. I mean, I don't think that's specific to women. The world is capable of doing that to men too. But I think it's true moreso for women. Especially if they're artists, writers or creators of characters, it's at a pitch and a level that is somehow much more than what is directed at men.
Definitely. One of the theories on why CBS dropped "How I Met Your Dad" was that executives worried whether your character was "likable."
I was in New York and working on other things, so I didn't really get too involved with why they didn't want it. I mean, also, that's just a tool to make yourself crazy, so I didn't think about it too deeply. I can't really speak to what them not wanting it had to do with likability, but that would not surprise me.
"Eden" is now out in limited release.
Calling all HuffPost superfans!
Sign up for membership to become a founding member and help shape HuffPost's next chapter
BEFORE YOU GO
PHOTO GALLERY
The Multiple Facets Of Modern Feminism