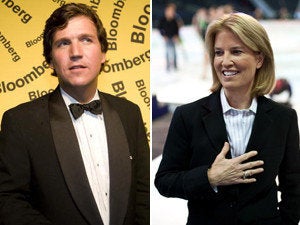 Greta Van Susteren denounced Daily Caller owner Tucker Carlson for publishing Mike Tyson's sexually-graphic comments on the alleged one night stand between Sarah Palin and basketball player Glen Rice.
The headline of the item on the Daily Caller website, which Carlson owns, referred to Rice as "the womb shifter." The post then went on to quote Tyson's crude and offensive depictions of Rice and Palin's alleged sexual relations and interracial sex.
A seething Van Susteren took to her blog to denounce Tyson's comments and Carlson's decision to publish what she called "vile" content. While she called Tyson "a thug," she reserved most of her ire for Carlson, a friend whom she said should have exercised better judgement as a journalist, a husband and a father.
The Fox News host called him "a pig" and a "purveyor of smut," insisting that the post constituted "violence against women." She accused him of publishing the sensational quotes to boost traffic to his website, which she suspected "is not doing well."

She also insisted that her reaction was not about being for or against Palin, but standing up for women in the media.
Carlson defended the publication of the story as newsworthy to Politico on Monday, adding, "We didn't endorse what Tyson said; we in fact condemned it." He will appear on Van Susteren's show "On the Record" to discuss the story on Monday night at 10 p.m.
REAL LIFE. REAL NEWS. REAL VOICES.
Help us tell more of the stories that matter from voices that too often remain unheard.