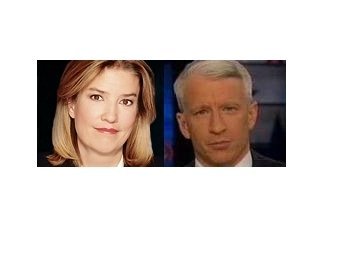 Last night, Greta van Susteren bared her fangs and took a giant chunk out of Anderson Cooper's neck, calling him out for hypocrisy, accusing him of exploiting Katrina, and labeling him a "marketing experiment." Happy 4th!
Van Susteren reacted comments from AC 360 executive producer David Doss on TVNewser, taking to her blog at 11:43 p.m. to "keep them honest," riffing on Cooper's frequent AC360 tagline. Doss had dismissed van Susteren's "On The Record" as "not a news program...It's missing-person-of-the-day."
Respnded van Susteren, seeing red:
"What I don't get is that Anderson Cooper recently blogged and bragged that he did not take shots at the competition (meaning me and meaning ON THE RECORD.) Do take note: I did not fire first. I have been doing my own job and not insulting them or trying to make less of them...Coooper lets his surrogate attempt to make less of our show....my executive producer did not and would not do this and I would not permit it."
Van Susteren proceeded to "KEEP THEM HONEST" by taking AC 360 to task (noting that she requested the information because she doesn't watch the show), saying "do not be fooled...CNN at 10pm does crime. I have a giant list of crimes CNN has covered at 10pm. Here is the difference - we do it better." (She did give them the edge on the polygamy story though: "it is because they have so much more experience with the polygamy story than any other network." Zing!)
But the real zingers went straight to Cooper's credibility as a newsman. Essentially, her withering criticism came down to three points:
People in the biz laugh at Anderson as a "marketing experiment" — incuding people at CNN
He's the only anchor to have exploited Katrina for financial gain
He gets his information off a teleprompter
Wow. Those are fighting words. Here's what she actually said:
On Anderson as "marketing experiment":
To paraphrase MS/NBC's Keith Olbermann, yes many in the news industry behind the scenes - even my friends at CNN - laugh about the fact that CNN's 10pm show has been a "marketing experiment." It has been rumored that in one year they spent about 27 million dollars in advertising of Anderson Cooper in their experiment. No network has ever spent that kind of money just to market one person. By the way, the President of CNN told me that Anderson Cooper has a staff of nearly 60. We beat them with our staff...of about 12...They have put Anderson Cooper on plastic bags like they are selling breakfast cereal.
On "exploiting" Hurricane Katrina:
You would think with all their marketing that Anderson Cooper was the only one who covered Katrina....we were there, all producers were there, all my colleagues were there...but guess what? so was every one else in every news outlet in the nation!! The fact is that all the other news organizations had the dignity not to try and make a marketing experiment out of a giant catastrophe! Only one anchor wrote a book and thus collected money from Katrina. The rest of us saw the suffering and simply reported it rather than exploit it.
Unlike those on the side lines, I am the real thing - I spent 15 years in the criminal courts trying criminal cases and don't get my information from a teleprompter.
You know it's bad when Fox is siding with Olbermann...there is a lot of damning stuff in here. Should be interesting to see how CNN responds.
REAL LIFE. REAL NEWS. REAL VOICES.
Help us tell more of the stories that matter from voices that too often remain unheard.