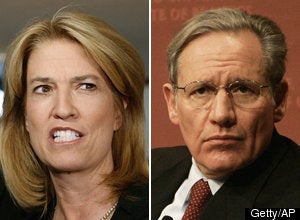 Greta Van Susteren announced that she canceled an interview with Bob Woodward because his publishers refused to give her a copy of his new book prior to the interview.
In a post on her blog on Thursday, Van Susteren said that she had planned to interview Woodward about his new book, "Obama's Wars," which gives a behind-the-scenes account of Barack Obama's handling of the war in Afghanistan. However, Simon and Schuster, the publishers of the book, apparently declined her request. Van Susteren expressed her anger at Simon and Schuster's decision in the post:
ON THE RECORD at ten is not the Home Shopping Channel - I actually read the books before I do the interview out of respect for the viewers (to do my best job) ..out of respect to the authors..and so that the audience does not get played by the author running the content of the interview. So...the interview is cancelled. You might ask others if they read the books before they do book interviews....
In a followup post, Van Susteren added that the interview had been set for Sep. 30 — three days after Woodward's book is published — but that she had asked Simon and Schuster for more time to read it.
"I need a weekend to read it since I work long days and can't get it read between Monday and Thursday," she wrote. "We told the publisher we needed it before the weekend so I could read it and better prepare and they declined."
Van Susteren's move received an approving tweet from fellow cable host Rachel Maddow, who wrote, "right on, Greta!"
While Van Susteren backed out of the Woodward interview, ABC's Diane Sawyer will interview the author. The New York Times also managed to get a hold of a copy of the book before its release, and it disclosed some of the book's contents earlier this week.
Popular in the Community