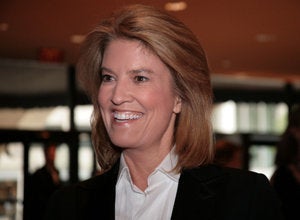 Fox News' Greta Van Susteren is well-known for taking to her blog to trash her former network, CNN. But last week she took the odd step of defending MSNBC against claims that their Inauguration Day ratings were disappointing. She posted on her blog Thursday:
Here is my theory: I think their viewership at MS/NBC got cut in half by NBC - their mothership which ALSO covered the events. CNN does not have a broadcast network to take their viewers so they kept their total audience. I don't know how much Fox Broadcast did to FNC or to what extent it had an impact on Fox News Channel, but NBC did have a large audience and I bet that means it stole lots of viewers from MS/NBC.

If you want to know how MS/NBC is doing you should look at routine nights not the spiked and unusual ones. What do you think? (Incidentally, MS/NBC has been doing very well recently.)
Greta explains that she posted the item in her ongoing effort to bring her readers behind the scenes of the cable news business. But one cable insider reached out to ask if the curious item had anything to do with Brian Stelter's New York Times article, published earlier in the day Thursday, that MSNBC is looking for a host to compete against Greta (and Anderson Cooper) at 10 PM.
The Huffington Post hears that Greta's contract with Fox News expires in mid-2010 — might that have anything to do with her sudden embrace of MSNBC? Or might she be hoping to team up with the third place network for a 1-2 punch against CNN and Anderson Cooper, who recently beat her in the Adults 25-54 demo for the 2008 year? If there's one thing for certain about Greta, it's that she doesn't like to lose — she likes to joke that Fox News took over the #1 spot from CNN the same month she came on board, and she often fixates about Anderson Cooper's ratings on GretaWire — so it wouldn't be surprising if the demo loss to AC 360 has led her to consider surprising moves, such as defending (or courting) a bitter rival.
REAL LIFE. REAL NEWS. REAL VOICES.
Help us tell more of the stories that matter from voices that too often remain unheard.