Greta Van Susteren, whose "For the Record With Greta" program was canceled by MSNBC on Thursday, was given every chance to succeed by the cable network, but she apparently never gained the trust of loyal MSNBC viewers who refused to see her as anything but a former Fox News host.
Van Susteren's program faced dismal ratings throughout its run. One particular statistic that alarmed insiders at MSNBC was that ratings would sink after anchor Chuck Todd's 5 p.m. "Meet the Press Daily" ended and her 6 p.m. show began. Typically, the ratings are supposed to go up throughout the day, not decline. According to two sources, Chris Matthews, who hosts "Hardball," was frustrated that Van Susteren's show preceded his at 7 p.m. Eastern time, which didn't help his ratings.
At a time when MSNBC as a whole has enjoyed a surge in ratings and when the network is No. 1 in the highly coveted demographic of viewers ages 18 to 65, Van Susteren's ratings were the one sore spot in the lineup.
MSNBC President Phil Griffin announced that Ari Melber, chief legal correspondent, is replacing Van Susteren. Melber has become a popular member of MSNBC's lineup and has been hosting his own program on Sundays, "The Point." He also regularly fills in for other MSNBC hosts, including its top anchors, Rachel Maddow and Lawrence O'Donnell.
According to two sources familiar with the matter, who spoke on the condition of anonymity because they weren't authorized to discuss network business, Melber started negotiating with MSNBC to replace Van Susteren in the past two weeks, but that was not known to Van Susteren.
CNN was the first to report that Van Susteren was in the midst of preparing for her program Thursday when she was told she was being pulled off the air. Van Susteren's husband, a prominent trial lawyer who also negotiates her contracts, told CNN that issues related to the termination of her contract were still being worked out.
Van Susteren was not given the opportunity to say goodbye to her viewers on MSNBC. Not allowing departing hosts to bid farewell on air became a de facto NBC News policy after Ann Curry's tearful goodbye on "Today" after she was pushed out in 2012. Curry's farewell led to a flood of harsh criticism of NBC News for her unceremonious termination.
MSNBC had been the third cable network that Van Susteren had hosted a program on. The lawyer started her television career at CNN during the O.J. Simpson murder trial in 1994 before moving in 2002 to Fox News, where she hosted her own program for 14 years. She left in September 2016, shortly after Fox News Chairman Roger Ailes was forced to resign.
Van Susteren, according to one well-placed source, did not have a lucrative contract with MSNBC, compared with what she had been paid at Fox News. That means the network won't be faced with having to pay out a hefty sum to terminate her contract. Additionally, Van Susteren, while hopeful that her show would be successful, always knew that "For the Record" was an experiment, given MSNBC's largely progressive audience, and that the risk of cancellation was always on the horizon.
Multiple sources within MSNBC, including those who told HuffPost they didn't want Van Susteren at the network, said she was affable, professional and well-liked. The sources who spoke to HuffPost didn't want to be identified because they weren't authorized to discuss internal network activity.
But MSNBC's announcement Jan. 5 that she was joining the network led to internal frustrations and external criticisms from viewers who didn't understand why the progressive network was hiring a former Fox News host. Van Susteren isn't a conservative ideologically, but the association with her former network and her support of Ailes after Gretchen Carlson accused him of sexual harassment hampered her image with loyal MSNBC viewers.
Internally, more than a dozen staff members expressed confusion over the decision to bring Van Susteren on, texting a reporter with complaints about her Fox News past, her continued public defense of Ailes despite multiple sexual harassment claims (she later apologized for supporting him) and the fact that she and her husband are prominent Scientologists who donate generously to the controversial organization.
The cancellation of her program comes at a difficult time for NBC News Chairman Andy Lack, who oversees MSNBC. While MSNBC is enjoying record ratings, Lack has been under fire for hiring former Fox News host Megyn Kelly, who has faced a torrent of criticism for her NBC interviews of Russian President Vladimir Putin and conspiracy theorist Alex Jones.
Lack shepherded Van Susteren's hire, but in the past few weeks it became clear that keeping her on the network was untenable. He hinted at that in an interview with The New York Times this month, saying, "It's not breaking out."
MSNBC invested money in a new set for Van Susteren's program, regularly ran promotions of her show during other programs and gave "For the Record" more than 100 episodes to succeed before pulling the plug.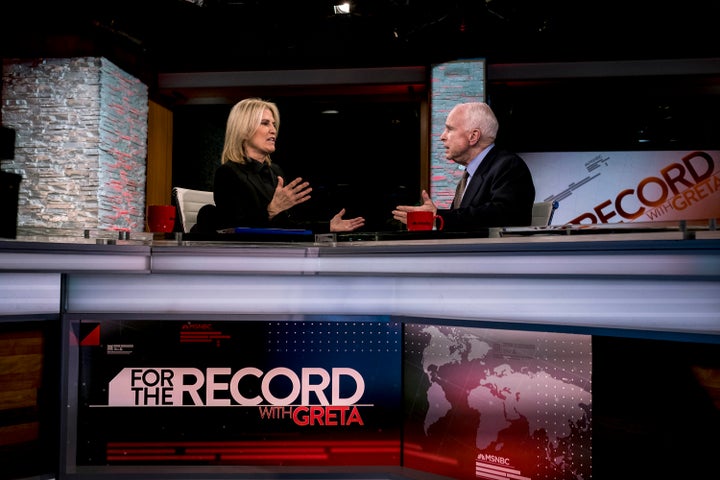 Van Susteren also didn't starve for A-list bookings. "For the Record" booked top-shelf guests from both sides of the aisle, and her debut show featured Sen. John McCain (R-Ariz.).
However, Van Susteren regularly had Donald Trump on her Fox News program before and during his presidential candidacy. But she was never able to book President Trump on her MSNBC program, which had more to do with the network she appeared on, MSNBC, rather than her relationship with him. A source close to the president said that Trump was a fan of Van Susteren and also noted that she was invited backstage at his celebratory rally in Alabama in December before his inauguration.
On Jan. 6, three days before her program launched, Van Susteren got the ultimate endorsement as far as MSNBC viewers are concerned: She was featured on the network's No. 1 program, "The Rachel Maddow Show," for eight minutes.
Maddow was effusive in her praise of Van Susteren, calling her a friend and praising her reporting and interviewing style. Aware of what her largely progressive viewers might think, Maddow was sure to mention that executives at the network had not asked her to have Van Susteren on her show and that she had made the decision because of her affection for her.
Maddow reminded viewers that she would regularly feature clips from Van Susteren's Fox News program as a way to highlight how much she respected her, adding, "If you want to count on your fingers how many times we on this show have played clips of Greta Van Susteren on this show, you could not do it. You'd need four extra hands."
Maddow wrapped up her introduction of Van Susteren by saying, "She has an uncanny ability to make newsworthy things happen when the red light is on the camera and she is on TV talking about the news."
While that may have been true at Fox News, that "uncanny ability" didn't carry over to MSNBC, where the biggest news related to her program was the announcement of its cancellation.
Popular in the Community