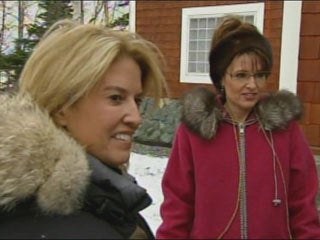 Greta Van Susteren has taken to her blog, GretaWire, to again hit CNN — this time for insulting Sarah Palin publicly and privately issuing an apology.
Greta also reports that CNN relayed to Palin, through a producer, an apology for including her on the list, though they did not publicly acknowledge the situation, leaving Greta with two questions:
1/ why didn't CNN PUBLICLY apologize for this one? they sure unfairly trashed her publicly on that list....should not exposure of the apology equal the round the world exposure of the unfair trashing? That is what is done in court - you do what is necessary to make the person whole in the damage done to the person...and then it is over.

2/ a producer? why did she get stuck doing the dirty work on this one? why didn't someone higher up the corporate food chain send the message of apology if CNN really means it? the job stature of the person making the apology can mean much. This IS the Governor of the largest state...a former candidate for VP....and the trashing went world wide and was really lousy....
Popular in the Community