NEW YORK ― Former "Fox & Friends" co-host Gretchen Carlson alleged in an explosive lawsuit filed Wednesday that Fox News Chairman and CEO Roger Ailes fired her for rebuffing his sexual advances and challenging a sexist newsroom culture.
Carlson, who spent 11 years at the network, described being ostracized and marginalized by Fox News for pushing back against condescending treatment. After seven and a half years as a co-host on "Fox & Friends," the top-rated cable morning news show, Carlson was reassigned in 2013 to an early afternoon time slot. Fox News terminated her employment on June 23.
In the suit, Carlson claims she tried addressing what she considered to be discriminatory treatment during a September 2015 meeting with Ailes, who allegedly responded that their problems could have been better solved if they had a sexual relationship.
"I think you and I should have had a sexual relationship a long time ago and then you'd be good and better and I'd be good and better," Ailes told Carlson, according to the suit.
Carlson also accused Ailes of engaging in persistently sexist behavior. She said he ogled her in his office, asked her to turn around to view her backside, and commented repeatedly on her outfits and her legs.
"Gretchen Carlson's allegations are false," Ailes said in a statement Wednesday evening. "This is a retaliatory suit for the network's decision not to renew her contract, which was due to the fact that her disappointingly low ratings were dragging down the afternoon lineup."
"When Fox News did not commence any negotiations to renew her contract, Ms. Carlson became aware that her career with the network was likely over and conveniently began to pursue a lawsuit," he continued. "Ironically, Fox News provided her with more on-air opportunities over her 11 year tenure than any other employer in the industry, for which she thanked me in her recent book. This defamatory lawsuit is not only offensive, it is wholly without merit and will be defended vigorously."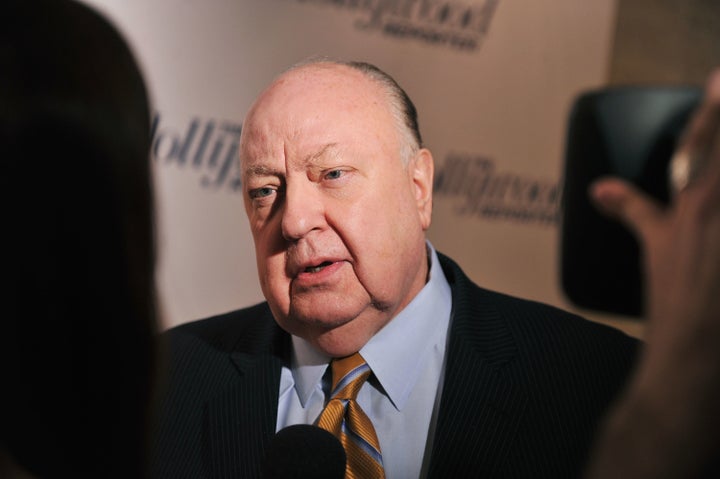 The former Fox News star's claims against Ailes, one of the most powerful figures in media and Republican politics, immediately rocked the TV world. The conservative news channel has long dominated cable ratings but remains one of the most opaque media outlets, with severe restrictions on employees speaking out of turn.
Allegations of a sexist culture inside Fox News spilled into public view in 2004, when a former producer accused primetime star Bill O'Reilly of sexual harassment -- claims that were accompanied by recordings of lewd phone conversations. O'Reilly settled the lawsuit. More recently, Fox News reportedly paid $8 million to ousted communications executive Brian Lewis, a close confidant of Ailes who intricately knew how the secretive network functioned.
In the book The Loudest Voice in the Room, Ailes biographer Gabriel Sherman spoke with television producer Randi Harrison, who claimed that during a 1980s salary negotiation, Ailes offered to pay her an additional $100 a week if she'd agree to have sex with him whenever he wanted. A Fox News spokesperson denied the claim at the time of the book's release.
Sherman also reported in his book and for New York magazine that Ailes wanted to highlight female hosts' and commentators' legs on camera. NPR's David Folkenflik, who has written a biography of Rupert Murdoch, has described how women working at Fox News are arranged on air based on their perceived attractiveness and shot with what's been dubbed the "leg cam."
According to Sherman, Ailes once told Carlson that her victory in the Miss America pageant in 1989 meant it "must not have been a good year."
"Although this was a difficult step to take, I had to stand up for myself and speak out for all women and the next generation of women in the workplace."
In her suit, Carlson also accused "Fox & Friends" co-host Steve Doocy of engaging in a "pattern and practice of severe and pervasive sexual harassment" that included "mocking her during commercial breaks, shunning her off air, refusing to engage with her on air, belittling her contributions to the show."
Carlson said she complained in September 2009 about Doocy creating a hostile work environment by "putting his hand on her and pulling down her arm to shush her during a live telecast," among other things.
Carlson has remarked before about the difficulty in speaking out about sexual harassment, especially when someone is at an early stage in their career. In a June 2015 Huffington Post blog post, she admitted she might hesitate if a young woman sought her advice about coming forward.
"It's well and good to say, 'Expose the harassers,' but even with laws and HR departments, we're unfortunately not at a place where we can say absolutely that a woman who is harassed will be protected from repercussions if she tells," Carlson wrote. "Those repercussions aren't just the obvious trauma of being publicly involved in a scandal. They can be more insidious — an aura of doubt about her reliability, her stability and her toughness that could have an impact on her career growth. No wonder most women just prefer to move on and not tell."
In a Wednesday statement, Carlson said she's has "strived to empower women and girls throughout my entire career."
"Although this was a difficult step to take, I had to stand up for myself and speak out for all women and the next generation of women in the workplace," she said. "I am extremely proud of my accomplishments at Fox News and for keeping our loyal viewers engaged and informed on events and news topics of the day."
This story has been updated with additional information about sexual harassment accusations involving Roger Ailes.
Support HuffPost
The Stakes Have Never Been Higher
Related
Popular in the Community