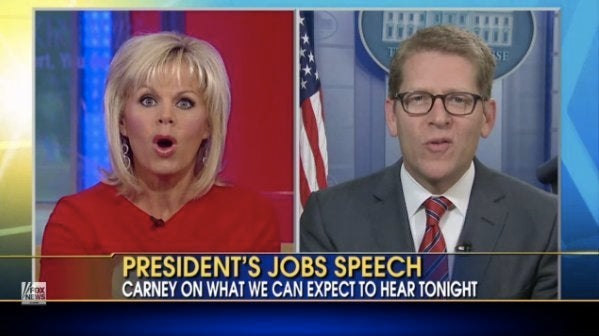 "Fox and Friends" host Gretchen Carlson and White House press secretary Jay Carney had a lively debate about President Obama's upcoming jobs speech on Thursday.
Obama is slated to speak to Congress on Thursday night, but some details about his plan -- which will be called the "American Jobs Act"--have begun to leak out. Carlson quizzed Carney about reports from Fox News correspondent Ed Henry that the plan will cost $400 billion. Carney said that the plan was fully paid for and was loaded with items that have had bipartisan support in the past.
Carlson was concerned with the price tag and with what was new in the bill. "Why say I'm going to go on vacation for a month and then I'm going to come back and give this grandiose speech if it's going to be the same thing they've already heard?
"Wait, wait, wait, wait," Carney said testily. "I'm not sure whose talking points you're reading." He said that the speech would have new items along with old ones like an extension of the payroll tax cut.
"We've already had that!" Carlson cried. "That's not new! "Is that a bad thing?" Carney said. "That it creates jobs?" Carlson said that all she saw were "dismal" job figures.
"I'm not sure if you've talked to any economists--" Carney said. "Tons!" Carlson shot back. Carney said that all economists agreed that the tax cut was a good thing, but that outside forces like the Arab Spring and the Japanese tsunami had also affected the economy.
"Mr. Carney, with all due respect, we've heard all of those excuses before," Carlson said.
WATCH:
REAL LIFE. REAL NEWS. REAL VOICES.
Help us tell more of the stories that matter from voices that too often remain unheard.