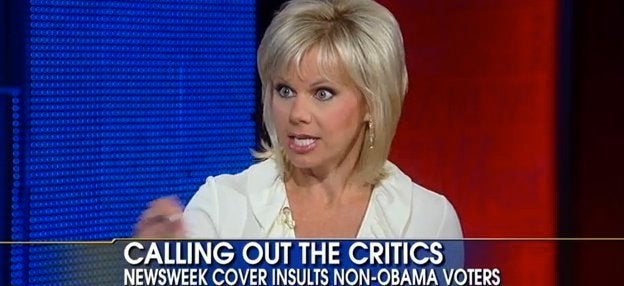 Talk show host and former Mayor of Cincinnati Jerry Springer appeared on Fox News' morning show on Wednesday, and got into a tiff with "Fox and Friends" host Gretchen Carlson.
Carlson moderated a panel on Newsweek's controversial cover story, "Why Are Obama's Critics So Dumb?" Springer praised the article and defended Obama's accomplishments. Springer also told Carlson that he thought it was "a little disingenuous" for Fox News to "complain" that "Newsweek may be a little partisan."
"Yeah they have a pretty good track record with that," Carlson said. She added that the article's author, Andrew Sullivan, was the "the same person who tried to start that whole conspiracy about Sarah Palin's Down syndrome son, and whether or not it was actually her child. So take that into note."
Later in the segment, Carlson went back to Springer to comment, though he seemed more focused on discussing Fox News than the Newsweek. Speaking to Carlson, Springer said, "We're here on Fox News, every single day you guys bash President Obama."
"I'm going to take you to task on that because on this panel right here, we have a fair and balanced panel right here," Carlson said.
"What about the rest of the show...Every single morning you guys are slamming Obama. You know you are," Springer said.
Carlson wrapped up the panel by telling Springer more about the show. "By the way Jerry," Carlson said. "You obviously don't watch our show, because you do not understand that there's a reason, I'll speak for myself, I sit in the middle as the independent on the panel, and quite frankly, we present both sides of the story, and we leave it up to our viewers to decide where they fall."
REAL LIFE. REAL NEWS. REAL VOICES.
Help us tell more of the stories that matter from voices that too often remain unheard.
BEFORE YOU GO