What allegedly happened to Gretchen Carlson isn't as unusual as you might imagine. Even in 2016, sexual harassment and retaliation happen far more at work than many realize.
What's exceptional is that people actually know about Carlson's complaints ― even as Fox tries to have her silenced.
In a lawsuit filed July 6, the 50-year-old TV anchor and former Miss America claims that her boss, Fox News chairman and CEO Roger Ailes, made inappropriate, overtly sexual comments about her appearance and belittled her complaints about sexist, condescending and inappropriate treatment by her cohost Steve Doocy.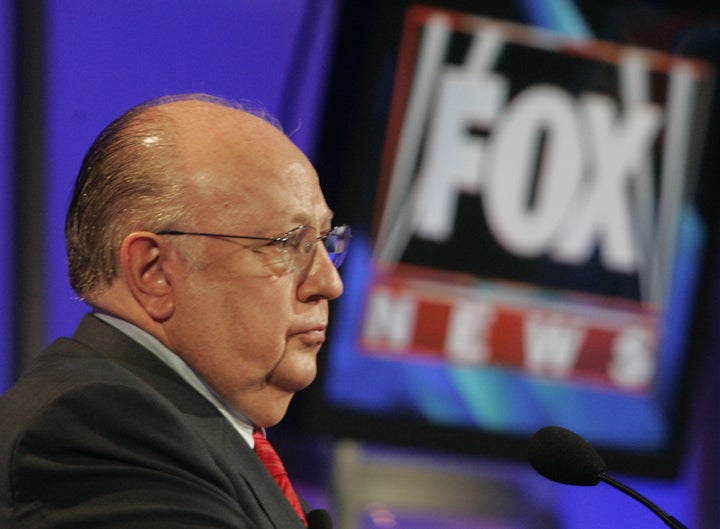 Ailes, she alleges, went so far as to sexually proposition her. "I think you and I should have had a sexual relationship a long time ago and then you'd be good and better and I'd be good and better," he told her, according to the suit. She turned him down and soon after, in late June, he declined to renew her contract, essentially dismissing her from the company.
Ailes has denied Carlson's claims, claiming that she filed her suit in retaliation for not getting her contract renewed.
It's rare to see a fight like this play out publicly. Companies want to keep sex harassment charges quiet for obvious reasons. Ailes' lawyers, too, want Carlson to shut up. Days after she filed her lawsuit, they filed a motion to move the case to what would be essentially a secret courtroom.
They demand it be tried using arbitration, an increasingly common method of resolving disputes. Carlson agreed to arbitration when she signed her employment contract, they argue. That means disputes arising out of her job are to be heard by three arbitrators ― typically lawyers or retired judges, typically white males, who may have worked with Fox on other cases.
Under arbitration, Carlson's legal team would likely have only limited discovery, a crucial process by which either side can obtain evidence and depose witnesses. They'd have little recourse for appeal.
Possibly worse, under the terms of the contract ― called draconian by experts who spoke with The Huffington Post ― they'd be forced to remain silent about their claims and the proceedings.

"This is not just an arbitration clause, it's an extraordinary overbroad gag order," said Cliff Palefsky, an employment and civil rights lawyer who has been speaking out against arbitration clauses for decades. "If read literally you can't even talk to witnesses about what they saw."
That means Carlson couldn't get evidence from other women who may have been harassed by Ailes ― a few of whom have already come forward with their own allegations.
"Forcing victims of sexual harassment into secret arbitration proceedings is wrong," Carlson said in a video posted to Twitter Wednesday.
"Gretchen intends to fight for her right to a public jury trial, a right protected by the discrimination laws and our Constitution," Carlson's lawyers said in a statement. "It is disturbing that the head of a large media company would try to silence the press and hide from the public a matter of such importance."
Carlson's lawyer Nancy Smith told HuffPost they would file an official response in the court on Monday. They'll argue that because Carlson has not sued Fox News, she is not bound by the terms of her employment contract.
"Gretchen made the decision to sue Roger Ailes because he's the actual perpetrator and she wanted to hold him responsible," Smith said. "It's unlikely that Roger Ailes was told by Fox to sexually harass Gretchen Carlson."
Carlson told The New York Times recently that she is coming out about her experiences to stand up not only for herself, but also for "other women who maybe faced similar circumstances."
And there are plenty of them out there. One in three women say that they've been sexually harassed at work, according to one survey.
"Attorneys like me we know the burning secret. Sex harassment is pervasive in the workplace. It is widespread," said Gloria Allred, a well-known lawyer who's worked on landmark sex harassment and assault cases. "The typical person wouldn't know the extent, scope and severity because there are so many confidential settlements."
Many women fear telling their stories, said Allred, who's represented several female TV anchors in discrimination and harassment suits and is currently representing more than 30 women who accuse Bill Cosby of sexual assault.
"Many anchors we've represented are very concerned that if they would file a public lawsuit, that they may be blackballed in the future, that they won't work again," she added. "This is their fear; I'm not saying it's the reality."
But Carlson is a powerful woman who earned more than $1 million a year at the time her contract expired. She and her lawyers aren't afraid: They are seeking a public jury trial.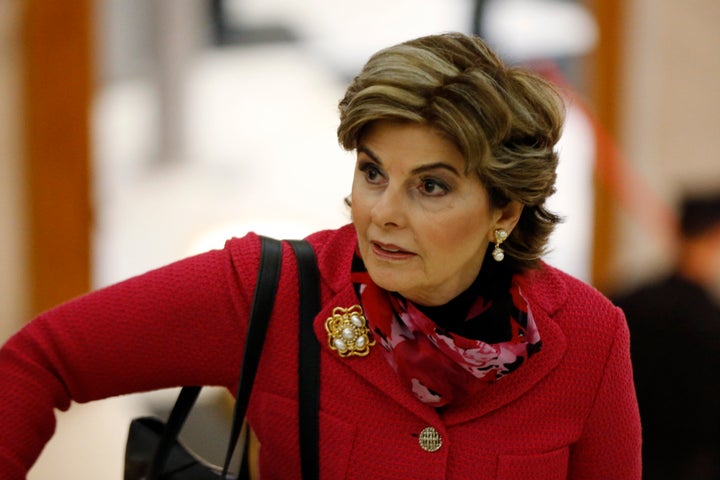 Mandatory arbitration has become extremely common practice for employers, who essentially force workers to sign contracts agreeing to it before they officially take on a new job ― at a time when the worker is clearly in a weaker bargaining position relative to their future employer.
"Arbitration of discrimination cases is not in the public interest," said Palefsky.
He emphasized that when Congress passed laws protecting workers' civil rights ― including freedom from sex and racial discrimination ― it was certainly not its intent to block people from getting a fair public hearing of their complaints.
This is not a theoretical matter. When sex discrimination cases are fought publicly, there's a tremendous halo effect.
Even if Carlson loses her suit, there is a benefit in someone opening up publicly about these kinds of experiences. Women often feel shame and fear when they're hassled at work. They might think it's all part of the job or that they're all alone, that this doesn't happen often. Carlson herself hoped the situation would get better, she told the Times.
The public case has already forced Fox to hire an outside law firm to investigate these claims and interview female staffers at the network, according to reports. While it's too early to know what impact it will have, it could result in more women coming forward and employers getting the message that sex harassment is not OK.
When a woman steps up and names her accuser she's doing all of us a public service: She's telling others, "You're not alone and you shouldn't be ashamed."
Take it from Ellen Pao. Last year, Pao lost a sexual discrimination case she filed against her former employer, powerhouse venture capital firm Kleiner Perkins.
But unofficially, her lawsuit was a triumph. It forced the venture capital industry to face the fact that very, very few women or minorities succeed in the field. Tons of stories were written exposing that world. Since then, task forces have been convened, firms have hired more women ― and they're having a conversation about hiring even more.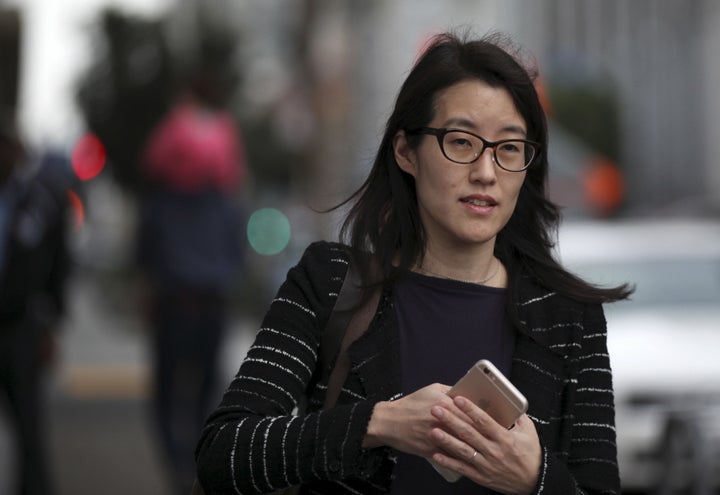 "Even though she lost the public debate ... the focus on gender stereotypes did more to change conduct than 100 private arbitrations ever would," Palefsky said.
Pao went through the wringer last year, but she still stands by what she did.
"I believe it takes people speaking out publicly to change the conversation and call out bad behavior," she told HuffPost. "Arbitration is a tool for silencing people―and a weapon used to delay and rack up costs. I admire Gretchen Carlson for taking a stand and saying, 'enough.'"
If Ailes succeeds in moving the case to arbitration, Carlson's chances of winning look pretty bad, experts told HuffPost. Plaintiffs tend to do worse in these private rooms, Allred said.
The "win rate" for workers who go to mandatory arbitration is 21 percent, according to a widely cited 2011 study from Cornell professor Alexander Colvin. In federal court the rate is 36 percent and in state court it's 57 percent. Dollar awards are much lower in arbitration, too.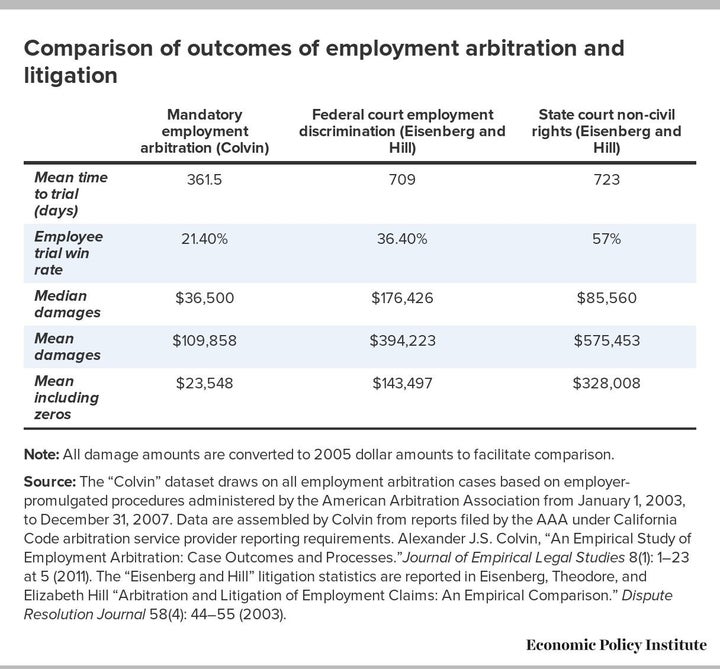 But workers haven't had much success getting out of mandatory arbitration contracts. In a decision in January, a federal court in Illinois held a man bound to an arbitration contract ― even though he didn't speak English and didn't understand the terms of the agreement when he signed. On Wall Street, arbitration clauses have silenced too many women who have experienced sexual harassment and discrimination, as the Times noted in January.
Carlson has an uphill battle because the courts aren't merely neutral, they favor arbitration clauses and enforce them even when they appear to be grossly unfair," Ross Eisenbrey, vice president at the Economic Policy Institute, said in an email.
There is, however, a growing sentiment that forcing employees and consumers into arbitration is not OK, thanks in part to an extensive series of articles on the topic The New York Times published this year. There's a chance that a court will side with Carlson and say she doesn't have to abide by the terms of the contract ― or, at a minimum, doesn't have to abide by the confidentiality piece, which experts called unusual.
"Many judges are aware of the scandal that is mandatory arbitration and will do the right thing," Palefsky said.
This article has been updated to include Carlson's tweet July 20.
Related
Popular in the Community