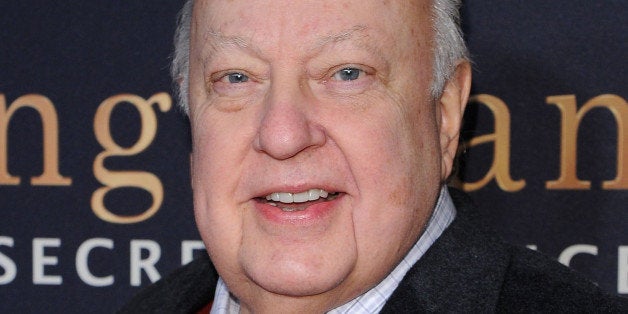 I worked for Roger Ailes from 2000-2007. He hired me from Sacramento California's ABC affiliate KXTV to anchor the 2-minute news updates through the overnight hours at FNC. Not the most ideal shift but...it was my foot in the door working for a national cable channel. I was thrilled!
I met with Roger a few times during the hiring. He was a larger than life figure for me. I read both of his books on the plane to NYC. He had been a player in the infancy of television news and he learned through victories as well as failures about how to make a successful TV news channel. He would regale me with stories of working on the Mike Douglas show, of trying to explain to then-presidential candidate Richard Nixon "why TV mattered".
He spoke about the importance of knowing your audience, asking short questions and allowing the interviewee to speak. He once said "I've had anchors who ask 60-second questions, answer it themselves, then tell their guests they are out of time!"
I remember him saying to me "You don't have to prove you're smarter than your audience or your guest. Don't try to be someone you are not. Viewers will know if you are real. And above all, if you are real, you will get an audience."
Then 9-11 happened. Fox bosses made the decision to go live 24 hours a day. I was pulled from the overnight news updates and sent into the field to report. I was assigned to cover the victims' families stories. The first night, reporters from every station were camped outside of St. Vincent's hospital, the one nearest to Ground Zero. We all waited for the injured to be brought in from the twin towers site. No one came. Blood was being donated in record pints. We soon realized there were no survivors from the initial attacks.
My assignment then changed to the Lexington Armory, the place the City decided to convert Into a headquarters for family members. They would come to find out news, give DNA and show photos of their missing loved ones. This was, to this day, the most heartbreaking assignment in my 20 years in journalism. You may remember the images of family members giving interviews to anyone who would listen, holding up posters of their missing loved ones ,pleading for information and holding out hope that maybe they just were still trapped, maybe their cell phone died, maybe they were hurt and disoriented and lost.
This went on for weeks and weeks. As reporters, we were simply spent after listening to the stories from the desperate family members. And it became harder and harder to cover the story as it became clear that there would be no survivors. These were dark days, and Roger Ailes would do what he could to keep us positive.
He would call us all into the newsroom and bolster our spirits by telling us what great work we were doing. He promised that the Fox News Channel would continue to report on this story, making sure that we would never forget who did this to America and never forget all of the heroes who gave their lives trying to rescue the innocent people in those buildings.
Food was brought in each day and night, hotel rooms were secured and sometimes, we even slept on air mattresses in the newsroom. We were all one big family. Instead of a big Christmas party that year, we had a small gathering at a local pub and donated all of the proceeds of the food and drink to the 9/11 fund. I was proud to work there.
Several months later, I begin filling in on Fox and friends. This is the show that Gretchen eventually began to work for after I left for CNN. The unique part of working on Fox and friends is that the 6-9 AM time slot meant that you are the first thing people saw when they woke in the morning and we became like family to our viewers.
We were a tightknit group and our show was largely what they call "ad-libbed" meaning we didn't read a lot of scripted words, rather, it was more like a conversation you would have over the dinner table with friends. This meant that sometimes you would say something that came out wrong or was misinterpreted. Many times rival cable networks would use that against us. I can't tell you how many times one of us was named "worst person in the world" on Keith's show. Once Keith named me one of the worst persons in the world ending by asking "why don't you go back to Erie Pennsylvania and report the health news, Kiran?" Yet, never once was I reprimanded for something I said.
Behind the scenes, and in front of the camera, I have never met a more hard-working crew of people. Imagine getting up in the middle of the night, dragging yourself into the newsroom trying to cram all of the news of the day into your head and then going on live for three hours... it takes a village. That show was always, in my opinion, a big source of pride for Roger.
I remember him coming to the FNF set, 7 AM the morning of the storm Katrina and saying to us "Great job reporting but it's not over yet. The storm has passed, but don't forget about the levees." And sure enough within the next 24 hours, our nation learned that the levees wouldn't hold and that is what eventually caused the disaster known as "Hurricane Katrina".
In all of my time at Fox, Roger Ailes never told me what to say and more importantly never told me what not to say. I was a young journalist and always a stickler for getting my facts correct. But on a show like Fox and friends, you also have to express your opinion and show your true personality for better or for worse. I never could have done that if I feared reprisal.
He may not have always agreed with my opinion or the opinion of any other host, but he gave us the breadth and space to say what we thought without fear of retribution. Over the years at Fox, I met with Roger Ailes one-on-one many times and never once did Roger ever make me feel uncomfortable or put forth any sexual advances.
I can't speak for Gretchen since I wasn't in the room obviously but I will tell you that I never felt uncomfortable around Roger Ailes.
And that's the reason I'm speaking out. Because I think this situation points to a larger issue --which is that there are very real instances where people are or feel sexually propositioned or intimidated by those in positions of power and are too afraid to speak out. That is a fact. The flip-side is whenever someone is accused of sexually harassing or intimidating someone who works under them, they are as good as dead reputation- wise.
So we all must be very careful before putting forth accusations that have lasting implications on the accused as well as the accuser. For every false report filed, someone with a valid complaint is undermined.
A newsroom is not a polite place. It's made up of mostly "type a" personalities working under deadline, stressing, trying hard to deliver accurate reporting amid tight timeframes and sometimes frustrating circumstances. Yes, we would fight, yes we would curse, yes, people would throw things from time to time ... that's the sausage being made.
We don't work at a public library or school, we work in a tinderbox of competition, vying to be first and most accurate and all the while knowing that every single person's job hangs on attracting and retaining viewership.
We call it "gallows humor" when you work in places where you see horrible things everyday....like newsrooms, police stations or firehouses, ERs... you have to find a way to vent... irreverent remarks are made... jokes no one else might find funny are the salve that keeps you going on.
In my mind, a boss complimenting me on how great I looked on air in a dress (or conversely saying how awful it read on TV) would be no different than a fashion designer telling a model "I love that outfit on you, it makes you look beautiful" Or a photographer telling someone he photographed "you look amazing in this picture."
Is that sexual harassment?
What if my makeup artist said "I love this lipgloss on you it makes your lips look sexy" Is that sexual harassment?
I guess there's a fine line, and one we are all still learning how to not cross it. But when we accuse people of career ending words and acts, we have to do so with utter certainty. I don't know if that is the case here.
But this is my story. And what I do know with utter certainty is that in my time at Fox News Channel, Roger Ailes always treated me with respect. Even though our parting was ugly and public, largely because of miscommunications and middle-men, I would never use this situation to settle a score.
I believe in karma. And I remember Roger once saying to me "when you encounter a negative person, run!, they will only bring you down." It's proven to be truer than he would ever know.
In the end, I hope and pray that people out there reading this salacious story, regardless of their opinion on either side, don't look at this as some form of entertainment. It's not a blood sport ...where there is a villain and a victor.
What if this was happening to you or someone in your own family? I suspect you would want the world to be slow to judge. I pray for peace for everyone involved.
Related
Popular in the Community