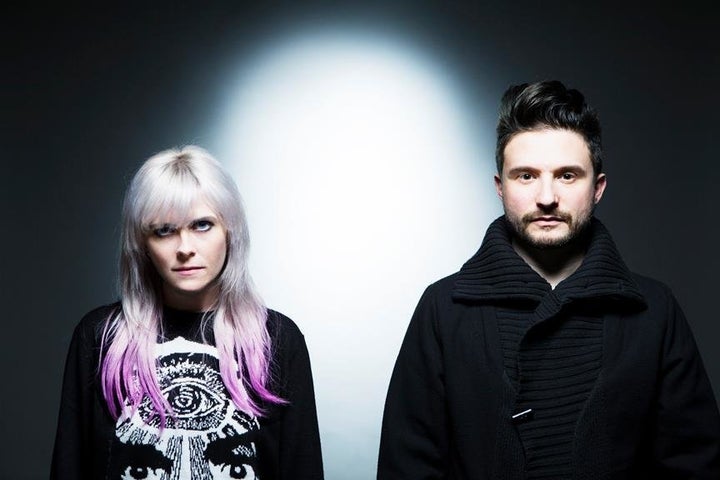 The latest album from Chicago band My Gold Mask has been some time in the making.
Four years ago, the band -- Gretta Rochelle and Jack Armondo, joined last year by drummer James Andrew -- released their first album and since that time, they've been amassing a cultish following for their signature sound, which blends Rochelle's Siouxsie-esque vocal melodies with driving percussion and dark riffs that simultaneously recall the Cocteau Twins and look toward "futuristic gypsy tribe shit," as their bio aptly describes.
Rochelle explained to HuffPost that "Leave Me Midnight," out last week, was significantly influenced by the look, feel and sound of Italian giallo films, particularly the witchy Dario Argento horror classic "Suspiria."
"There is a tension in those sorts of giallos," Rochelle said. "The colors and saturation of the film 'Suspiria' and the dark beauty I found in that movie were really influential in our own saturation of layered vocals and sounds. Even the album cover's an homage to that style."
Where in the city do you live and how long have you lived there? In the Wicker Park-Bucktown area. And I've been here since probably about eight years ago.
What is your age? What is your occupation? You should never ask a lady her age! I work in the service industry.
What was your first job in Chicago? When I first came to Chicago, I started nannying four kids for a little bit up in Park Ridge. It was quite a trek, but I had just moved here, didn't realize how far it was going to be. I needed something so I took it! That was like 10 years ago.
Which Chicago "celebrity" -- living or dead, real or fictional -- would you have over for dinner? What would you talk about? I would have Joan Cusack over and I would talk to her about the time that I saw her naked in a hot tub at a spa and I'd want to make sure that I didn't creep her out by staring. I was just in awe that it was her and I was completely starstruck. She's just as riveting in person as she is on screen and I was fascinated by her facial expressions. I couldn't stop staring! I didn't have my contacts in, so it was even creepier because I was squinting. The highlight of my year so far.
Where is your favorite place for a nightcap? I think depending on mood, I'd either say Owen and Engine or Rodan. Both are near my 'hood.
Where is your favorite place to grab a hangover brunch? Bongo Room for sure. Their dessert pancakes are to die for. Plus, of course, a mimosa.
My Gold Mask's "Burn Like the Sun" off "Leave Me Midnight."
What are your go-to spots when you have visitors in town? I like to do a lot of restaurants. I feel like our city is really well-versed as far as restaurants go and has a lot to offer. I like taking people from out of town to Korean barbecue and to French or Italian food, but then to the Art Institute or Chinatown, stuff like that.
What is the last cultural event you saw in the city? What'd you think? I think the last time was at the Museum of Contemporary Art. I don't have a lot of time to do stuff outside of music right now, so I think when I get that time to myself, I do like to visit art museums. I've been really pleased with the MCA recently.
If you had to have your last Chicago meal for some tragic reason, where and what would it be? Every time I go to this particular place, I act like it's my last meal. La Scarola. I would have the escarole and beans and some grilled calamari and the Sinatra -- their penne dish with vodka sauce and mussels and a bunch of stuff. It's so good. And a glass of super Tuscan.
Cubs or Sox? I'm actually just really not a sports fan at all, but I guess if I had to choose, Sox just because I like the color black and they have black in their uniform. I don't watch baseball or know anything about it, but I do hear they serve some of the best hot dogs in town there.
Wicker Park, 1993 or Wicker Park, 2013? I wasn't around in '93, so I think I'd say 2013 because I'm not sure what it was like then.
Chicago-style hot dog, Chicago-style pizza or Chicago-style politics? The dog for sure. Not a fan officially of either the pizza or dog, but I'd have to choose that.
What advice would you give to a new Chicago transplant? The same advice I was given the day i moved here by my new landlord: to learn the grid system. That was the most helpful information I got and I can get around anywhere now and could do so very quickly once I understood it.
What do you miss the most when you're not in Chicago? I miss the noise. I'm kind of a nervous person, so when we're playing smaller towns, I really get anxious when I'm trying to fall asleep and there's not a lot of noise. We're right by the Blue Line, so I like hearing that noise, plus the cars on Western. When we're in bigger cities like New York or something, I'd have to say I miss my friends.
If you could change just one thing about our fair city what would it be? I would change the violence. Unfortunately, that's made the news a lot lately and we have a pretty violent city, especially on the south and west sides.
Describe Chicago in one word. Grand.
In 1951's "Chicago: City on the Make," Nelson Algren wrote: "Once you've come to be a part of this particular patch, you'll never love another. Like loving a woman with a broken nose, you may well find lovelier lovelies. But never a lovely so real." Through My Chicago, HuffPost is discussing what, to this day, makes the patch we call home so lovely and so broken with some of the city's most compelling characters.
REAL LIFE. REAL NEWS. REAL VOICES.
Help us tell more of the stories that matter from voices that too often remain unheard.