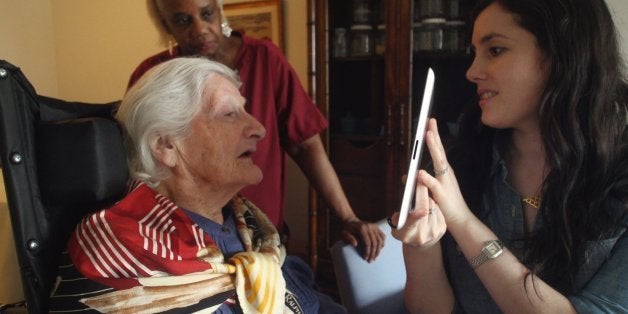 Frieda Rozbruch was always a smart, capable, self-reliant woman. She survived the Holocaust, spoke seven languages and cooked up nine-course meals for the Sabbath each week. After the war, she and her husband immigrated to America on the SS Independence with their two young sons in 1953. She had one more son and saw six grandchildren before she died in November at the age of 91.
But for the last six years of her life, Rozbruch suffered from vascular dementia and could no longer take care of herself. What Jenny Rozbruch, her 32-year-old granddaughter, found particularly troubling was how difficult it seemed to be to connect with her once-vivacious grandmother, who at that point could barely string together coherent sentences. The grandmother she had always known had captivated her family with stories from her childhood in Romania, her marriage and all the various aspects of her life as a loving parent and grandparent. That person must still be in there, Rozbruch thought.
This challenge was the kernel of an idea that grew into GreyMatters, an iPad app Rozbruch created as a thesis project while she was earning her Master of Fine Arts at the School of Visual Arts in New York in 2013. GreyMatters is an interactive life storybook, which uses photos, music and games to not only preserve memories but also engage a loved one who's suffering from dementia and may seem difficult to reach.
The idea is that portable, easy-to-use technology could help younger family members have more meaningful interactions with older relatives suffering from dementia. It is available to download for free from the iTunes Store.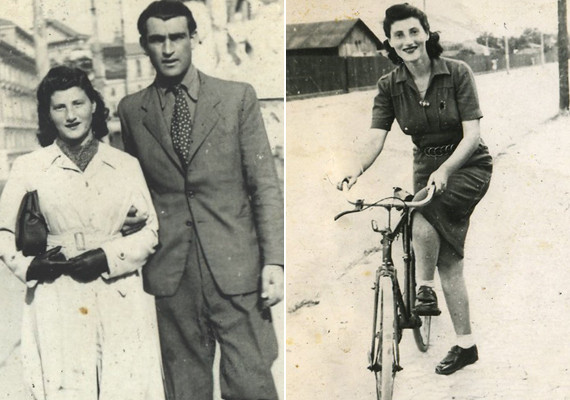 Some of the photographs Rozbruch would show her grandmother to conjure memories (Left: Frieda Rozbruch and her husband, Max Rozbruch. Right: Frieda Rozbruch)
The key here is tapping into long-term memory that may or may not still be there, depending on how deep a person's dementia has set in.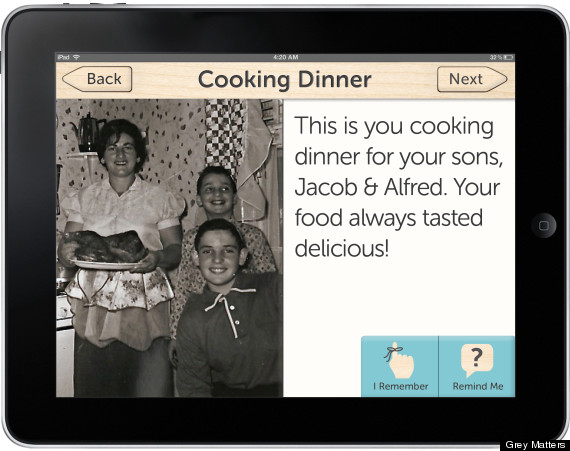 A screenshot of the "my life" feature of GreyMatters for Frieda Rozbruch.
Caregivers can also upload familiar music on the app via iTunes to play to their loved ones with dementia. Rozbruch was inspired to include this option after noticing how her grandmother would perk up each time she heard old Yiddish songs from her childhood.
"She couldn't even communicate; she certainly didn't have a short-term memory," Rozbruch said. "But she'd remember every line to a song and the tune."
Getting patients to actually sing along, one of Rozbruch's aims with GreyMatters, can offer even more significant benefits for cognitive function, according to a 2013 study.
"The more that you can activate the brain, the better," Jane M. Flinn, co-author of that 2013 study and associate professor of psychology and neuroscience at George Mason University, told The Huffington Post. "If [apps] keep the caregiver engaged, then that's helpful, because it's something the caregiver can do with the other person."
GreyMatters also comes with pre-loaded material. The "my world" section features historical and pop culture content from the 1930s, '40s and '50s, which serves as conversation-starters for topics that may be familiar knowledge to patients. To encourage even more interaction, "my games" combines the personal and universal content into a simple memory activity caregivers and patients can play together.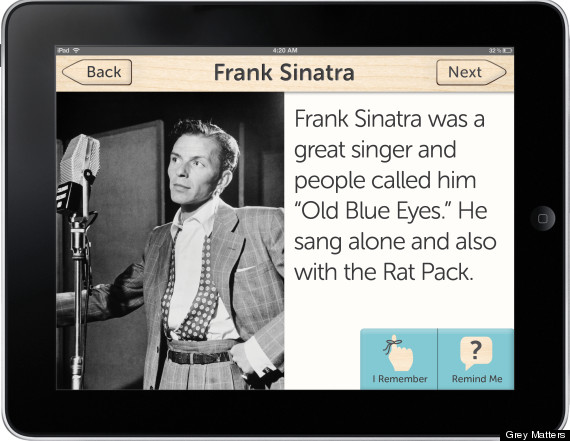 A screenshot of the "my world" feature in GreyMatters.
Communicating with dementia patients may be hard, but Rozbruch hopes she can provide a framework that families can use to connect with their loved ones, since many patients lose their relationships with friends and family. Ruth Drew, the director of Family and Information Services at the Alzheimer's Association, told The Huffington Post that apps are a great way to tackle this problem and that more specialized apps will likely be coming soon.
"It's easy to be isolated when you're not able to express yourself in old ways," Drew said. "People with Alzheimer's and dementia oftentimes can't get things started -- they need someone else to help them."
The idea of using apps with dementia patients isn't a new one, though -- there are plenty of recommended apps out there for caregivers. The Alzheimer's and Other Dementias Daily Companion app provides caregivers with activities and engagement suggestions as well as advice on how to handle daily trials, like doctors appointments, misplaced belongings and aggression.
Other apps, including Pandora, Getty Images, YouTube and Brainy App, can be used with a dementia patient to boost cognitive function through easily accessible music, photos, videos and memory games. GreyMatters, however, offers a streamlined, ultra-personal scrapbook optimized specifically for the memory struggles of dementia.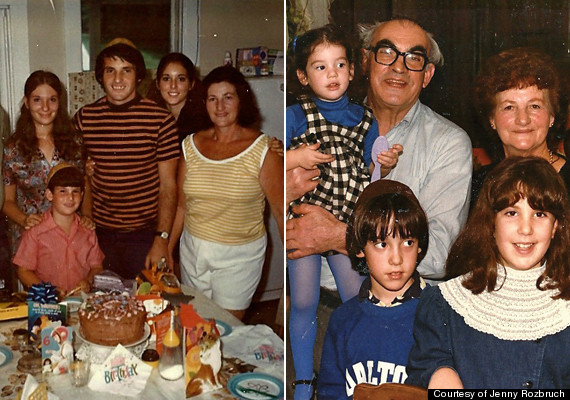 Some of the family photographs Rozbruch would show her grandmother to conjure up memories.
As counterintuitive as it may seem to connect with an elderly dementia patient using technology that they're likely unfamiliar with, there are perks to using iPad or other tablet apps. Tablets offer large screens so people with vision problems can see the images clearly and maybe even read the text. Plus, they're much easier for caregivers to transport to loved ones' homes than heavy, fragile photo albums and records -- and making things less of a hassle for caregivers may be the most important factor in ensuring dementia patients aren't ignored.
They aren't cures for dementia, but apps like GreyMatters can make it easier for caregivers to keep a loved one engaged and present for as long as possible.
"With my grandmother, I'd have these moments with her that were so unbelievable, where she would start talking about her life and have moments of clarity," Rozbruch said of her time sharing early versions of GreyMatters with her grandmother. "There can be so many negative times with dementia and Alzheimer's that one happy moment is just really exciting."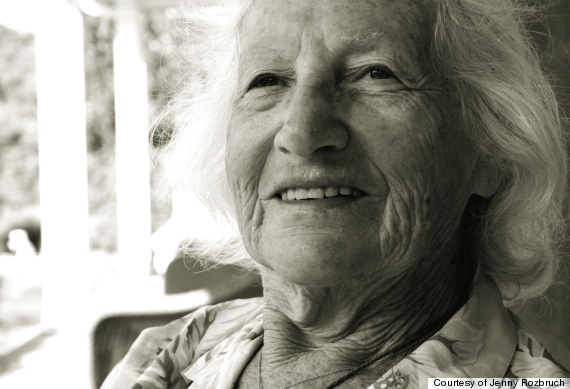 Frieda Rozbruch
Related
Before You Go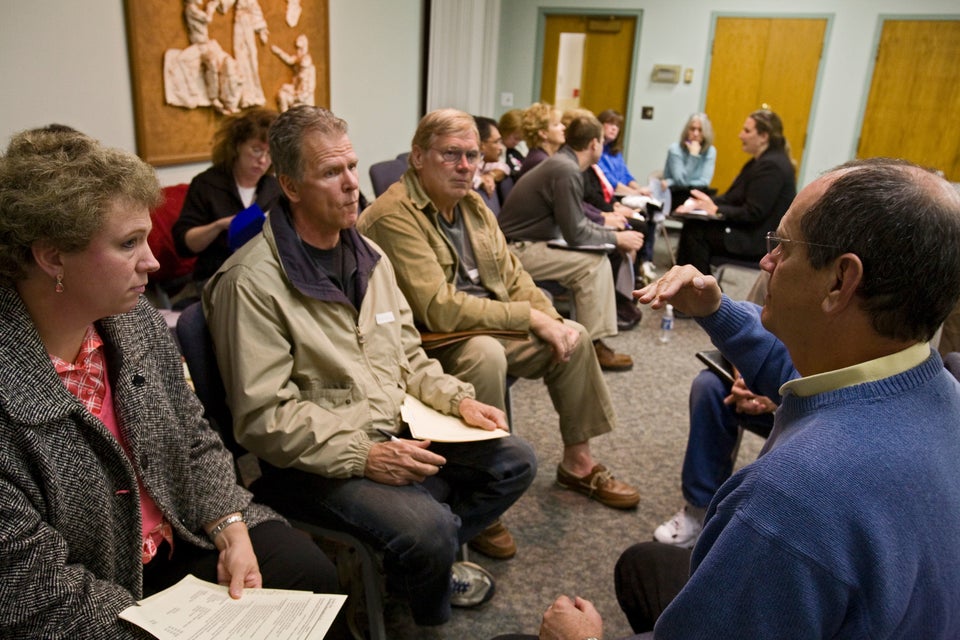 13 Resources For Caregivers