One woman was killed and five others wounded in a shooting on a Greyhound bus that was traveling from Los Angeles to California's Bay Area early Monday morning, authorities said.
The bus was traveling about 80 miles northwest of Los Angeles with roughly 40 passengers on board when shots broke out just before 1:30 a.m., California Highway Patrol spokesman Steve Loftus told NBC Los Angeles.
The bus driver was able to pull over along Interstate 5 and remove the suspect, without his firearm, from the bus. The bus then traveled to a nearby gas station in Grapevine and the suspect was taken into police custody, California Highway Patrol Sgt. Brian Pennings told reporters at the scene.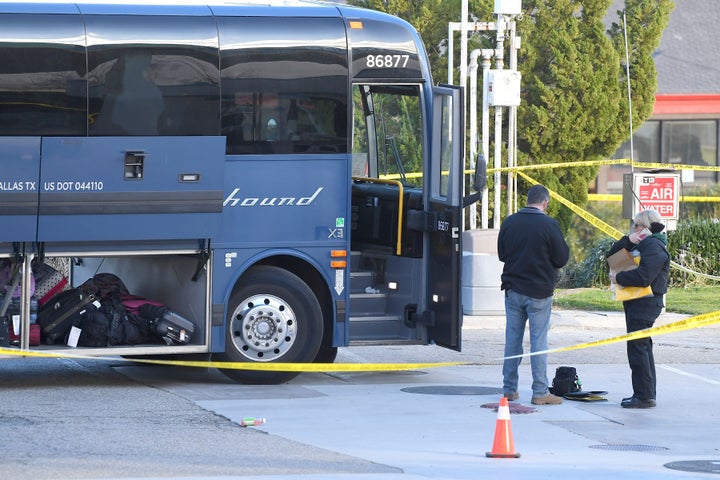 "There were extra magazines with the weapon," he said. "What the intent was ... I can't comment on."
Mark Grabban, 29, who was traveling on the bus with his girlfriend, told NBC News that the suspect was talking loud and "incoherently" when he got on the bus. The man got into an argument with someone who asked him to lower his voice.
"He was muttering things, about 'wait till we get to the station,'" Grabban said. 
Grabban said he then heard someone on the bus say, "Fuck you. Fuck all of you" before he heard a gun cock and eight to nine gunshot rounds.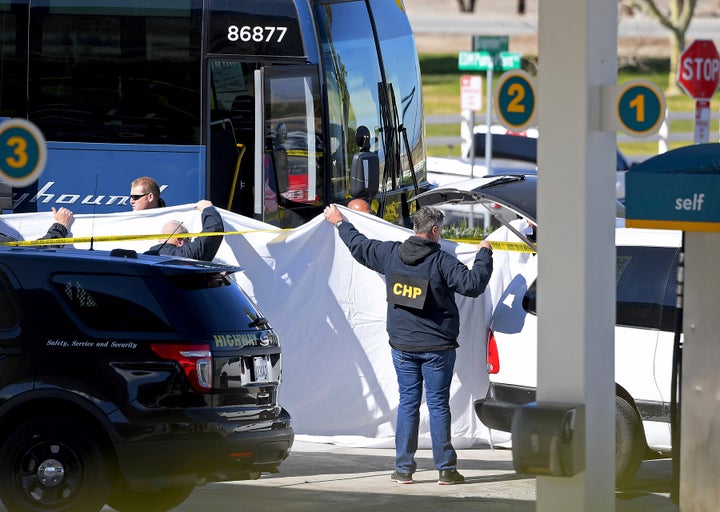 Greyhound spokesperson Crystal Booker said the company will assist police "in every way possible during their investigation."
"Our thoughts and prayers go out to everyone and every family member impacted by the incident today," she said in a statement to HuffPost.
Local authorities did not immediately respond to requests for comment.
Calling all HuffPost superfans!
Sign up for membership to become a founding member and help shape HuffPost's next chapter