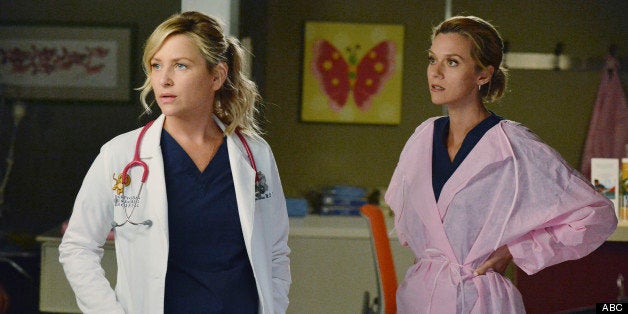 Thursday's "Grey's Anatomy" finale might not have seen an actual death ... yet, but the superstorm-centric episode did see what appears to be the death of some of the show's most shipped couples: Arizona (Jessica Capshaw) cheated on Callie (Sara Ramirez) with Lauren (Hilarie Burton), leading to a blow-up fight where Arizona revealed her repressed feelings about Callie amputating her leg at the beginning of the season; Cristina (Sandra Oh) walked away from Owen (Kevin McKidd) after realizing she could never give him what he wants; and Bailey (Chandra Wilson) blew up at Webber (James Pickens Jr.), calling him an alcoholic, and at the end of the "Grey's Anatomy" finale she was unaware that he's unconscious in the basement of the hospital. (And yes, we realize the last isn't a romantic pairing, but still).
In the wake of the finale, "Grey's Anatomy" creator Shonda Rhimes and stars Jessica Capshaw and Kevin McKidd calmed some of fans' fears and confirmed others. Read on below for the fates of "Grey's Anatomy" couples Callie and Arizona, Owen and Cristina and whether or not we'll see Webber in Season 10.
Can Callie And Arizona Survive?
After Callie found out Arizona had slept with Lauren -- via Arizona's engagement ring pinned on Lauren's shirt, which is where they keep them so that they don't get in the way during surgeries -- the two had a fight that revealed emotions that have been suppressed for months. Arizona clearly has yet to forgive her wife for breaking her promise that she'd save her leg after the plane crash that ended Season 8, and Capshaw said she can understand both sides of the situation.
"What you see in her very core is that Arizona does not forgive Callie ... When you're watching it, if you're really listening, you understand both people's point of view," Capshaw told The Hollywood Reporter, noting the lack of trust exhibited from both women.
But can the fan-favorite "Grey's Anatomy" couple survive this? "I've been with my husband for 11 years, married for nine and when I think of the rupture of a relationship and the fallout of infidelity, I don't know that you can get that trust back," Caphsaw told THR. "Infidelity is horrible, there's nothing worse than that; it's devastating. I hope it doesn't turn into a year of self-flagellation for Arizona. I think you can do something bad and it doesn't make you a bad person ... We are the sum of our experiences and we can make a bad choice and turn around and do better. I do think that with any kind of infidelity, on some level -- unless you're dealing with a sociopath -- there's always a reason. There will be an exploration of what that reason was and that will give the 'Grey's' writers fertile ground to play with next season."'
Is This The End For Cristina And Owen?
When the almost-parentless young boy that Owen took a liking to left Grey Sloan Memorial with his father, a patient, Cristina saw the pain in her on-again-off-again ex-husband-but-now-boyfriend's eyes. She decided to walk away from him, knowing that since she doesn't want children, she can never make him completely happy.
"Whether they ever are together again, there's so much connection and history between them that they're always going to have some kind of relationship," Kevin McKidd told TV Guide. "I don't think it's the end for them, it's just another turn in their very complicated relationship. In a strange way, this is Cristina showing how much she cares for this guy."
But Shonda Rhimes seems to feel differently. "I feel like there's a sense that this is the end of the journey that they've been on for two seasons that was sort of messed up by the fact that she was in the plane crash," the showrunner told Entertainment Weekly. "They were finally forced to have the conversation that neither of them wanted to have and it was a very honest conversation. She walked away and he did not follow, so how they're going to cope with that is going to be something."
Is Webber Dead?
Of course, when Bailey realized she needed to apologize to her longtime mentor and friend Richard (who gave her away at her wedding), "Grey's Anatomy" fans found out that she might be too late: He was unconscious in the flooded basement of the hospital, electrocuted after the power came back on in the wake of the storm.
"Hopefully that's not going to happen, but we don't know," McKidd told TV Guide about Richard's possible death. "If there's a chance to save Richard, you're going to have every doctor at Grey Sloan Memorial clamoring over each other to get in that OR to save him."
Calling all HuffPost superfans!
Sign up for membership to become a founding member and help shape HuffPost's next chapter
BEFORE YOU GO