When Jake Borelli landed the role of Dr. Levi Schmitt on "Grey's Anatomy," he hoped his performance would inspire others. What the actor didn't expect, however, was to feel inspired himself.
The 27-year-old first joined the cast of the smash ABC series last year in what he assumed would be a two-episode spot, but became a mainstay of the show as his character was expanded over the course of Season 14. Nearly a year later, he's part of Season 15's most buzzed-about plotline and a series first: a romance between two gay male doctors.
Like other Shonda Rimes-created shows, "Grey's Anatomy" has never skimped on the sex, and the relationship between the endearingly awkward Schmitt ― aka Glasses ― and Dr. Nico Kim (played by Alex Landi) is no exception thus far. The tension between the two began to simmer with stolen glances and a literal wink early in Season 15 and exploded with a steamy elevator kiss in the Nov. 1 episode, "Flowers Grow Out of My Grave." The Nov. 15 midseason finale, "Blowin' in the Wind," found them escaping a windstorm for an ambulance rendezvous.
Borelli, meanwhile, used his character's journey as an opportunity to acknowledge his real-life sexuality in an impeccably timed Instagram post. "As a gay guy myself, tonight's episode was so special to me," he wrote on Instagram, just moments after "Flowers Grow Out of My Grave" aired. "To all of you who feel like little Levis out there, know that I do too, that you are seen, and that we're all in this together."
Though Borelli had been out to his friends and family for nearly a decade, he knew he wanted to go public about his sexuality from the moment "Grey's Anatomy" showrunner Krista Vernoff called him to discuss Schmitt's arc over the summer.
"From the beginning, I had a sense it was going to be important. It's a milestone for the show and a milestone for representation in general," he told HuffPost. Still, he initially felt vulnerable. "I thought, 'OK, this is gonna be bigger than me.' I'm in a position right now where I have a platform, and I think it's really important to be honest and to put myself out there so that other people don't feel as alone."
"I knew that as a gay guy myself, I needed to come out to everyone so that when I entered a dialogue around this story, I could be as authentic as possible," he continued. "So I called Krista back and I said, 'Let's do this.'"
Borelli's Instagram post had received more than 64,000 likes as of Wednesday, and it helped land him in Entertainment Weekly and on the cover of the U.K.-based publication Gay Times. More than three weeks later, the actor is still grappling with the magnitude of the response.
"When I hear from fans, they jump down into the nitty-gritty and I learn about their own coming-out struggles and how inspired they are by the show," he said. "Frankly, they're inspiring me."
If anything, the addition of a gay romance between two doctors seems a bit overdue, given that "Grey's Anatomy" has been making inclusive strides since its 2005 debut. A bisexual doctor, Callie Torres (Sara Ramírez), appeared on 10 seasons of the series. The character's 2011 wedding to Dr. Arizona Robbins (Jessica Capshaw), who was a lesbian, is frequently cited as one of the show's most heartfelt and forward-thinking moments. Ellen Pompeo, who plays series protagonist Meredith Grey, has cited the diversity of "Grey's Anatomy" as her incentive to remain on the show 15 seasons in.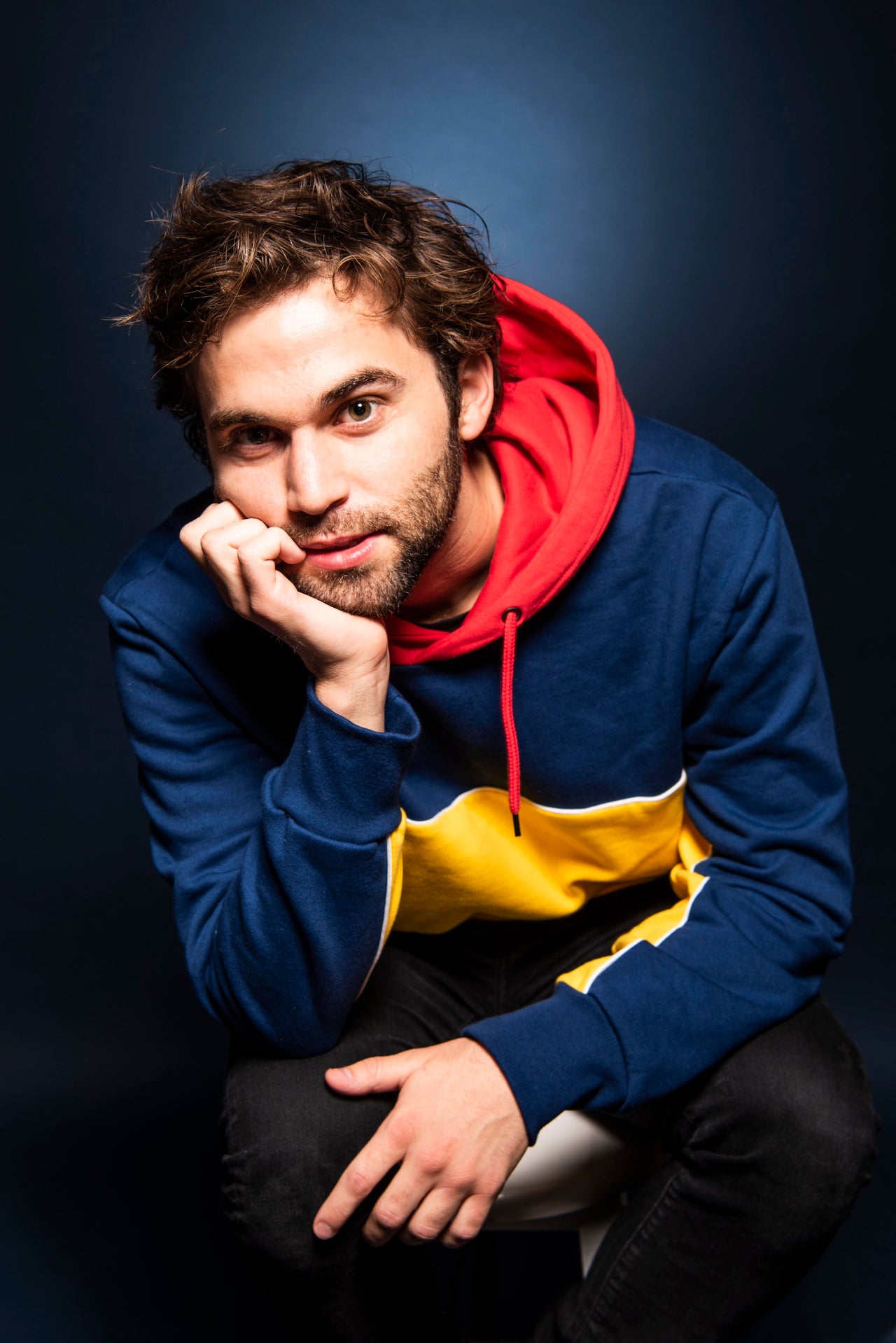 Ramírez left "Grey's Anatomy" in 2016, with Capshaw following suit last season, meaning the show was without openly queer characters as series regulars. For Borelli, the chance to explore a different take on the LGBTQ experience ― in this case, that of young gay men "who are just sort of coming into their own" ― with co-star Landi was an exciting prospect.
Growing up in Ohio, Borelli said he first knew he was gay in high school, and his own coming out went relatively smoothly. "I was in theater and I was surrounded by a lot of mentors that I knew were gay at the time," he said. "So I knew in my heart it was OK. My parents were great about it and they've been great ever since."
But the actor, whose credits include "Parenthood" and the Netflix original film "Reality High," said he identified with Schmitt in other ways besides sexuality, too.
"I'm in a position right now where I have a platform, and I think it's really important to be honest and to put myself out there so that other people don't feel as alone."
"He entered this hospital in awe of the doctors that had come before him and really wanted to prove himself in that environment," he said. "That's exactly what was going on with me as an actor. I was coming onto this established show that had been on for 14 years at the time, and I was seeing these icons of television that I had looked up to when I was a kid, and I was trying to prove myself so that I could stay on the show and prove myself in this world."
For now, Borelli is tight-lipped about what lies ahead for Schmitt, other than to say, "He's stepped into his confidence. I hope that moving forward, he grows into the human and the doctor that he really needs to be." On his downtime from "Grey's Anatomy," the actor is eager to return to live theater in a drama, citing John Logan's "Red" and Lyle Kessler's "Orphans" as two of his dream projects.
Still, Borelli isn't bothered by the fact that his "Grey's Anatomy" character and his private life will forever be connected, and he's merely excited to portray Schmitt as "a real human being who clearly has flaws."
"I'm still learning about him, and I think that's kind of perfect," he said, "because he's still learning about himself, too."