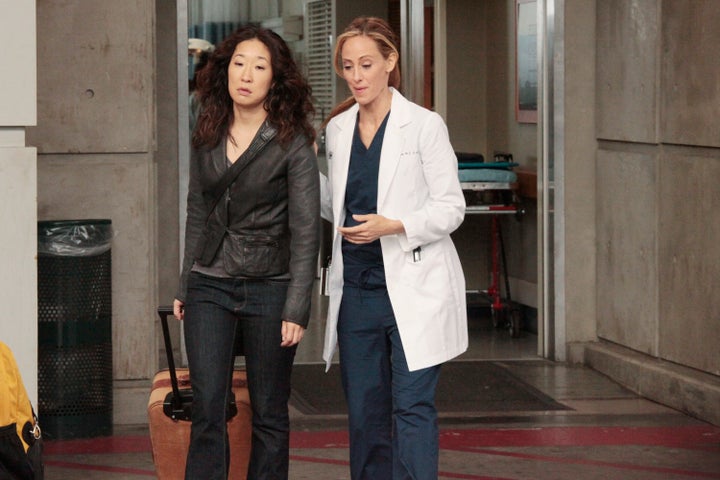 "This finale was incredibly hard to write. I did not enjoy it," Rhimes wrote on Twitter. "It made me sick and it made me sad. We end the season not knowing ANYTHING about the future. Except for two things. We know we are definitely saying goodbye to two of my favorite people: Chyler Leigh (Lexie) and Kim Raver (Teddy)."
Regarding the death of Leigh's character, Lexie Grey, Rhimes said she and Leigh came to the decision together. Lexie died after a plane carrying her, Meredith (Ellen Pompeo), Derek (Patrcik Dempsey), Cristina (Sandrah Oh), Mark (Eric Dane) and Arizona (Jessica Chapsaw) crashed in the woods, leaving "Little Grey" stuck under a piece of the wreckage.
"We had a lot of thoughtful discussion about it and ultimately we both decided this was the right time for her character's journey to end," she wrote.
Rhimes said Raver's series option had expired and the veteran "24" actress was "ready to give Teddy Altman a much-needed vacation." Her character left Seattle Grace in the Season 8 finale, but not in death, so there's always the possibly for Teddy to return in the future.
"It's been a pleasure working with someone as talented and funny and kind as Kim; everyone is going to miss her terribly," Rhimes wrote. "I like to imagine that Teddy is still out there in the Grey's Anatomy universe, running Army Medical Command and building a new life."
Raver also took to her own Twitter account to discuss her exit.
How do you feel about the "Grey's Anatomy" departures? Do you think Mark will survive? Let us know your hopes for Season 9 in the comments!

"Grey's Anatomy" returns to ABC for Season 9 on Thursdays, 9 p.m. ET this fall. See what other shows will return in the slideshow below.
PHOTO GALLERY
2012 Renewal Index: Canceled, Safe and on the Bubble Shows
BEFORE YOU GO