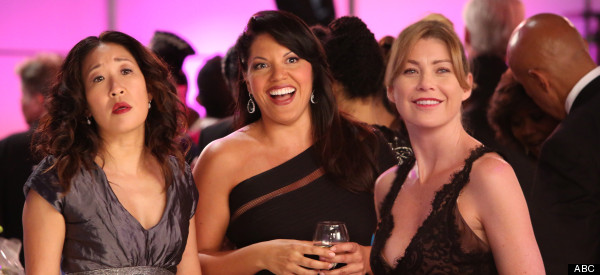 Spoiler alert: Do not read on if you haven't seen the 200th episode of "Grey's Anatomy," titled "Putting On The Ritz."
The "Grey's Anatomy" writers must have a folder somewhere filled with templates for certain types of episodes. "Putting On The Ritz," the series' 200th episode, was basically Season Two's "Losing My Religion," in which they threw a prom -- Derek and Meredith even stopped and mentioned that night, long, long ago. But that party episode was more dramatic and the proverbial night was still young.
"Putting on the Ritz" was a riff on that sort of episode, but without a real sense of drama ... or even melodrama. This kind of cookie cutter can make you hate yourself for watching, or it can be very fun and comforting, knowing that you know what's going to happen. You know the type. The docs are relaxed, you take them out of their comfort zone, and some minor or major plot points roll around towards the end.
The first step to writing what I'll call a "Fun Times" episode is to take the doctors out of the OR. It might be a birthday party or impromptu wedding, or in this case, a fundraising gala for the destroyed hospital. You put McDreamy in a tux, and some makeup on the girls, and then you have it go very, very wrong.
Instead of being classy, the party planner gave them a circus. Think jugglers, acrobats, clowns on unicycles as the waiters. You come back to these props later.
The second step is to not invite a core set of characters -- the interns usually -- to the party. This way they can fight, botch a surgery and fall in love. Last night, it was so Shane could step up and pull a Yang -- do a risky procedure in the ER. And then have Shane kiss Stephanie just as Jackson walks in. You have this subplot couple make up before show's end since we have more important drama on the main stage.
It wouldn't be "Grey's" if the doctors weren't just itching for surgery or competition. The humor, if you want to call it that, comes from watching all of these socially awkward people try to get donors to write checks. Meredith and Derek are in friendly competition, Yang is the best, but she can't help watching Owen out of the corner of her eye, chatting up a pretty woman, with whom he eventually goes home with. Arizona can't stand being around Callie and gets drunk with April in a supply closet. Just when you start to nod off on the couch, an acrobat falls from the roof onto the party planner. This is the key to any "Fun Times" episode. The fun does not last very long, and surgeries will be performed in evening gowns (shouldn't you remove dangly earrings before surgery?) and everyone realizes that they are surgeons, above all.
This sort of coming together is the fourth step. Jackson saves the day by bringing the rich party guests to the observation room. They just start writing checks immediately, wooed by the passion and team-work of the Grey-Sloan crew.
Not to be left out, there's also friendship prevailing across the hall. Bailey gets Richard to finally want to live by putting him in a room with an ornery, racist old man who somehow talks him into wanting to live.
And Alex. The fifth and final step is to give Alex something to twist his face about. Alex never survives these sorts of episodes. At the beginning of the night, three junkies are admitted after a car accident. Alex immediately goes white, and we know that it's his father, despite him having to spend the whole episode brooding and giving himself blood tests. It's not very good timing, because it seemed like he was finally going to get a healthy relationship with Jo, but we know he can't do two things at once, and dealing with his father is going to ruin all of his fun.
So went episode 200. Can you believe that? Now that we know Yang is moving on this season, and it could be the last season ever, it's sort of comforting to see things recycled, and barring plane crashes and death, grown up life is pretty boring.
"Grey's Anatomy" airs Thursday nights at 9 p.m. ET on ABC.

REAL LIFE. REAL NEWS. REAL VOICES.
Help us tell more of the stories that matter from voices that too often remain unheard.