Note: Do not read on if you have not seen Season 11, Episode 10 of ABC's Grey's Anatomy, titled "All I Could Do Was Cry
Rip our hearts, why don't you? April and Jackson are given the news that their baby isn't going to live long.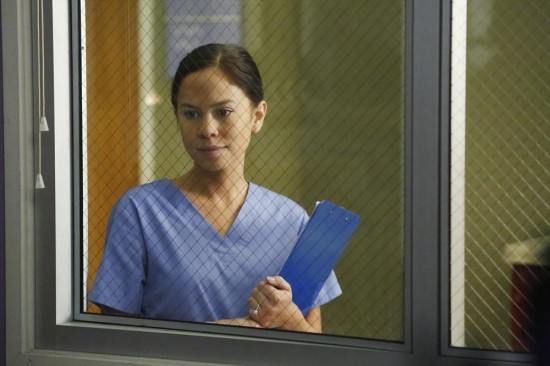 The doctors all pray for them, one by one. It reminded me of early "Grey's." The flashbacks and the quiet meetups in the chapel are like Meredith and Christina staring at the babies when they would get stressed.
And speaking of babies -- Jackson and his mother find a compromise for April. Induce labor, look at the kid, and then let nature run its course. But April won't sign the papers to allow them to not intervene. She's still hoping for a miracle. Jackson just yells at god.
And she might get one because there is a mysterious intern -- sleeping in the chapel, dropping patient labs in the hallway. It's almost as insane as Olivia Pope being kidnapped and put up for auction.
There's a woman who didn't know she was pregnant down the hall, dying.
The intern is just a shell-shocked patient, who also stared at babies in the nursery. April talks her back and helps herself. See what I mean about classic "Grey's?" Amelia and Stephanie bring back a guy's eyesight.
Meredith's sister offers to babysit and they look deep into each others' eyes and becomes besties. Richard might get laid.
"Grey's Anatomy" airs Thursdays at 8 p.m. ET on ABC.
Calling all HuffPost superfans!
Sign up for membership to become a founding member and help shape HuffPost's next chapter