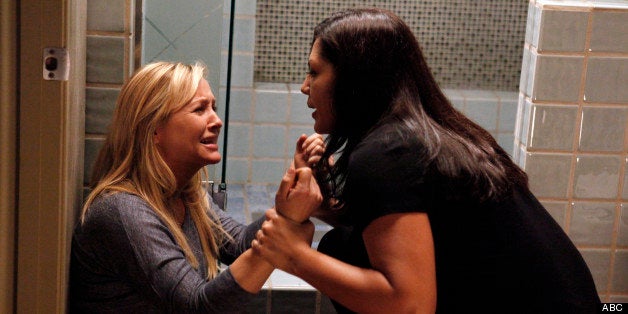 In the finale, titled "Perfect Storm," Arizona cheated on Callie with Lauren (Hilarie Burton), which Callie found out after seeing Arizona's engagement ring pinned on Lauren's shirt. (That's how the couple prevents their rings from getting in the way during surgeries.) At the end of the finale, couple had a fight that revealed emotions that have been suppressed for months: Arizona clearly has yet to forgive her wife for breaking her promise that she'd save Arizona's leg after the plane crash that ended Season 8.
Capshaw previously told THR that the there's a lack of trust exhibited from both women. "What you see in her very core is that Arizona does not forgive Callie," she explained. "When you're watching it, if you're really listening, you understand both people's point of view."
And the actress understands why fans are so heartbroken. "It's devastating ... It's really scary to feel this way," Capshaw told TV Guide ahead of the finale. "My goodness, Callie and Arizona have been through Africa, they've been through the baby, they've been through a car crash, they've been through a plane crash. They've been through so much and it just started to seem like it was getting back to normal again."
Is there hope for the fan-favorite "Grey's Anatomy" couple to get back to normal again in Season 10? "Infidelity is horrible, there's nothing worse than that ... I hope it doesn't turn into a year of self-flagellation for Arizona. I think you can do something bad and it doesn't make you a bad person," Capshaw told THR. "We are the sum of our experiences and we can make a bad choice and turn around and do better. I do think that with any kind of infidelity, on some level -- unless you're dealing with a sociopath -- there's always a reason. There will be an exploration of what that reason was and that will give the 'Grey's' writers fertile ground to play with next season."
Calling all HuffPost superfans!
Sign up for membership to become a founding member and help shape HuffPost's next chapter
BEFORE YOU GO