After years of medical mysteries, "Grey's Anatomy" somehow continues to captivate viewers with Shonda Rhimes's unexpected storylines and dynamic characters. But the Season 14 premiere really took fans for a loop, and now they're setting themselves up for even more disaster. 
On Thursday night's first #TGIT of the new TV season, we watched as Amelia (Caterina Scorsone) went completely absent as her husband, Owen (Kevin McKidd), dealt with the return of his U.S. Army surgeon sister Megan (Abigail Spencer) after she was found 10 years following her disappearance. Owen, Nathan (Martin Henderson), Meredith (Ellen Pompeo) and Mrs. Hunt (Debra Mooney) tended to Megan as she faced a bad abdominal injury while Amelia went back to work and avoided the family. Even Owen's longtime friend Teddy (Kim Raver) returned (!!!) to Grey Sloan Memorial Hospital to support the Hunts, and she seemed unimpressed with Amelia's attitude. (That attitude about his wife led Owen to fall back into his feelings for Teddy, and he kissed her before she reminded him that being a cheating husband is not the man he wants to be. But I digress ... )
At the end of the episode, though, we find out that there's a reason Amelia is acting distant ― and it's a doozy. 
While her brain is being analyzed during a trial experiment on female masturbation led by Andrew's (Giacomo Gianniotti) newly introduced OBGYN sister Carina (Stefania Spampinato), it's discovered that Amelia has a massive brain tumor. Yes, the hospital's neurosurgeon, and the late Derek Shepherd's (Patrick Dempsey) sister, has a brain tumor.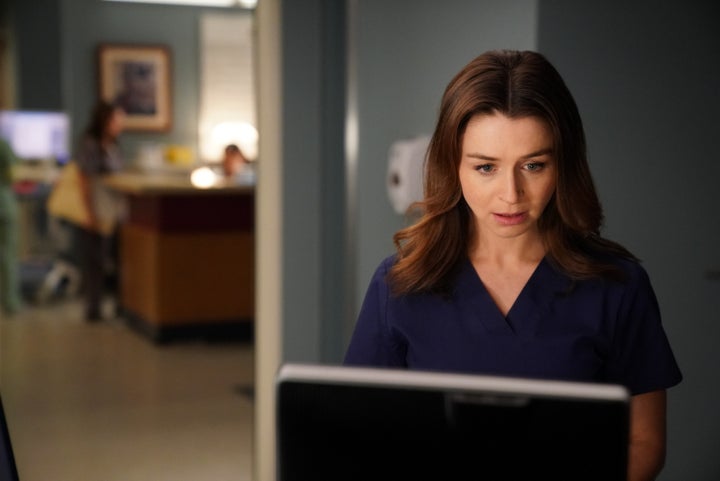 "She hasn't known for many, many years, and this tumor has been growing for a long, long, long time and has been affecting all her choices and all of her actions and nobody knew it, least of all her," Kevin McKidd told Entertainment Weekly of Amelia's diagnosis. "So it's a tough one for Owen because he's left with dealing with this person who, going forward, if they manage to remove the tumor, could potentially have a very different personality to the one that he married. She has a lot of questions about, 'Who actually will I be when this thing is taken away from me?' So it's going to impact everything."
Although Amelia presumably hides the news from Owen and others for a while, McKidd says he does find out soon enough and "steps up as a husband should." But that doesn't mean this journey will bring the separated couple closer together. 
"When you realize you've been with somebody that isn't the same person you thought they were, at least in this situation there's a real justification for that, so I think it's going to make them wrestle with facts and really look at what their life has been for the last three to four years," McKidd explained. "It's going to be a tricky path for them."
Well "Grey's," you, once again, have our full attention. 
"Grey's Anatomy" airs Thursdays at 8 p.m. ET on ABC. 
BEFORE YOU GO
PHOTO GALLERY
Fall TV Preview