Note: Do not read on if you have not seen Season 10 Episode 9 of ABC's "Grey's Anatomy," titled "Sorry Seems To Be The Hardest Word."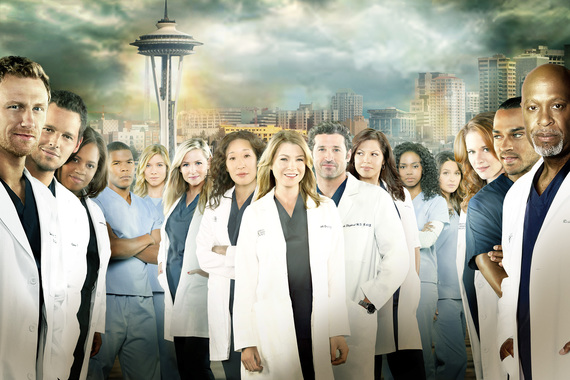 This show is always the best when the operating room is more of a backdrop for the drama and I present tonight's episode as exhibit A. Apologies for the legalese, but after an hour in that courtroom, I can't help it.
I think we all felt that way:
I've been waiting for some movement in the Callie vs. Arizona plot line and it was perfectly blended into the story of Callie's malpractice suit. Between the writing and pacing of the narrative and the plot twists themselves, this episode was awesome.
Callie is being sued by an Olympic snowboarder, who was referred to her by Yang, who came to her to get a new hip. It was a risky surgery but he talks her into it. She does the surgery, but among complications and a post-op infection, things go bad very quickly, and she has to amputate both of his legs. She's found not guilty at the end of the episode, but all's not well.
Does this sound familiar? Cue Arizona.
As we learn about the events of this guy's surgery and amputation, we learn through flashbacks that Arizona and Callie, at the time, were trying to get pregnant, looking at buying houses, and living on the brink of happily ever after. But Arizona loses the baby and tells Callie the same day as the amputation. This sort of explains a lot about Arizona's stepping out of the marriage, especially since we see her trying to tell Callie, that same day, that "everything's so hard!"
Callie just doesn't really understand what her wife is trying to tell her.
That's she's not happy. I could live without Arizona, and Leah for that matter, but there's something to that. The prosecutor of the trial accuses Callie of "bullying" Yang into operating on the legs instead of the heart at a crucial moment of this guy's infection. I know Callie is a fan favorite, but she is a bully, as much as she's a softy -- she's the kind of girl whose dad half jokingly threatens to have Arizona beat up for cheating (anyone catch that?) and the kind of girl who yells at a shop clerk, then offers to buy the whole stock to make up for her impulsiveness.
She's real. She's flawed.
Arizona asks Leah to go home after Callie comes to the hotel to ask her to come back. Callie only asks her to come back because she's calm, feeling guilty about the evidence she tosses, and her dad just talked her into sticking it out and believing that since she just got a pass, she could give one to Arizona, too.
I'm glad Callie didn't see Murphy (were you all holding your breath?!), but that doesn't mean Arizona is going to return to marital bliss.
This show tends towards realism -- hear me out -- at least when it comes to relationships. If I were their friend, I'd probably tell them both to move on. Callie, deep down, doesn't want to be with a cheater and Arizona's had her feelings and needs pushed aside for too long. They are not compatible. The scenes with them in the courthouse, being kind to each other and dealing with day-to-day parenting were the most moving because that's how life is sometimes. They're the best of friends and they love Sofia, but that doesn't mean they have to be married. I think they're more fun on their own.
"We are bigger than one mistake," Papa Torres says, but that doesn't mean there aren't consequences for them.
Sidenote: What do you think about Yang not having Callie's back in court? I think Christina is going to continue to be an outlier until the end. Also, where is the sponge?!
"Grey's Anatomy" airs Thursdays at 9 p.m. ET on ABC.
REAL LIFE. REAL NEWS. REAL VOICES.
Help us tell more of the stories that matter from voices that too often remain unheard.