Note: Do not read on if you have not seen Season 10, Episode 22 of ABC's Grey's Anatomy, titled "We Are Never Getting Back Together.'"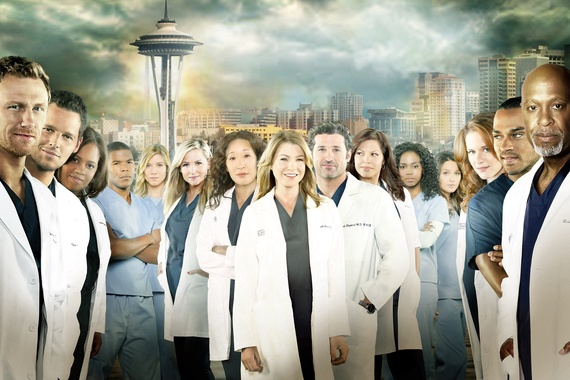 Uh, so let's go ahead and get the bo-ring stuff out of the way.
April and Jackson feel ambivalent about their baby; Webber wants Yang to repeal the Harper Avery and cranky about the talent drain and the foundation. Jo is totally overworked. Bailey put the deactivated HIV cells in the bubble boy without parental consent. Derek has Amy in town and they are performing surgery on conjoined twins, like two best friends we know are about to be torn apart.
I'm sorry, I can't contain myself.
Holy Burke! First, I know she was busy and crushed before the trip, but why didn't she Google the hospital for goodness sakes? I feel all sorts of things about this plot twist.
Secondly, I love the transcontinental advice Meredith gives her: remember this, remember that (especially the eyebrow incident). But quite frankly, there are a lot of things a girl can forget in seven years. The way she keeps his gaze and her composure when he comes into the light? We can all only hope, in our dreams, to confront our past so graciously and with a little attitude.
I've been digging the '80s covers all season but especially enjoyed the pensive, nervous, very foreign film soundings piano music during their first conversations in Zurich. The slow jams over the heart hologram? It's so cheesy, it's wonderful. Of course, he's married and breeding. So don't waste any time with your what-ifs; like with Owen, it never could have been.
He says: I no longer have the ability to interpret your noises. She says: The best thing that ever happened to me was you leaving.
But she will consider your Willy Wonka style heart center. Will it be that easy? He says: The way I loved you was consuming. Take over for me. She says: I wanted to be you.
Have you caught your breath yet? How good does Alex look in a suit? Agamemnon isn't that bad of a baby name is it? Tell me in the comments or @karenfratti.
"Grey's Anatomy" airs Thursdays at 9 p.m. ET on ABC.
REAL LIFE. REAL NEWS. REAL VOICES.
Help us tell more of the stories that matter from voices that too often remain unheard.