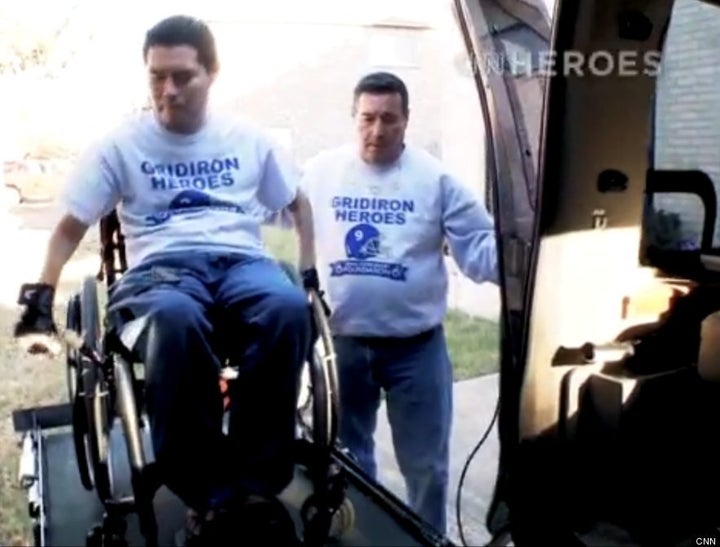 After Chris Canales suffered a devastating spinal cord injury during a high school football game, his father Eddie Canales was heartbroken to watch his son go from a promising young athlete to paralyzed and wheelchair-bound, CNN reports.
When the father and son witnessed another high school player suffer the same fate, they knew the pain and hardship he and his family would endure. On top of the emotional trauma, crushing medical bills can destroy a family's financial stability.
They decided to take action.
Eddie and Chris began visiting injured high school football players and their families to offer their support. They founded Gridiron Heroes, an organization to help paralyzed young football players in Texas.
In addition to bringing together handicapped athletes in solidarity, the nonprofit helps families raise money to pay medical bills, afford wheelchairs and ramps.
"We try to provide information, inspiration and hope," Eddie said. "We want to make sure they don't feel alone."
Eddie was honored as a CNN Hero for his accomplishments.
While serious concussions among NFL players have captured national attention, devastating injuries like those suffered by Chris at the high school level haven't garnered adequate discussion or action.
"Friday Night Lights" author Buzz Bissinger wrote,
Concussions are the hot topic, and their residual effects can be hideous. But they are not the only injuries in a game increasingly engorged with unholy violence at all levels. Catastrophic spinal-cord injuries are rare, but in Texas alone there are roughly two a year.
To help prevent future spinal cord injuries, Eddie and Chris travel around their state, educating high school football coaches about the dangers of on-field collisions. By spreading awareness about the proper way to tackle, Eddie hopes other players can be spared his son's fate.
Feeling inspired? Make an online donation to the Gridiron Heroes to support the father and son team as they help disabled players across Texas.
Popular in the Community