I've had a lot of loved ones recently suffer the loss of someone they love. Whether that be a parent, child, grandparent, friend, significant other, etc. My heart breaks for them because I know this pain too well. I've been living with the loss of my mother the past 9 years and I wanted to share what I have learned.
Several months after my mother died I attended a grief support group. Everyone in the group had lost someone significant to their lives and it was healing to be with people who knew exactly how I was feeling and it was healing to be able to support each other in our collective grief. One particular night the social worker who was leading the group told us that we had to find our "new normal."
I felt an instant wave of anger at that statement. I didn't want a "new normal." I wanted my old normal back. I wanted a normal that included a living mother to help me navigate life and motherhood. I wanted a normal where my kids had a relationship with both their grandmas. I wanted a normal where it didn't feel like my heart was hemorrhaging at every moment of the day.
Eventually I realized how kind that social worker was when she talked about a new normal — because I didn't have a choice. Life was going to give me a new normal whether I wanted it or not.
I learned that my new normal was going to be like if someone cut off my right hand and I had to learn how to write and function with my left hand. It's not easy. It doesn't feel natural. It's against my gene's predetermined hand dominance. But eventually I learned how to write with it. And it was sloppy and messy at first, but over time, it got easier.
And although it's easier now, it's not perfect. Every happiness that has come to me since my mother died has been bittersweet. She's never going to be here for all the births, weddings, birthdays, happy occasions, accomplishments. She's never going to be able to be a grandma to her grandkids, four of whom she will never meet. She's never going to call me again and recap American Idol for me while I pretend to be annoyed. I'm never going to cry to her again when someone is mean to me. She's never going to cheer me on, root for me, or tell me how much she loves me again.
And that's okay. It's not fair. It's not what I want. It's never going to be alright. But it's okay.
Despite the bittersweet, there has been joy. And when I do have those happy moments or we as a family have welcomed a new member or enjoyed a family gathering together, we feel her with us in spirit. If I can't have her here on earth, I'll settle for guardian angel.
So, my new normal has become honoring her life. I do this by living the best life I can. By being happy with what I have. By helping others as much I can. By raising grandchildren to be people she would be proud of. By making others laugh. By being kind to strangers and children. By leaving the world a better place for having lived in it.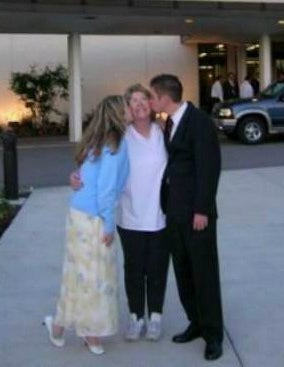 Dedicated in loving memory to Creed and Nathan.