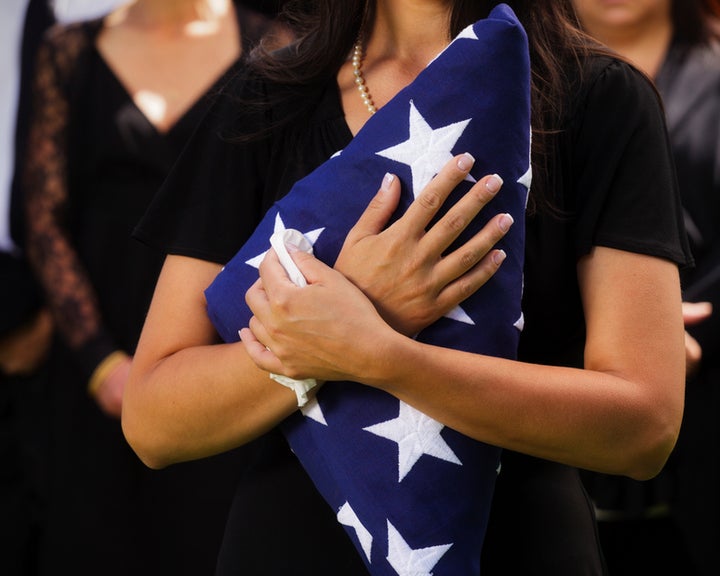 On Monday evening, the Republican National Convention kicked off in Cleveland, Ohio, with speeches from a rather odd and eclectic mix of celebrities: Duck Dynasty's Willie Robertson, Scott Baio of Happy Days fame, and former Calvin Klein underwear model and soap opera star Antonio Sabato, Jr. Politicians, including Arkansas Senator Tom Cotton, Iowa Senator Joni Ernst, and former New York City Mayor Rudy Giuliani spoke in support of the candidate, and a handful of military leaders and veterans, among them: retired navy seal Marcus Luttrell, retired Army Lieutenant General Michael Flynn, and Marine Corps veteran Mark Geist talked on the night's call to "Make America Safe Again."
However, it was the speech delivered by Patricia Smith, mother of Sean Smith, a state department staffer killed in the 2012 Benghazi tragedy that drew my attention. Smith, guided on stage, her gait slow and unsteady, a tissue clutched in her right hand, appeared already emotional before she began speaking. When she did, her voice resonated with raw grief as she introduced herself and described the murder of her son in the attack on the diplomatic compound in Benghazi, Libya, that also killed three other Americans, including U.S. Ambassador Christopher Stevens. "For all of this loss, for all of this grief, for all of the cynicism the tragedy in Benghazi has brought upon America," she cried, "I blame Hillary Clinton. I blame Hillary Clinton personally for the death of my son." Her words were met with rousing applause from the delegates on the floor of the convention center. One woman's voice could be heard shouting, "Liar! She's a liar!" and Smith interrupted her prepared speech, looked directly at the woman and said, "She sure is." This exchange turned up the volume on Smith's anger, and the remainder of her speech directed unfiltered rage toward Clinton as she asked in a voice heavy with pain, "How could she do this to me?" Her final words, "She deserves to be in stripes!" were prompted by a delegate holding a sign reading "Hillary for Prison." Smith then turned away from the cheering crowd, somewhat disoriented, and looked for her escort to lead her from the stage.
I can't put myself in Patricia Smith's place and understand the full depth of her personal agony. Nor can I criticize her for the torment she obviously feels and expressed in the face of such a senseless and unresolved tragedy. I can, however, identify with the intense desire to find a target to blame in the midst of it all. When my father was infected with HIV-tainted blood during heart bypass surgery in the mid 1980s and died of an AIDS-related illness ten years later, I wanted to point the finger everywhere: at the Canadian Red Cross for not adopting blood screening methods sooner, at the administrators of the blood system who knowingly allowed contaminated blood to remain in circulation, at the faceless donor whose blood became my father's blood, even at the nurse who randomly picked that particular bag of blood for his transfusion. None of that finger pointing filled the gap that opened with my father's absence. Yet this need to make someone accountable for our loss is a natural offshoot of the grieving process. It comes with the territory.
But the Trump campaign's choice to sensationalize that part of Patricia Smith's suffering for political gain by putting her in front of a ravenous crowd ready to feed off of her accusations of Clinton's culpability, whether founded or not, when it's heartbreakingly clear that Smith is still on a very rocky path toward any kind of resolution to her son's death, is appallingly cruel and exploitive.
In light of the many other vile tactics that Donald Trump has used on the campaign trail to rally support and further his personal agenda, this latest decision doesn't really come as a surprise. But anyone who doubts Trump's intentions to use whatever means necessary, whether ethical or not, to reach the White House should pause and take a closer look at the fragile and anguished face of Patricia Smith. Understand that despite the continued attempts this week to personalize the candidate, to smooth his jagged edges, despite Rudy Giuliani's claim in his own speech on Monday that "This is a man with a big heart who loves people, all people," Trump's heartlessness is becoming more blatantly clear with every passing day.
Popular in the Community