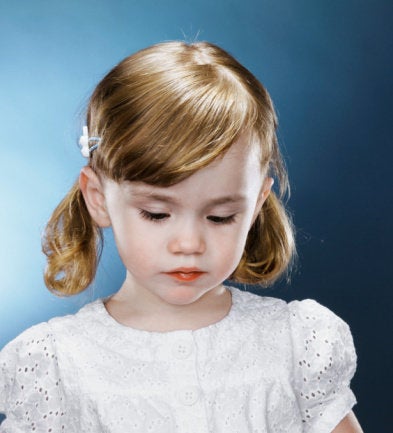 Play dates, sleepovers, soccer games, pizza, death.
Death? How did that get in there? It is not an image that comes to mind when you think of childhood. And yet it is a part of childhood much more often than commonly thought. New national research we conducted shows that one out of seven kids will lose a parent or sibling before the age of 20.
The impact of such loss can be profound. Among the adults we surveyed who lost a parent growing up, more than half (57 percent) said they would trade a year of their life for one more day with their parent and 69 percent said they still think of their parent frequently.
Childhood bereavement is one of society's most chronically painful yet rarely examined and most underestimated phenomena. Fearful of burdening their surviving parent-- and growing up in a society that runs from the mention of death and grief-- kids who lose loved ones get the message early on that people are uncomfortable talking about their loss, so they suffer in silence. As a result, these children are too often subject to a distressing range of emotional, psychological and behavioral difficulties, which can extend well into adulthood.
It's time for a national conversation on childhood bereavement.
Grieving kids are often called the forgotten mourners. They are too easy to overlook.
They don't wear black and don't mourn 24/7. They often keep up their grades and extra curricular activities. They may look "OK" to the daily observer, but they are grieving.
Childhood grief does not look like adult grief, so it often gets missed and dismissed. Kids grieve in short bursts--while playing they may fall and skin their knee and end up crying not for the skinned knee, but for their mom who died, who used to put Bandaids on that skinned knee. But moments later, they are off playing again. Don't be mistaken by this quick recovery.
Our society does not encourage kids -- or adults, for that matter -- to talk about their loss. When kids bring up their deceased father's name and mom starts to cry, or their best friend looks at the ground and changes the subject, or their teacher says, "shouldn't you be over that by now?" Guess what? They stop communicating.
One such girl was captain of the cheerleading squad, president of the student council, and on the National Honor Society. Her mother died when she was nine. Her father remarried the next year and died when she was 12, the day before Jr. High started. She didn't fit in with the girls her age, rarely participated in sleepovers, and cried a lot in her room. Her goal everyday was not to be happy, but simply to be okay, and not to cry. She never talked about her loss.
I looked like everybody else on the outside, but on the inside, there was a huge hole that I dealt with everyday. Grief separated me. It was lonely and isolating and enduring.
Finding Your Comfort Zone
When I was growing up, there weren't many resources for grieving children. Sadly, many years later there still are not enough. That's why I founded Comfort Zone Camp the nation's largest bereavement camps for kids.
Comfort Zone Camp breaks the isolation grieving children feel and let them know they are not alone. It allows them to get back to being kids again, provides validation for their feelings, and gives them tools to help heal. In 12 years, we have helped over 5,200 children. And our camps are free to all -- thanks in large part to the New York Life Foundation. One kid may come to camp with clothes in a grocery sack and another in monogrammed luggage. They both start talking about, "who will give me away when I get married," and their grief becomes a great equalizer.
We've helped a lot of kids but we are just scratching the surface of an unmet need in our society. Getting kid to camp is a critical step, but we need to do more. All of us.
I still frequently hear horror stories of communities not supporting grieving kids. I cringe every time.
Last year at Comfort Zone, I met three teens from three different states who had each been put in anger management classes in school for getting defensive when teachers told them they should be over their loss and "not use it as an excuse."
Clearly the impact of the early loss is lost on too many Americans. We need to do more to touch the millions who are grieving--both kids and adults. Katie Couric's recent report "When Families Grieve" illustrates this exact point. Grieving children are crying out for help, but is anyone listening?
I believe most of us are well-intentioned, but our efforts are constrained by a fear of 'doing something wrong' or by a simple lack of knowledge over what to do or where to go for help. It's really quite simple. Most families want understanding, an inquiring word, an occasional invitation, and some arms-and-legs support.

Grief is a journey. We can't eliminate it, but we can make it more manageable. That's why Comfort Zone has created a new website, Hello Grief. The goals of the site are to start a discussion about the impact of loss, provide information on how to help grieving families cope, and to build a community of support. Our social networking tools also help kids and adults who are grieving connect and share their feelings.
I'm on a mission to give a voice and a place to grieving children and their parents. You can help. Together we must raise awareness of the effects of childhood bereavement so that kids can get back to being kids again. Grieving children need to rebuild their safety nets. We need to support them - at home, at school, and in everyday life Giving these kids the time and opportunity to heal is critical to their ability to thrive as adults
For more information on the camps (which are offered free of charge) or how to attend or volunteer, please visit www.comfortzonecamp.org or call 866.488.5679.
Related