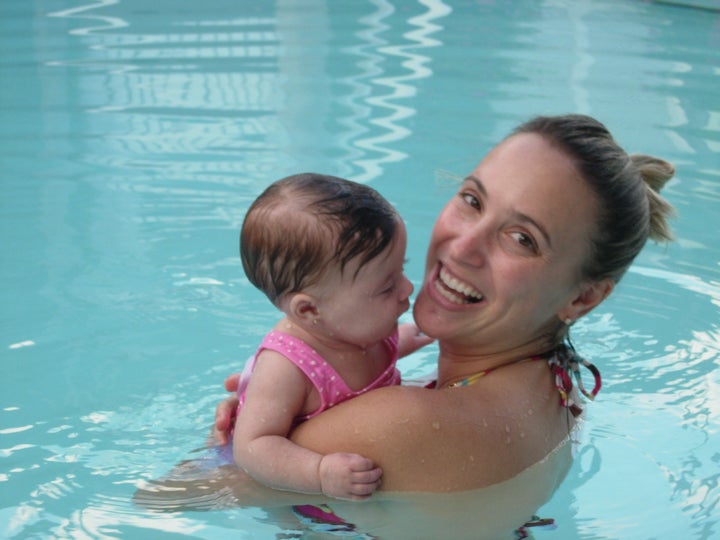 I always thought you could only grieve after you lost someone who died or a friendship that ended, but I have recently learned that I am grieving for who I was before cancer.

Most people would say I am a happy person with a ton of energy who loves to smile and have a great time. I fell in love and had a miracle baby and life changed for the positive. I slowed down and loved this new chapter of my life. Every morning I woke up next to the love of my life and I got see my smiling daughter. We danced, climbed the rocks at the playground, took long walks on the beach and rolled around on the floor being goofy with not a care in the world.

But that changed when I was diagnosed with Stage 4 breast cancer. The cancer metastasized into my bones and I became a bit more fragile. I fractured a rib within a month of being diagnosed from a hug. But I was still Meredith with a ton of energy, just a bit more careful. That has all changed in the past year and it stinks. The cancer keeps spreading and is in lots of bones in my spine, skull, and on my femur by the hips. My biggest fear is my hip breaking, as I need to run after my little girl and I don't ever want her to see me wheelchair bound or not able to dance and play with her. I've already lost enough, so the thought of breaking a hip freaks me out.

But when I grieve most is when I go out with my husband and friends. I look around the room and it's all changed. I know we are all older, so none of us go out the way we used to, but with the way my life has changed, I am grieving for who I used to be. I want to dance but I am to scared due to the hips and I want to be able to hang out and have some drinks without feeling tired and having people look at me with sad and nervous faces. I was always the life of the party and I mourn for her.

We go out and I am always so tired it's an effort to get dressed up and get out of the house. I have to take a long nap if we have plans that night. I can't walk far in my heels as it starts to hurt the hip bones and I get winded from standing and need to sit down. I don't drink anymore and I miss going out and having a bottle of wine. Yes, I can have a glass of wine or a beer but I couldn't imagine being drunk while on such a toxic mix of chemotherapies.

It is just so upsetting and I put pressure on myself. I want to be the mommy that runs after my child without getting tired. I want to play kick ball and jump rope without worrying about breaking. When I am out, I want to go to a party and let loose like I used to. I want to stand with my friends and start dancing instead of them seeing the discomfort in my face and sitting down with me, worried. I don't want that person who hasn't seen me in a while and doesn't recognize me now as I have brown short hair (as opposed to the long blond hair I used to have) to say, "Meredith, how are you?" with the saddest eyes. My response in my head is, "I'm great. I have cancer. How are you?"

I am grieving that I will never be there the Meredith I used to be. I know age is a factor, but cancer is vicious and chemotherapy builds up in your system and the more it builds, the more tired you get. I am on my ninth treatment in less than three years and it's mentally and physically exhausting. I will keep going, as cancer is a mental game and you don't give up until it's really your time. So I take every day and do as much as I can, but deep down, I grieve for me. My life is not sad by any means and I feel so lucky that I have a man that loves me and is standing by me through this battle, a mom and dad who would jump canyons for me and my family and a daughter who makes everyday worth fighting for as her smile brightens the room. I'll never get over the grief of the way I was and as sad and hard as it is for my family and friends to see me going through this, I promise to always keep going, even on the down days.
Related
Popular in the Community