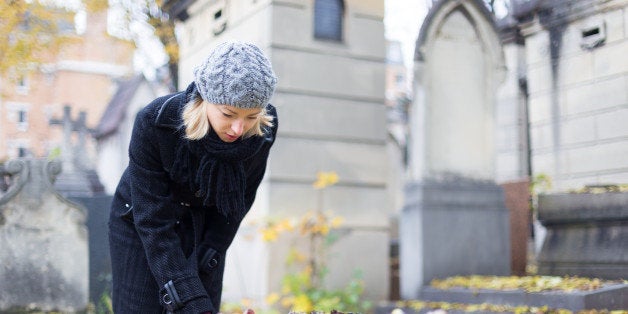 The church at Thessalonica was confused about some fundamental doctrines of the Christian faith. They were frightened that they had missed Christ's second coming and they were concerned about their loved ones who had already died. So Paul wrote this letter to remind them of truth and offer comfort in their emotional distress:
"And regarding the question, friends, that has come up about what happens to those already dead and buried, we don't want you in the dark any longer. First off, you must not carry on over them like people who have nothing to look forward to, as if the grave were the last word. Since Jesus died and broke loose from the grave, God will most certainly bring back to life those who died in Jesus". -Thessalonians 4:13-14 MSG
This verse is quoted often to believers who have lost a loved one. At first, gently, sweetly, as an invitation to remember that God is in control, that He has a plan, that the grave is not victorious and that burying the body is not the end.
And, in the early days and weeks after the funeral, it IS comforting -- I chanted it to myself like a mantra and drew my heart from the brink of despair.
But at some point, this verse begins to feel like a rebuke -- "Here, here!" the well-meaning friend says, "Don't you know, that Jesus followers don't grieve like those who have no hope!"
And I turn, dumbfounded, to the person saying this, and wonder, "Have you buried a child?"
Have you grieved the too-soon, unexpected, violent end of your hopes and dreams without a chance to say, "good-bye"? Do you stand over the patch of dirt that now covers the buried body of your son and wonder how this happened? How can this be your life?
Do you wake up every morning and have that fraction of a moment where all is right with the world before your mind joins your eyes and reminds you that he is still gone?
• Yes, I firmly believe that my son is now with Jesus.
• Yes, I stand convinced that there will be a day when all tears are wiped away and I will be reunited with him.
• Yes, I feed the hope in my heart with truth from Scripture and remind myself daily that the grave is not the end.
I am human. I am full of the emotions that God placed in my heart.
He gave me the capacity to embrace and love the tiny life growing inside me before I could see it or feel it. He made my child leap in my womb when I listened to praise music. He positioned Dominic as the third-born child in our family and gave him unique gifts and abilities.
And now He knows that as long as I live, I will grieve the son that I lost.
I will sorrow anew when others his age reach milestones -- get married, have children -- because not only did I lose the Dominic that WAS, I have lost the Dominic THAT WOULD HAVE BEEN.
I do "grieve with hope" -- I breathe in the life-affirming and spirit filling promise that the reality I am living is not the only reality there is. I lean into the Word of God and trust in, rely on and affirm the victory of Jesus Christ.
I cannot force my heart to ignore the pain and sorrow that has been laid upon it.
So I continue to live each day, doing the work that God has left for me to do, but walking a little slower, a little more bowed down.
For those of us carrying this burden of grief, the greatest gift is grace and mercy and kindness -- we are doing the best we can.
Encouragement (lending courage to) must include acknowledging our daily struggle and the lifelong commitment we have made to battle on.
Ask us, listen to the answers and then hold our hand or dry our tears.
But don't expect us not to cry.
This post is part of Common Grief, a Healthy Living editorial initiative. Grief is an inevitable part of life, but that doesn't make navigating it any easier. The deep sorrow that accompanies the death of a loved one, the end of a marriage or even moving far away from home, is real. But while grief is universal, we all grieve differently. So we started Common Grief to help learn from each other. Let's talk about living with loss. If you have a story you'd like to share, email us at strongertogether@huffingtonpost.com.
Popular in the Community