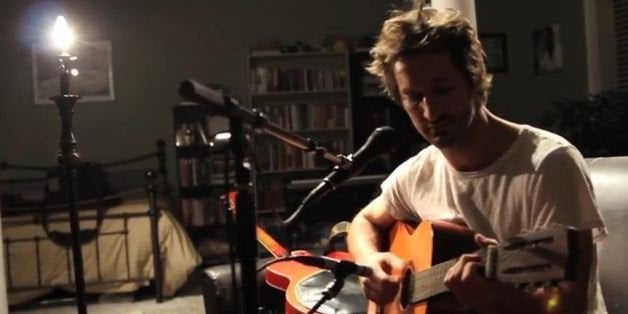 Griffin House writes a great pop song. That isn't such an unusual talent in Nashville, a town where every other drink is poured by an aspiring songwriter. (And a lot of drinks get poured in Nashville.) There are sardonic artists in Nashville and, alternately, singer/songwriters who treat the stage like a confessional. But House manages to pull off both wry and sincere at once. He then he sets it all to viscid melodies that stick in your ear like a warm hunk of taffy. That is pretty damned unique.
His latest album, Balls, was funded by his fans through Kickstarter. It's a stripped-down sound that showcases his voice, his guitar, and his knack for songcraft. Bostonians will appreciate the references in "Fenway, though there's clearly a lot more going on in the song than a trip to a Red Sox game. "Colleen" is a catchy, up-tempo tribute to a lusty crush he once had on his sister's roommate. And then there's "Woman With the Beautiful Hair," House's ode to the murder ballad.
House is more accustomed to dabbling in the typical singer-songwriter fare -- love, loss, crush, heartache -- but with a detail and specificity that only comes from personal experience. A song with a refrain like "Relationships I don't know why, they never work out they just make you cry / but the guy that says goodbye to you is out of his mind," could only be written by a guy who once spoke those words to a woman -- or at least terribly wanted to. Likewise, "Ah, Me" is an unflinching tale of a broken engagement too candid not to have actually happened. (And yes, it did.) "New Day," one of his best, is a soaring gospel-inflected tribute to finding redemption after loss, could only have come from someone who -- well -- found some redemption after a loss.
House also writes candidly about his family. "Hanging On (Tom's Song)" is a touching tribute to an uncle who died when House was six. In "Why Won't You Believe," a parent and college-aged child clash over faith and religion. When House does get topical, he still projects his opinions through the lens personal relationships. In "I Remember," he delivers an anti-war song by recounting stories from his grandfather, who served in World War II, and his uncle, who served in Vietnam. The song then circles back to express House's own worries for friends serving in Afghanistan and Iraq. "The Way I Was Made" is a folksy, up-tempo celebration of diversity and inclusion conveyed through House's own family history.
Even when he's political like that, House isn't usually didactic. His music sounds less preachy, and more like a guy thinking out loud while strumming a guitar. But he also doesn't ramble. House has an aptitude for economy of music, which is to say that his lyrics fit snugly and satisfyingly into his melodies, even when he's telling complicated stories. And despite the contemplative, sometimes heavy lyrics, Griffin House won't weigh you down. There's an airy optimism hiding behind even his brooding moments.
Earlier this year, House came to my place in Nashville for a session of Songs From My Couch, then answered some interview questions.
Thanks to M. Allen Parker for the sound recording and engineering, and to Dave Johnson for the video and video editing. The unofficial bourbon of Songs From My couch is Prichard's Double Chocolate, distilled in Kelso, Tennessee. I supplied the couch.
You took up music at a relatively late age. Can you talk a bit about what got you started?
I started writing songs in college. I took a guitar with me that I bought for 100 bucks from a friend in high school and had never learned to play. I learned from other kids in my dorm, and eventually joined a band as a singer and rhythm guitar player. By my senior year I'd made my own record and sold it around campus. I had also started playing my own shows about once a week.
When did you move to Nashville to pursue music full-time? What were your first few months here like?
I moved to Nashville in Feb of 2003. When I think back about that time, it seems magical. These days just feel real and very ordinary in a lot of ways, which isn't a bad thing. But those days felt like I was certain that I was going to make my own luck through hard work and a determination to follow my dreams. I worked at a gift shop down on Broadway and would write songs on the toy guitars and read and write lyrics. They fired me for it. Luckily I got a manager, an agent, and a label to put out a record shortly after. Once the labels started calling I figured I could really just bank on doing music from then on. So far I have been able to do that. And that's really a dream come true.
What precipitated your move to Cincinnati -- and then your move back to Nashville?

I moved back to Cincinnati because all my friends were moving to new places or getting married around Nashville. I was on the road so much that I had no place to stay, so I decided to go back to Ohio for a while. It was also to see about a girl who I ended up getting engaged to, but we called of the wedding at the last minute. I moved back to Nashville a couple years later after making Flying Upside Down in L.A., and doing a lot of touring. I was once again homeless, and ended up spending the summer at my mom's house drinking a ton of beer, playing golf, and chasing another love interest. Pretty much just treading water and trying to find my way. I didn't really know what to do, so I rented a room at my buddy's house and slept in the control room of his studio on a mattress with no sheets for a couple months.
Then I kind of got my act together and got a loan to buy my first house in East Nashville. It was just a tiny little box on Lillian street, but I ended up really doing a lot of growing up there.
Your songs seem to be drawn from very personal, even intimate places. Do you ever worry about revealing too much, or that a lyric or song may be misinterpreted by someone close to you?
In the past, I never worried about what I was doing or saying in my songs, probably because I was always being very sincere. But on "The Learner" record, I tried something new, with a song that wasn't sincere, but ironic. It didn't really feel right to me. So, I just decided that those kind of songs weren't my job. Lesson learned.
Nowadays, it's a little different being married. I can't really write about girls without my wife maybe thinking who is that about?, and I can't really write about our marriage without worrying that I'm trying to write a good song at her expense. It's a little more challenging because of those things, honestly, but I don't feel I need more of the same kinds of songs. So I try to find new things to say. Whatever is going on in my life -- I'm usually writing about that.
If you could go see and hear an artist play tonight -- living or dead -- who would it be?
I think I'd have to say I would have loved to have seen the Clash play live. I also really wanted to go see Roger Waters do the Wall last year, but didn't make it.
Is there an artist out there with whom you've always wanted to collaborate?
I'd like to sing "Born in the U.S.A." with Springsteen on stage one day.
Give us your best "Only in Nashville" story.
I don't have many "Only in Nashville" stories. My sister had Hank Williams Jr come up and talk to her in Robert's once. I tried to explain to her that that just doesn't happen, even in Nashville. I do remember Dolly Parton passing me in the car on the corner of 12th and Wedgewood. She just smiled at me.
Like many Nashville artists, you funded your most recent album through Kickstarter. Can you talk about that experience?
I'm so thankful to have successfully funded the Balls record through Kickstarter. It was just a really fun and positive experience. I'm still fulfilling the rewards a year later, so it's lots of work on the backend. But it's worth it for sure.
"The Guy That Says Goodbye" is the song that introduced me to your music. What's the story behind that song?
"The Guy That Says Goodbye to You Is Out of His Mind" was written in Springfield, Ohio, and it was inspired by a girl I had a crush on. I was trying to flatter her and make her laugh with the song, but I realized later that it was more about me and my life, and a desire to one day not have to say goodbye to someone.
Given that your songs tend to be so personal, it was interesting to hear a bonafide murder ballad on your new album. I'm assuming "Girl With the Beautiful Hair" isn't based on a real-life experience. What inspired you to write it?
Woman with the Beautiful hair is just me having fun while writing a poem to music. It's complete fiction.
What other Nashville music would you recommend?
I had never heard of Buddy Miller until I moved to Nashville. But every time I hear something he's worked on, every time I've seen him play, it makes me feel lucky that I get to play music too. He's inspiring. I really admire and respect his demeanor on stage, what he has to say with his music, and the way he plays.