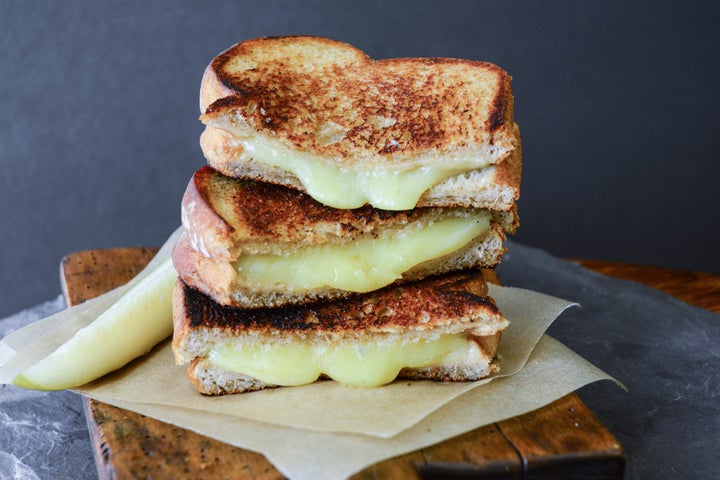 When you're too busy or exhausted to cook or you need a hit of comfort food, a grilled cheese sandwich is salvation. Quicker and cheaper than take-out pizza, it offers the same gooey, crispy goodness in an easy-to-eat package. Add some carrot sticks or a tossed salad, and a great grilled cheese makes for a simple and fast weeknight dinner that's even "balanced."
At its most basic, a grilled cheese takes only three ingredients — bread, cheese and butter (or mayonnaise; more on this later) — so how could anyone possibly mess it up? The fact is that when it comes to something so elemental, small mistakes have a major effect on the final product.
Here are five of the most common grilled cheese pitfalls and ways to guarantee they won't happen to you again. You can make your grilled cheese as classic or creative as you like, but the principles remain the same. Say goodbye to ho-hum grilled cheese.
Pitfall #1: Too Much Bread
Bread thickness is the first critical feature. You want an even ratio of bread to filling, so nix the thick slices. (Not to mention, thick bread will burn on the griddle before the cheese even begins to melt.) The standard half-inch is ideal, but you can go up to three-fourths of an inch, max, so that every bite delivers on the creamy promise of grilled cheese — right down to the crust.
The type of bread you choose — white or whole wheat, sourdough or multigrain — creates the personality of your grilled cheese. You can go soft or crusty, but if you choose artisan bread, discard any slices with large holes so the cheese can't escape.
Pitfall #2: Boring Cheese
Nostalgia may call for orange squares of individually wrapped cheese or even Velveeta. Sure, they're extra melty. But this sandwich hinges on flavor as well as texture.
If you're loyal to American or medium cheddar cheese, mix in another cheese type, or even two. Quality cheeses, such as Gruyère or gouda, manchego or muenster, comté or sharp cheddar, pepper jack or parmesan, ramp up the flavors. Just be sure to choose at least one cheese for its melting quality. For the best results, grate the cheese — or even buy a package of grated Italian or Mexican cheese blends — for the most even melt.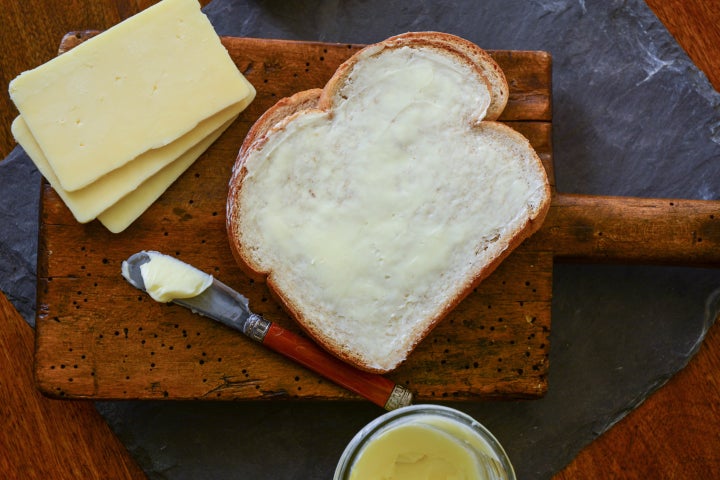 Pitfall #3: Haphazard Spreading
Technically speaking, grilled cheese is really a "griddled" cheese. The magic happens between the bread and the pan with the application of fat, which is generally butter. So, an uneven smear of butter can leave some spots dry and others overly oily.
There is a lot of chatter about the pros and cons of butter versus mayonnaise for the best taste and browning. But either way you go, the key is to smear that butter, mayo (or a combination) from edge to edge in an even, thin layer to get the very best browning action.
Pitfall #4: Overloaded Fillings
Whether you're sticking with cheese or adding extras, such as ham, bacon, tomato or artichokes, this is where a grilled cheese can get out of hand. Avoid overstuffing, or your fillings will just ooze out all over the plate.
Keep the cheese slices thin: no more than two ounces per sandwich, or about half a cup grated. Any add-ins should complement, not overwhelm, the cheese. When it comes to sliced meats, think thin. And chop vegetables, like sautéed mushrooms, roasted red peppers or caramelized onions, so you can disperse them over the cheese.
Pitfall #5: A Too-Hot Pan
Yes, you're hungry, but this is where you want to slow down. Even if you do everything else right, too much heat can ruin a grilled cheese by charring the bread and leaving the cheese unmelted inside. While many experts recommend cast iron, the type of pan you use is less important than the intensity of heat you apply.
The best grilled cheese results from cooking on lower heat for a longer time. Here's what to do: Preheat your pan over medium heat while you slice the bread, spread it evenly with the butter (or mayo or combo) and add your fillings. You can even assemble a batch of sandwiches this way and then turn your attention to the all-important griddling.
Reduce the heat to low and cook each side, moving it around the pan a bit if necessary, until the bread is gorgeously browned. This will allow the cheese to fully melt, too.
With a little patience, you'll end up with a grilled cheese worth savoring and celebrating.