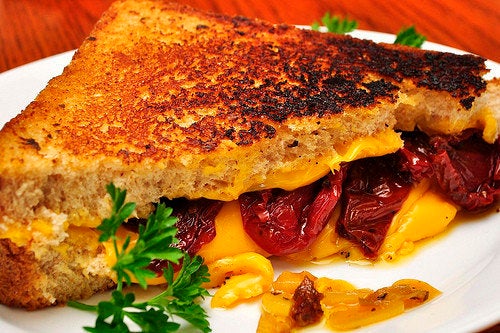 The grilled cheese craze, as if it couldn't get any crazier, just did. With the launch of a soon-to-take-over-every-American-strip-mall franchise grilled cheese concept in San Francisco, America's favorite sandwich is getting more press than some folks would like.


In fact, esteemed food writer Josh Ozersky wrote in TIME magazine that grilled cheese should only be made by moms, not restaurants, and "the truth is there aren't enough skilled short-order cooks to make the sandwich well."
As a grilled cheese professional, I must agree with Ozersky, no restaurant can compete with mom (nor grandma). The excitement and anticipation when mom made you a grilled cheese on a rainy day; from pulling off the plastic on the Kraft single, to slicing and serving that buttery, toasty treat; is an experience that can never be replicated by a restaurant or food truck, no matter how fancy the cheese or nostalgic the atmosphere. 


But Bay Area restaurants are not trying to re-invent the grilled-cheese wheel. The true pros are not aiming for fast food nation domination through unskilled labor and franchise schemes. Rather, they seek to create a new-age grilled cheese sandwich; embarking on culinary endeavors that make our mouths water and our hearts, for lack of a better term, melt. 


Our local grilled cheese joints prep and cook their grilled cheeses in unconventional ways. They boast about hours of food prep to perfect each sandwich filling, that isn't even cheese. THE AMERICAN Grilled Cheese Kitchen's Mushroom Gruyere sandwich features a roasted wild mushroom duxelle, which takes two cooks and over eight hours to prepare.  The Toasty Melt truck prepares garlic mashed potatoes with chives and bacon for their Irish Cheddar Bomb sandwich. 


And of course, many of our beloved grilled cheese eateries feature locally made cheeses, artisanal breads, specialty spreads, handmade preserves, and seasonal produce. This, I believe, is something you will never see stretch across the country with a franchise concept, nor dare I say it, in mom's kitchen. 


Have you tried the California Gold at Mission Cheese -- goat cheese, prosciutto and fig preserves? Yes, please. 


Even more impressive is that today's short-order grilled cheese cooks are toasting, frying, pressing, and/or grilling these epic sandos to perfection. So I'm sorry Ozersky, but you're generalization is off -- there are folks here in the Bay Area that do these grilled cheeses right.


"So how do the pros get the sandwich fully cooked: cheese fully melted, additional ingredients cooked, and the bread buttery and toasted without being soggy?" Typically I'm asked this question by folks who like to fully load their grilled cheese -- ya know, multiple cheeses, meats, vegetables, sauce, and maybe even potato chips. We're talking true whoppers here.


I present them with multiple options that work; options that true grilled cheese masters employ to make these Bay Area gourmet grilled cheese sandwiches.


The Classic Method - Griddle or Frying Pan, as used by Toasty Melts, Grilled Cheese Guy

This is the method most of us know best. Take an oiled griddle or frying pan. Heat it up and leave it at a medium heat. Place your assembled raw sandwich on the heated surface, cook for 2-3 minutes until one side is toasted brown, flip and do it again to the other side. Remove, slice and serve. Funny enough, the name "Grilled Cheese" actually originated from the term "Griddled Cheese."

Pros: Unparalleled flavor and even toast. You can impress your friends (or burn yourself) by tossing and flipping the sandwich in mid air with a spatula. Try a brick or grill weight to really press the sandwich together into a melty mess.

Cons: Full consistent melt inside the sandwich can be difficult (unless you use shredded cheese) to achieve if heat is inconsistent or sandwich has a lot of fillings. Very easy to burn the bread if you're not paying careful attention.


The Sandwich Press, as used by Mission Cheese, Tartine Bakery

Employed by restaurants, cafes and sandwich shops across the world, the hot sandwich press is an excellent option to achieve a crunchy grilled cheese. There are both grooved and flat surface paninis, just depends on the texture a chef wants on the toasted bread.

Pros: Very, very, very easy. You just need a good piece of equipment.

Cons: These things start to stink after a while without proper maintenance. Remember your George Foreman grill from college? They also tend to flatten the sandwich, so you have a pressed grilled cheese, rather than something with a lot of height and volume. Lastly, in my experience, presses take a few extra minutes if you're cooking a stacked sandwich.


The Convection Oven, as used by THE AMERICAN Grilled Cheese Kitchen, Java Beach

Grilled cheese restaurants have taken the convection oven concept (surrounding a sandwich with circulating heat) and adapted it for commercial environments. For example, salamanders, conveyor belt ovens, and rapid cook ovens are commonplace in these places. Cooking a sandwich open faced, on a hot sheet pan or cast iron griddle, in an oven at high heat (at least 500 F), allows for a lot of freedom in what you put in your cooked sandwich.

Pros: You can cook a truly stacked sandwich, with all the ingredients you want, and likely achieve a perfect melt. This method only takes a few minutes
.
Cons: Can be pretty physical, pulling things in and out of an oven can get tiring. For the Ozersky-like-purists, this will produce more of a toasted sandwich than a traditional grilled cheese.


If you're looking for a the traditional American cheese on buttered white bread, I recommend staying home or visiting Mom. But if you want something that will truly excite your culinary senses and unleash the Bay Area foodie inside of you, I encourage you to hit up your local grilled cheese spot to see how the pros do it.

Calling all HuffPost superfans!
Sign up for membership to become a founding member and help shape HuffPost's next chapter