I adore grilled cheese by whatever name: quesadilla, panini, pizza (ok, maybe that last one's a stretch). It is practically in my blood, at least the blood from my mother's side. My father's side almost universally detests cheese. But my maternal grandparents, as I understand it, went to Paris for the first time and fell deeply, happily in love with Croque Monsieurs. They ordered them at a bistro for lunch their first day there, and they were simply blown away. At all the Parisian meals that followed that one, they were unable to order anything but this fancy grilled cheese sandwich. They ate Croque Monsieur after Croque Monsieur--my heaven.
Though I am never dissatisfied with the classic, sprucing up grilled cheese is a worthwhile endeavor in my book. It's not to prevent boredom, exactly. It's for fun, for variety. Depending on what ingredients you add, you can even occasionally nudge the grilled cheese ever so slightly in the direction of healthful. Phoebe's been known to add sauteed mushrooms to her grilled cheese, but in this sandwich I went a route she never would: I used pears.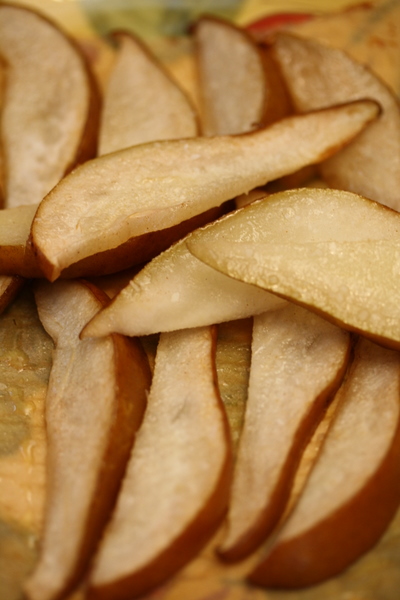 We first made these sweetened, roasted pears for a salad at a lunch we catered. On top of mixed greens, with toasted pecans and cider vinaigrette, they were phenomenal. I figured they'd provide a similar texture and taste to this grilled cheese sandwich. Their sweetness was offset by a slather of good mustard, a sprinkling of pecans, and, of course, cheese--sharp white cheddar. On the other hand, the pastry-like quality of egg bread (this sandwich was actually framed by homemade egg bread, from this recipe), amplifies the pears.
At a time when fresh spring produce is soon to hit the farmstands, and we're just about to start eating a bit more lightly--salads and soups in preparation for Memorial Day--this grilled cheese is a wonderful counterpoint. It might perhaps even be enjoyed alongside one of the aforementioned dishes.
I'm not the only one to play with her grilled cheese--all over, people are playing along with me. So, I'm wondering. What are your favorite grilled cheese combinations? What are the best cheeses, seasonings, spreads and ingredients? Tell us in the comments!
--Cara Eisenpress of Big Girls, Small Kitchen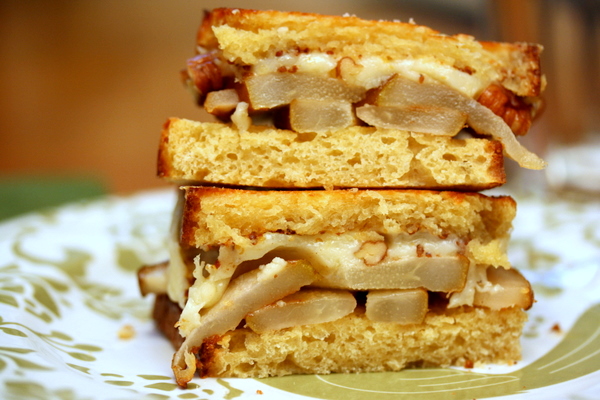 Grilled Cheddar Sandwich with Roasted Pear and Pecans
Makes 2 sandwiches
Ingredients
1 tablespoon butter, melted
1 teaspoon sugar
pinch cinnamon
Kosher salt
1 Bosc pear, quartered, cored, and cut into ¼-inch thick slices
10 pecan halves
2 teaspoons whole grain mustard
1 teaspoon honey
pinch cayenne
4 slices good egg bread, toasted
3 ounces sharp cheddar, grated (about 2/3 cup)
Preheat the oven to 375°F. Combine the melted butter with the sugar, cinnamon, and a pinch of salt. Add the pears and pecans and toss to coat. Arrange them on a parchment-lined baking sheet. Bake for 10 minutes, then remove the pecans and bake the pears for 5 minutes more. Leave the oven on. When the pecans are cool enough to handle, chop them coarsely.
Stir together the mustard, honey, and a pinch of cayenne. Place two slice of bread on a greased baking sheet, then spread each with half the mustard mixture. Top each with two layers of pears, then divide the cheddar between the two. Bake for 5-8 minutes, until the cheese is melted.
Remove from the oven and sprinkle half the pecans over each sandwich. Top with the remaining two slices of bread, and carefully flip the sandwiches. Bake for another 3-5 minutes.
Cut each sandwich in half and serve.

Calling all HuffPost superfans!
Sign up for membership to become a founding member and help shape HuffPost's next chapter