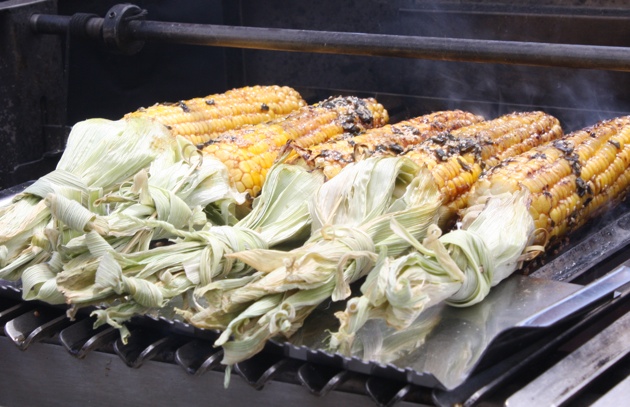 Grilled corn turns up across Planet Barbecue, and whenever I see it, I screech the car (or tuk-tuk or pedicab) I'm in to a halt to try it. This has led to some pretty remarkable roadside eating: In Cambodia, for example, I was rewarded by some of the best grilled corn I've ever tasted -- sweet and smoky -- with pandanus leaf-scented coconut milk brushed on to accentuate the corn's innate sweetness. (Pandanus leaf has a fresh, aromatic flavor that may remind you of pine needles.)
Summer corn is still in season. Here are five great ideas from around Planet Barbecue to help you make the most of it.
Mumbai, India: Electrify grilled corn with fresh lime juice and cayenne pepper.
Bogota, Colombia: Grill corn over charcoal braziers, brush with melted butter, sprinkle it with grating cheese (Parmesan or pecorino Romano work nicely), and serve it on a stick.
Hokaido, Japan: The corn here is so supernaturally sweet it requires nothing more than a quick char over a binchotan charcoal fueled hibachi. Elsewhere, Japanese grill masters baste less sweet varieties with a mixture of melted butter and soy sauce, sprinkling on sesame seeds for crunch.
Americans grill corn, too, but we are riven by debate. On one side: advocates of grilling corn in the husk, who argue that the husk keeps the corn moist, protecting the delicate kernels from scorching.
The other camp insists on grilling the corn naked (with husk off). This caramelizes the sugars in the kernels, producing sweet, smoky caramel flavors. Grilling is all about fire: You won't get big flavors unless the kernels come in direct contact with the flames. Husk on grilling steams the corn, these partisans argue, which gives you no more extra flavor than boiling.
CHECK OUT THESE BOOKS BY STEVEN RAICHLEN: