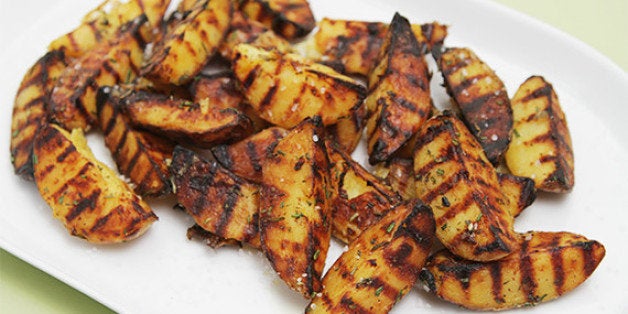 Potatoes and rosemary -- a marriage made in food heaven, for sure! And although I love making the classic dish in the oven all year long, come summer I turn to the grill. One twist, though: here, the potatoes are marinated with the rosemary and garlic for 30 minutes before they're grilled. And once they're done, they're returned to the marinade and tossed in it while hot -- in essence, getting a double flavor-boost.
My only advice? Make extra, because they disappear fast!
Grilled Potatoes with Rosemary, Garlic and Coarse Sea Salt
serves 4
active time: 30 min
2 lbs (905 g) medium Yukon Gold or red potatoes
2 teaspoons sea salt to boil the potatoes
1/4 cup coarsely chopped fresh rosemary
4 large garlic cloves - skinned and finely sliced
1/2 cup extra virgin olive oil
1 teaspoon sea salt
freshly ground black pepper to taste
coarse sea salt to taste as garnish
Step 1: Place the potatoes in a large pot and fill with enough cold water to cover them by 2″. Add the salt and bring to a boil over medium-high heat. Then fast-simmer uncovered for 10 to 12 minutes, until tender but not falling apart. Drain and let cool to room temperature. Then cut the potatoes in quarters.
Cook's note: The potatoes can be boiled up to 1 day ahead, left whole and refrigerated until ready to use.
Step 2: Place the rosemary, garlic, olive oil, salt and pepper in a large bowl and stir until well blended. Add the potatoes, and carefully toss them with your hands until they are well coated with the marinade. Let stand at room temperature for 30 minutes.
Step 3: Heat a gas, electric or charcoal grill to high heat (alternatively, use an electric griddle or griddle pan). When the grill is ready, place the potato slices directly on the grill and cook until grill marks appear. (There should be some marinade left at the bottom of the bowl. Set the bowl aside while the potatoes are grilling.) Turn the slices over and continue to grill until the potatoes have grill marks on all sides. As soon as the potatoes are done, transfer them back to their bowl and toss until well coated with the leftover marinade. Transfer to a serving platter, sprinkle with the coarse sea salt and serve.