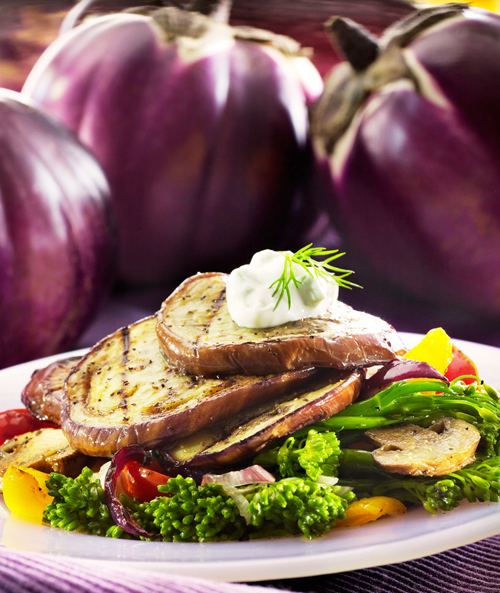 Photo by David Bishop
Ratatouille has many faces and is intrinsically hearty, healthful and delicious. It is of French origin, the name being derived from the words ratouiller and tatouiller, two expressive forms of the French verb touiller, meaning 'to stir up'. It's original melange was basically a vegetable stew, sometimes with meat, and has evolved to encompass diverse styles. Recipes similar to Ratatouille can be found by other names in various forms in many ethnic cuisines.
Ratatouille, always savory and heart warming, was not always beautiful in it's presentation as a homespun country dish. It has been made infinitely more popular by the winsome, thoughtful, and thoroughly delightful movie by it's same name. Rataouille, which I own a copy of and have seen at least 7 times. Needless to say, it is one of my favorites.
I was enthralled by the movie. I had wondered who could have come up with that rendition of the oh so wonderful but country style, not so pretty dish Ratatouille, in such an avant garde and beautiful way, which inspired me to make that favorite dish of mine into something more worthy of food styling. When I discovered who had designed and orchestrated the behind the scenes food of the movie I had an AHAH moment. Thomas Keller, one of my greatest culinary heroes, who is considered to be The Best American Chef, self taught, up from his boot straps, is the genius behind the cartoon Ratatouille. My heart and mind rang out "Of course!" I have been fortunate to have partaken in a tasting meal at his NYC restaurant Per Se. Ahhh! I hope everyone get the opportunity to dine there or at his flagship restaurant in Napa Valley, CA, The French Laundry.
So, to get back to Ratatouille... The basic traditional ingredients that have endured with the name Ratatouille are eggplant, tomatoes, bell peppers, onions, garlic and herbs. I have often put some, or most, of them together in impromptu ways, depending on what was ripe in the garden or fresh in the market at the time. I decided to do something very different to make a Ratatouille creation that is structurally beautiful, delicious, a bit more healthy in nutrients and fiber, and fast and easy to cook and assemble. I've changed out the zucchini with Broccolini, shallots for garlic (shallots are very sweet and are a cross between onion and garlic), and added mushrooms. You can also use broccoli or broccoli rabe instead of broccolini. I'm sure it would also be sensational with zucchini or summer squash and broccolini. Let the season, garden and market be you muses.
People often tell me that they generally shy from cooking eggplant because it can be bitter or greasy. There are two basic rules of thumb to help understand and solve this conundrum. The first is realizing that the seeds are the source of eggplant's bitterness, hence, the younger, smaller, thinner eggplants, which inevitably have tinier seeds, are less bitter to start with. The second is that pulling the liquid out of the eggplant, which is easily done by salting and draining, eliminates whatever bitterness may be in them, reduces their absorption of oil, and renders them more tender with less cooking. These techniques are especially useful for quick cooking methods such as grilling and searing.
Here is the recipe for my rendition of a new style Ratatouille topped with a Cucumber Dill Yogurt Sauce. Serves 4-6
Eggplant Prep:
2 young, slender eggplants
sea salt
olive oil, enough to brush onto the eggplant slices later when you grill them
Line a couple or three sheet pans or cookie sheets with 2-3 layers of paper towels
Slice the eggplants on a slight diagonal into 1/2" slices
Salt both sides of each slice of eggplant with sea salt
Lay out the eggplant slices onto the paper towel lined sheet pans, single file, not overlapping
Cover the eggplant slices with another 2-3 layers of paper towels
Place another sheet pan onto the top layer of paper towels on each pan
Weight the second pan of each down with a heavy pot, or whatever is at hand, but don't crush them
Let stand for about a half an hour or so, while you prep the other ingredients. It doesn't matter much if it is more or less
Cucumber Dill Yogurt Sauce
1 cup Greek style 0% fat yogurt
1 cup minced cucumber, unwaxed, thin skinned, small seed type such as English or Asian, or peel and de-seed traditional cucumbers
1/4 cup mediumly fine chopped fresh dill, or a tablespoon of dried dill
Dill sprigs for garnish
Mix all of the ingredients together and refrigerate until ready to serve, reserving some fresh dill sprigs for garnish.
Broccolini prep:
1 bunch of broccolini
2 quarts of amply sea salted water, boiling (About 1/4 cup sea salt)
2 quarts of ice water
Boil the Broccolini in the salted water until it is just tender
Remove the broccolini and place it into the ice water to preserve it's brilliant green color
When ready to use, drain thoroughly of all water (use paper or cloth towels if need be)
Vegetable Prep and Cook:
6 small crimini mushrooms (baby portabellas), 1/4 inch slices

1 cup of cherry or grape tomatoes, halved lengthwise

2 shallots, thinly sliced
1 small to medium red onion, thinly sliced lengthwise into slim crescents
1 small yellow bell pepper, or 6 baby yellow bells, cut into 1 inch diamonds or curvy wedges
1/8 cup olive oil
1/4 of one fresh lemon, juiced
1-2 dashes of hot sauce, such as Tabasco or Asian Sambal Oelek, optional
Sea salt and freshly ground black pepper to taste
In a medium large skillet on medium high heat, saute until softened, the mushrooms, shallots, onions and peppers in the olive oil, while stirring, and season to taste with sea salt and pepper. Add in the tomatoes and cook until they wilt. Add in the drained cooked broocolini and the hot sauce to taste. Continue cooking and stirring until the broccolini yields to a fork and is as tender as you like it to be. Remove the pan from the heat and squeeze in the lemon juice, giving it a stir to incorporate the flavor throughout all of the vegetables. Fresh lemon juice lends an alkalizing healthy beneficial effect to food when it is not cooked, by reducing indigestion and assisting your body's immune system. Once cooked, it becomes more acidic to the human stomach and body.
Brush the slices of eggplant on both sides with a thin coat of olive oil. Grill the eggplant in a hot skillet or on a flame, charcoal or electric grill, about 3 minutes per side.
Plate the vegetables and top with stacked grilled eggplant slices. Serve with the Cucumber Dill Yogurt Sauce. Garnish with small fresh dill sprigs. This is a perfect lunch as is, or serve it as a side dish with fish, poultry, or meat. Accompany it with a whole grain pilaff if you desire.
Whatever you do, make it your own special creation and enjoy it by yourself, with family and/or friends.
Also visit my first blog at foodfloozie.com and my professional website at marilinda.com
REAL LIFE. REAL NEWS. REAL VOICES.
Help us tell more of the stories that matter from voices that too often remain unheard.