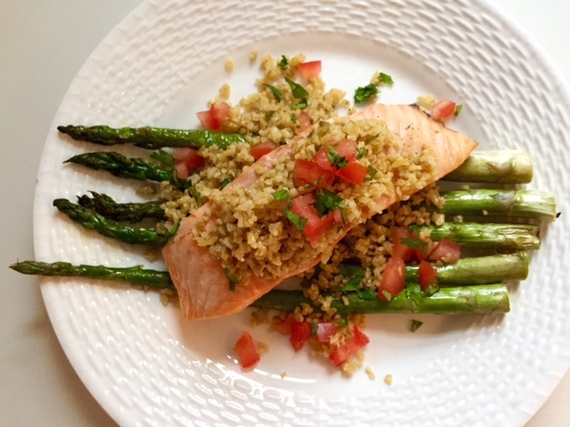 Now that the weather is warmer I can't wait to grill up healthy dinners. This grilled salmon and asparagus recipe is one of our weekly go-to meals, especially on a night packed with kid's activities. I often choose freekeh as our healthy whole grain side because it's a great source of fiber, protein, and iron. Freekeh is also easy to make in advance and it complements just about any entrée deliciously. The American Heart Association recommends that we eat a variety of fish at least 2 times per week. Warm weather makes grilling fish easy, which allows us to increase our weekly consumption. Salmon is a common dinner staple at our house mainly because it contains heart healthy omega-3 fatty acids and muscle-building protein. Asparagus is also a good source of fiber as well as folate and vitamins A, C, E, and K. Together, freekeh, salmon, and asparagus combine for a nutritious and delicious meal the whole family will enjoy.
Ingredients
(4 servings)
1 package Freekeh, cooked
4 (4 oz.) salmon filets, wild caught
½ lemon
orange ginger seasoning, to taste
20 asparagus spears, washed and dried
extra virgin olive oil, to taste
2 vine ripe tomatoes, diced
1 small bunch cilantro, chopped
Salmon
1. Squeeze ½ lemon on top of the salmon filets.
2. Lightly season with orange ginger seasoning (I use Wegmans brand).
3. Spray grill with no-stick spray and grill on medium heat for 20-25 minutes or until salmon is flaky.
Asparagus
1. Place the asparagus on a baking sheet lined with foil. Drizzle with extra virgin olive oil and lightly season with orange ginger seasoning. Rotate until they are evenly coated.
2.Transfer the asparagus and foil onto the grill. Grill over medium heat for 20-25 minutes or until tender (rotate using tongs to ensure the asparagus is cooked evenly).
Plating
1. Lay 5 asparagus spears on each plate.
2. Place each salmon filet diagonally on top of the asparagus.
3. Spoon 1 serving of Freekeh on top of each piece of salmon.
4. Garnish with the chopped tomatoes and cilantro.