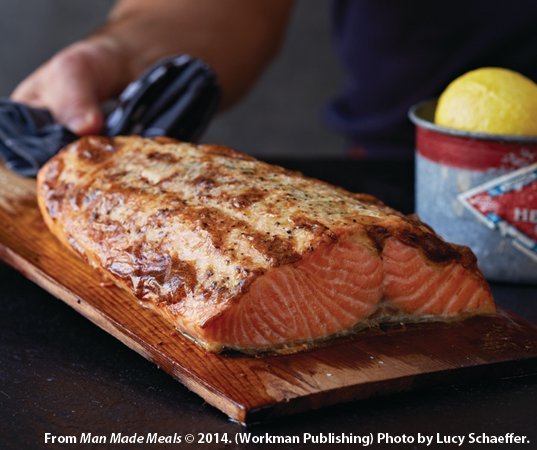 Heads up! Copper River salmon is once again available in the Lower 48. That's right. With great fanfare, Alaska Airlines delivered the first shipment of Copper River salmon to Seattle on Tuesday, May 17. For at least a few weeks, you should be able to buy this glorious fish (also called king salmon or "Chinook") for your table. This year, permit holders include 540 drift net and 29 set net fishermen, each of whom is an independent small business owner. Needless to say, supplies are limited.
Most people--even people committed to responsible consumption--are not aware that salmon is a seasonal luxury. We've become accustomed to seeing fresh salmon--like strawberries and asparagus--for sale year round.
But, here's the rub (and I'm not talking barbecue rub): The salmon sold in most supermarkets and seafood stores is farmed salmon. In fact, an astounding two-thirds of the salmon Americans eat comes from Chile, Canada, or Norway, and is usually processed in China. Perplexing when you consider that one-third of the world's wild salmon supply is netted in the U.S. (Read more about America's loosening grip on the seafood industry in American Catch: The Fight for Our Local Seafood by Paul Greenberg.)
Salmon is second only to shrimp in terms of American consumption of seafood. And no wonder. Not only is it rich in healthy Omega-3 fatty acids, but it is a very versatile protein. Not only does it pair with a wide variety of other ingredients, but it can be grilled, smoked, poached, baked, roasted, or sautéed. Of course, you can easily guess which cooking methods I prefer.
Fresh salmon--always wild--appears often on Raichlen family menus. When it's in season, of course. I've published many recipes for it over the years. I have a difficult time choosing favorites, but I prefer preparations that glorify and enhance the natural flavor of the salmon.
SIGN UP for Steven Raichlen's UP IN SMOKE newsletter to learn more about barbecue!
Steven Raichlen is the author of the Barbecue! Bible cookbook series and the host of Project Smoke on public television. His web site is BarbecueBible.com.