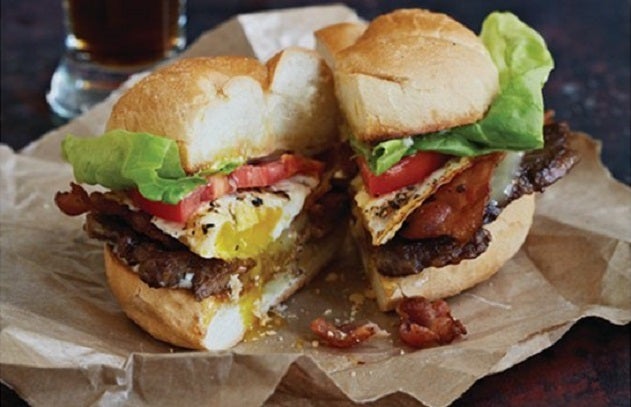 More popular than ever, nearly every food culture in the world has its own take on sandwiches, from Umbria's porchetta to Vietnam's bánh mì to Uruguay's mouth-stretching steak and egg chivito. My favorites—no surprise—feature grilled or smoked components. Here are Raichlen's top grilled sandwiches. What are yours? Share them with us on Facebook, Twitter, or Instagram.
Chivito Simply defined, Uruguay's chivito is a steak sandwich—the way the Super Bowl, simply defined, is a football game. You start with thin-sliced steak and pile on bacon, eggs, cheese, lettuce, tomato, and mayonnaise. It makes a Philly cheesesteak look downright small.
Choripan Choripan is as popular throughout South America as hot dogs are in the United States. It starts with spicy chorizo sausage on bread and may be served with salsa, Pebre, chimmichurri, mayonnaise, or all of the above. This recipe is a smoky American twist on a South American favorite.
Pastrami Reuben If you think a Reuben is good made with corned beef, wait until you try it with the garlicky, smoky, home-cured, and home-smoked pastrami called for by this recipe.
Grilled Cheese Sandwich When it comes to making a world-class grilled cheese sandwich, quality ingredients matter as much as the technique. The beauty of this comfort food favorite is that it can be easily customized to suit your taste. For an extra crusty texture, cook the sandwich on a cast iron skillet or a plancha with a grill press.
Calling all HuffPost superfans!
Sign up for membership to become a founding member and help shape HuffPost's next chapter
This post was published on the now-closed HuffPost Contributor platform. Contributors control their own work and posted freely to our site. If you need to flag this entry as abusive,
send us an email
.