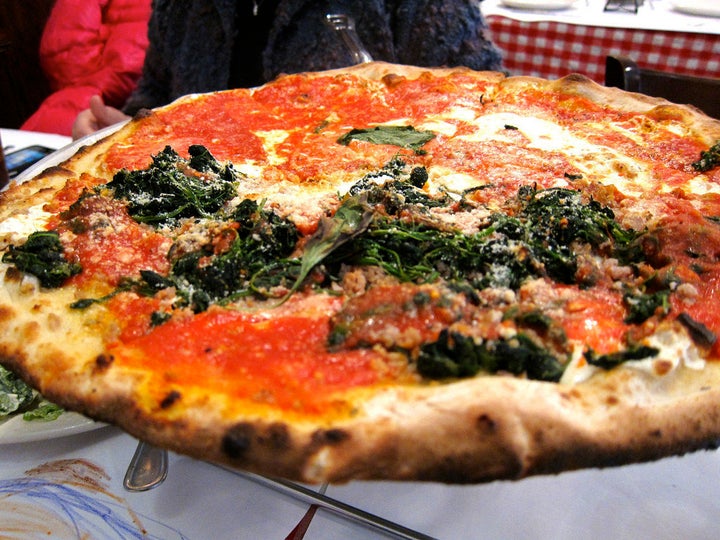 Grimalidi's served its last pie at 19 Old Fulton Street in DUMBO Monday night. An ongoing dispute with the landlord has forced the beloved Brooklyn pizzeria to move-- next door.
That's right, owner Frank Ciolli will reopen Grimaldi's at 1 Front Street. The shop's famed coal-oven, however, will stay behind and be the engine for a new pizza joint, Juliana's, owned by none other than Patsy Grimaldi, the original Grimaldi's owner who sold the store to Cioli in 1998.
And so, get ready New York, that's two quality za's on one street corner by the Brooklyn Bridge--a pizza mecca, if you will-- assuming the Ciolli can figure out how to get his own coal oven.
The Department of Buildings has issued a stop-work order at the 1 Front Street location, saying Cioli has been illegally installing the rare pizza cooker, which can reach up to 1000 degree temperatures and gives pies a distinctive, highly-sought after flavor.
The city rarely issues new permits for coal-fired brick ovens because of environmental concerns. Existing ones like the one now at Grimaldi's are grandfathered in -- making them virtual gold mines. They can be approved on a case-by-case basis but it is very rare.

City officials said they have recommended Ciolli install a gas-powered oven that uses coal for flavor enhancement. However, pizza aficionados say the taste of pizzas made that way pales in comparison to those made with true coal-fired brick ovens.
Ciolli claims it's all a mix-up and is putting the blame squarely on embattled Brooklyn starchitect Robert Scarano, who he says apparently only asked the city to approve the installation of a "pizza oven," neglecting to mention that it was a coal-oven. Scarano maintains, according to The Brooklyn Paper, that Ciolli only wanted a normal pizza oven that only uses coal to add flavor.
And so, assuming Ciolli can land the coal-oven, will there any tension between Ciolli and Grimaldi? Will there be a pizza-war?
Apparently not. Ciolli tells The Post, "I have no animosity towards Patsy and his family. He gave me a wonderful opportunity selling me the place in 1998, and I wish him the best."
Related
Popular in the Community