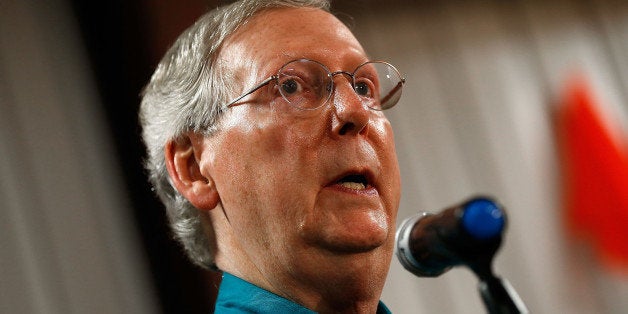 WASHINGTON -- The campaign of Democratic Senate candidate Alison Lundergan Grimes has ripped her opponent, Sen. Mitch McConnell (R-Ky.), for siding with the coal industry over miners on issues of mine safety. But now the Grimes camp is extending that attack to McConnell's wife, Elaine Chao, the former secretary of labor under George W. Bush.
In a statement to HuffPost, Grimes spokeswoman Charly Norton said that Chao's tenure as head of the Labor Department, which includes the Mine Safety and Health Administration, was a disaster for miners.
"It's horrific that rates of black lung disease have skyrocketed back to levels of the early 1970s as Mitch McConnell raked in campaign contributions from coal operators and Secretary of Labor Elaine Chao gutted standards at the Mine Safety and Health Administration," Norton said. "McConnell's blatant disregard for miner safety and health is reprehensible and clearly shows that he's more interested in serving the billionaires and millionaires bankrolling his campaign than our hardworking coal families."
A spokeswoman for McConnell's campaign didn't respond to requests for comment, and an email sent to Chao through her website on Tuesday went unreturned.
The Grimes campaign is referring to recently released data from the National Institute for Occupational Safety and Health, which found that a particularly nasty form of black lung disease has rebounded to its highest level in decades in central Appalachia, which includes Kentucky. Black lung, a debilitating disease that leaves miners coughing and gasping for air, played a role in an estimated 10,000 deaths between 1998 and 2008, according to NIOSH.
The resurgence of black lung disease is a complicated story that even experts can't fully explain yet. Some scientists attribute the rising rates to contemporary miners working longer shifts and breathing more toxic dust mixtures. While it's clear that both coal companies and regulators bear responsibility for failing to eradicate a preventable disease, no one can conclusively link black lung's rise to a specific time at the Labor Department, whether under a Democratic or Republican administration.
Still, plenty of workplace safety advocates agree with the Grimes campaign that Chao's Labor Department was cozy with the coal industry it was tasked with policing.
"Enforcement under Chao was a very low point in MSHA history, I believe," said Tony Oppegard, a mine safety lawyer who prosecuted cases for the state of Kentucky during the Bush years. "It was an extremely industry-friendly administration. ... That was the Bush philosophy, that you don't need an adversarial relationship between coal operators and inspectors."
In fact, Oppegard recalls a time during the Chao years, which spanned both Bush terms, when MSHA's role wasn't even referred to as enforcement. Chao herself called the mission "compliance assistance," he noted.
As Ken Ward Jr., the longtime coal reporter for West Virginia's Charleston Gazette, wrote in 2007, MSHA under Bush and Chao "reversed decades of progress on mine safety." For instance, Chao's first deputy to head MSHA, Dave Lauriski, was a former Utah mining executive who called for more cooperation with the industry rather than aggressive enforcement.
"During his tenure, he filled the agency's top jobs with former industry colleagues, dropped more than a dozen safety proposals initiated during the Clinton administration, and cut almost 200 of the agency's 1,200 coal mine inspectors," Ward wrote in Washington Monthly. "Mine-safety experts have linked many of these actions to the causes of deadly mine accidents since 2001."
Chao defended her tenure from critics in a 2009 interview with The New York Times, noting that occupational fatalities and injuries fell to new lows on her watch. "This administration has accomplished a great deal at the Department of Labor to benefit America's labor force," she told the paper. "I'm the first secretary of labor in the 21st century, and the competitiveness of the American work force and the modernization of decades-old regulations have been among our top priorities."
McConnell has long been one of the Senate's top recipients of coal money, and Chao's top role at the Labor Department appears to have benefited him and members of his political circle. As the Lexington Herald-Leader reported in 2006, Chao was a staple at McConnell's fundraisers, "chat[ting] with his donors and seed[ing] her agency with his former aides."
For example, one of Chao's appointed deputies was Steven Law, who had previously worked at the National Republican Senatorial Committee helping McConnell tap donors such as coal magnate Bob Murray, the paper reported.
Not surprisingly, McConnell has tended to toe the industry line when it comes to mine safety issues. Thanks in large part to opposition from GOP leadership, Congress has failed to pass a comprehensive mine safety bill since the Upper Big Branch mining disaster -- which killed 29 West Virginia miners in 2010.
In response, the McConnell campaign cited the senator's support for a mine safety law that passed with his support in 2006 after the Sago mine disaster that year, and said McConnell wouldn't support legislation beyond that. (Safety advocates said the 2006 bill didn't go far enough).
Most recently, Grimes has attacked McConnell for not supporting a bill that would make it harder for coal industry lawyers and doctors to undermine workers' black lung claims. Miners who can prove they got black lung from their jobs are theoretically entitled to monthly benefits, but investigative reports from the Center for Public Integrity have demonstrated how coal companies have withheld critical evidence and offered false testimony in such cases.
Grimes, hoping to get elected in a state where President Barack Obama is deeply unpopular, has tried to separate herself from the president and other Democrats on energy issues, even going so far as to tout the coal lobby line that Obama and the Environmental Protection Agency are waging a "War on Coal." And yet Grimes has declared her support for both the new black lung bill that McConnell opposes and a comprehensive mine safety package that's languishing in Congress, both of which are strongly opposed by the coal industry.
REAL LIFE. REAL NEWS. REAL VOICES.
Help us tell more of the stories that matter from voices that too often remain unheard.
BEFORE YOU GO
PHOTO GALLERY
Mitch McConnell & Alison Lundergan Grimes