While I would like to think I am the viewer who first discovered NBC's "Grimm," I am sure I would have many who would beg to differ. Understandably, the show which had a bit of a slow start, has a minion of fans who have finally found satisfaction in what we knew early in Season 1: This show is fantastic. With characters who live complicated and intertwined lives, the actors who portray them are no less connected off-camera as this is truly an ensemble cast.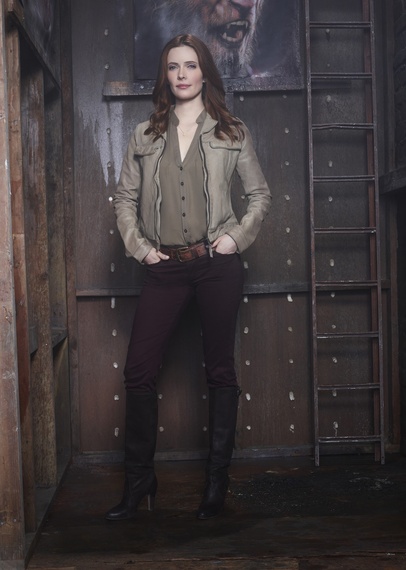 Photo Credit: NBCUniversal
Therefore, when I had the opportunity to sit down with Bitsie Tulloch (Juliette Silverton), it was no surprise that the actress behind the character is equally as smart, authentic, slightly sassy, and nothing short of delightful with a flair for the fantabulous.

Joshua Estrin: With the holidays upon us... Are you a traditionalist or more spontaneous?
Bitsie Tulloch: I am as far away from a traditionalist as one could be. I grew up with a mother who put the Christmas tree up in October so I know it might not make me the most popular person, but sometimes the holidays just get to me. That being said, I enjoy spending time with my grandmother and try to make the season all about making her happy.
JE: "Grimm" is one of the hottest shows with a loyal fan base that has few rivals. There was a time when it wasn't so "cool." What do you think was the turning point?
BT: We have unbelievable fans. They are passionate about the show and without them we would be nothing. In the beginning, it took the idea some time to catch on. But, once the focus became more about the mythology and the legends, we really connected with our audience and experienced an amazing shift. I think it made sense as the show became about people trying to find their way home and that resonated with viewers.
JE: Can you give a little inside scoop about the making of the Christmas special?

BT: The Christmas special was so much fun to shoot. I spend time on Twitter and I was shocked that as excited as people were to have two-hours of "Grimm", they were taken aback to hear it was the season finale. We aren't going away forever, just taking a little break and coming back with more than a few surprises.
JE: So many people have come to identify you as "Juliette Silverton." What do you think is the greatest misconception fans have about her?
BT: In Season 1, I think Juliette was a bit misunderstood and I get it as she didn't have a great deal to go on because most of Nick's life was hidden from her. After the comma, she began to come into her own. In truth, what might have been interpreted as a passive-aggressive woman getting in the way of the man who loved her, was actually a very smart, loving person who made one of the ultimate sacrifices despite her love for Nick by realizing he was not ready for marriage. I believe saying "no" to him took a great deal of courage and integrity.
Grimm returns January 3 on FRIDAYS 9/8c
REAL LIFE. REAL NEWS. REAL VOICES.
Help us tell more of the stories that matter from voices that too often remain unheard.