Grindr, the wildly successful, male-only location-based hookup facilitator for gay, bisexual and gay-curious men, has registered 2 million users in two years. Now, the creator of Grindr has launched a new app Blendr that replicates Grindr's template, with one key twist: it allows women to register, too.
Grindr founder and CEO Joel Simkhai claims that Blendr, which launched on the iPhone and Facebook on September 8, is not about hookups, but friendships.
"We've looked at social networking and thought that it wasn't very social," Simkhai said in an interview. "With Blendr, we're putting 'social' into social networking. You look at Facebook and you can share things, but you can't really meet new people. With Blendr there will be no better way to make new friends."
There's reason to be skeptical of Simkhai's stated purpose, given that Grindr, which promises to be "quick, convenient, and discreet," is more dating site than social network. But Simkhai says that Blendr and Grindr have little in common in terms of aim or purpose: Blendr has "evolved from Grindr, they're cousins," he says.
"Grindr is all about one interest, and that's being gay," Simkhai said. "That's just one specific interest. [For Blendr] we've brought in hundreds of interests ...This is a friendship app, this is a meeting app. This is for that 60-year-old guy who wants to play poker and wants to find guys or girls of any age group who also want to play poker around him."
Despite Simkhai's stated aspirations for the app, I have to believe that Blendr has either been set up as, or will live or die by its success as, a heterosexual hookup app. No matter how noble Simkhai's intentions, its association with Grindr has pigeonholed it as a "Grindr for heterosexuals," whether Simkhai likes it or not.
Moreover, Blendr and Grindr really are very, very, very similar. Besides the identical omission of the letter 'E' in the app name, the user interface of Blendr also looks exactly like that of Grindr: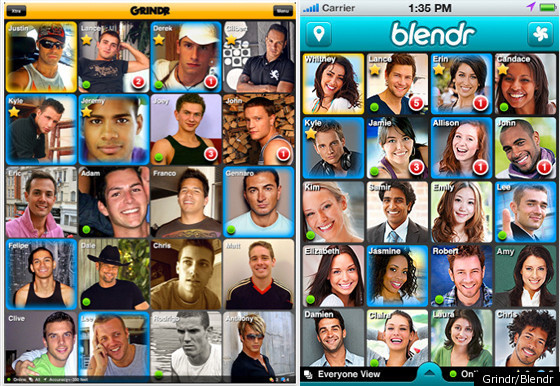 After choosing eight of the hundreds of interests that you believe best define you and what you like to do, you are shown the grid of faces above, representing people who are in your vicinity. Visually, this screen looks exactly like the main screen on Grindr; and though Simkhai says that the sorting algorithm is a bit different, the fact that potential friends appear via photographs of their faces and not, say, listed by their usernames and common interests, speaks volumes about how this app will be approached by the mass public. Testing out the app for myself over the course of a week, I found myself clicking more often on the users with striking profile pictures: Since all I could see on the grid was faces, how else would I choose?
When you click on a profile, you are taken to a full-screen picture of that person, along with some basic information: Sex, age, relationship status and what they're "looking for" (the options are the same as those that appear on Grindr: chat, dates, friendship, relationship -- the famous "Random Play" of old Facebook profiles is not an option). When you find someone you like who's near, you can push a little chat bubble and talk in real time with them about ... well, either starting a poker game or starting some other kind of "game," I suppose.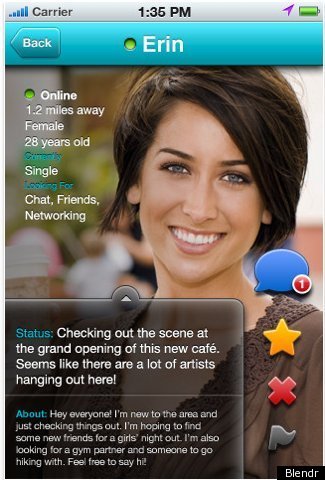 One of the coolest features of Blendr is Venues, what Simkhai calls a "heat map": It lists all nearby locations, along with how many Blendr users have checked into those places. Where this differs from other geo-location services like Foursquare is that you can actually chat with someone in real-time who is currently at that venue before you show up -- to ask questions, Simkhai hypothesizes, about how crowded it is, whether the music is any good, whether there is a line. "And then you can chat the person up when you get there," Simkhai says.
This sounds more like flirting than friendship, and the success of Grindr will likely depend on Blendr's ability to attract willing members of both sexes to its service.
Whether Blendr takes off depends on the answers to two questions:
1. Are there women out there who want to semi-randomly meet and hook up with guys just because those guys are good-looking and located close enough to them that it would be convenient to do so?
2. Will enough of these women download Blendr to make it successful?
The answer to the first question, I non-scientifically believe, is 'Yes'; this is essentially the culture of bar and dance-floor interaction, not to mention Internet dating, rapidly sped up and transported onto a smartphone.
The answer to the second question still remains to be answered by the single (or the, um, taken and non-monogamous) females of the world.
Brian Moylan of Gawker predicted that Blendr will end up like Chat Roulette, a ghost town filled with desperate men hoping that a girl will miraculously log in at some point. Frankly, if this is Blendr's fate -- to be an app totally populated with lonely straight men -- well, Simkhai probably wouldn't be too upset: Unlike on Chat Roulette, perhaps those lonely guys could find someone with a common interest, make friends and perhaps start a poker game.
"The big question that we're trying to solve here," Simkhai says, "is 'I don't know anyone, and I have nothing to do: What do I do, and who do I do it with?' There is now no better way to make new friends and get yourself out of your house and go do something."
That is one possible outcome for Blendr. What is more likely in that scenario, however, is that these men will never talk to each other and will log out of Blendr disappointed that there were no girls online while they were browsing.
Over the first days following Blendr's launch -- after mentions in the New York Times, Forbes and the Wall Street Journal -- the app does appear to have captured a particular demographic: Straight single men in their mid-to-late 20s. Granted, my tests contain a pathetically small sample size and have only taken place in Manhattan's Union Square and East Village neighborhoods; yet still, based on those tests, I would put the ratio of men to women at around 85 percent to 15 percent. So far, Blendr appears hardly more popular with women than Grindr, which doesn't even allow females to join.
What Blendr needs to figure out is this: How does it attract women, and, if it cannot, can the app survive without them? Simkhai has installed a robust set of privacy controls to protect women's safety from predators and creeps, but what it is really battling is some combination of social stigma and relationship preferences (for both sexes). Grindr has proven with its success that a sufficient percentage of gay men enjoy coming together via real-time smartphone chat; Blendr, if it is to live up to its cousin, will need to win over a similar percentage of heterosexuals to smartphone-flirt.
Support HuffPost
The Stakes Have Never Been Higher
Related
Popular in the Community