There's even a Blogger account, apparently unaffiliated with the Grindr app, devoted to the phenomenon.
The blog, called Totem and Taboo, began in 2011 to document "the unexpected tribute" paid by gay men to victims of the tragedy that took the lives of millions of Jews, as well as gays, lesbians and others exterminated by the Nazi regime. At the time, Grindr CEO Joel Simkhai told Israeli blog Abbanibi he thought the pictures were inspiring.
"As a Jew and an Israeli, I'm deeply moved by how users are coming together as a community on Grindr to share and inspire others [to] take part in [the] memory of the Holocaust," Simkhai said. "This initiative demonstrates the power and potential of Grindr, as a geo-social network that's now surpassed 3 million users, as a platform for mobilizing others to promote positive messages for the gay community."
But now it appears Grindr users are taking pictures treating the memorial less like a space for reflection and unity, and more as a tourist backdrop. Some of the men are shirtless and flexing in the pictures, while others appear to be climbing on the memorial's structures.
What started as users expressing themselves on a topic not often discussed in social networking profiles, has now become disrespectful. We strongly encourage our users to engage in a respectful manner and honor the memory of those who perished in others ways outside of the app.
Take a look at some recent Grindr profile pics taken at the memorial (below), courtesy of Totem and Taboo.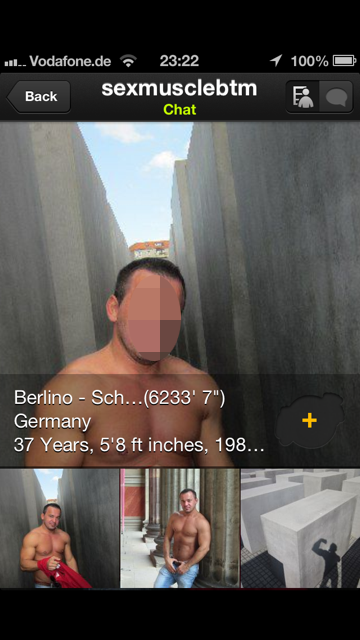 Grindr Users Post 'Sexy' Pictures From Holocaust Memorial In Bizarre, Ironic Trend
Popular in the Community