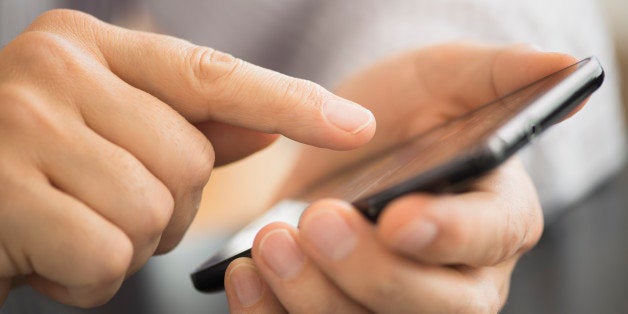 Smartphone social apps like Grindr, Scruff and Recon are associated with a greater risk for STIs like gonorrhea and chlamydia among gay and bisexual men, according to a new study conducted by the Los Angeles LGBT Center, a non-profit organization in Los Angeles, Calif.
Compared with men who met partners online or in person, men who used social apps had 25 percent greater odds of being infected with gonorrhea and 37 percent greater odds of being infected with chlamydia, the study found. However, there seemed to be no difference between the groups when it came to syphilis or HIV infection.
"As technology has benefits, it also has certain risks," said Matt Beymer, the lead researcher and an epidemiologist at the Los Angeles LGBT Center. "We want to educate gay and bisexual men about the potential risks that they may face with these apps."
The study, published online Thursday in the journal Sexually Transmitted Infections, is an analysis of the STI testing results of 7,184 men, compared with their answers on a questionnaire about their sex lives and recreational drug use. Thirty-four percent of study participants met partners through in-person social networking only, while 30 percent met partners using a combination of the Internet and in-person social networking. The remaining 36 percent met partners using a combination of in-person, online and social app networking.
According to Beymer's study, the social app users tended to be either white or Asian, well-educated and under 40 years old. While drug use wasn't the main focus of the study, Beymer also found that men who used social apps were also more likely to use recreational drugs like cocaine and ecstasy.
Because Beymer collected the data from one STI testing center in Los Angeles between 2011 and 2013, he acknowledges that his findings may not reflect men in other cities, or men who don't regularly get checked for STIs. It's also important to point out that the study doesn't establish cause or a timeline -- in other words, using the smartphone apps didn't simply result in an STI.
The findings show that even though these apps make meeting sexual partners more efficient, they could also have "the unintended effect" of creating a network of individuals that are at higher risk to contract STIs, wrote Beymer in his study.
"Our ultimate goal is not to stigmatize these apps or stigmatize in general," Beymer explained to HuffPost. "We just really want gay and bisexual men to love carefully and love safely."
Social apps like Grindr have GPS (global positioning system) technology that enables people to identify users within their immediate vicinity, and they are immensely popular among the gay community. Grindr, a pioneer in its space, launched in 2009 and now boasts over 10 million user downloads, according to the company. Los Angeles is the No. 2 U.S. metro area with the most Grindr users, after New York.
Grindr didn't comment on the study to HuffPost, but said in a statement that the company "is highly committed to promoting safe sex within the community and strongly encourages our users to engage in safe sex practices, get tested and know their HIV status." The statement also pointed to the company's health page, which gives users tips on how to get tested for STDs and how to have safer sex.
Of course, technology can also help combat STI rates, too. Sean Young, Ph.D., founder of the Center for Digital Behavior at UCLA, has found that social media sites like Facebook can be an important forum for men to discuss topics surrounding HIV, such as stigma and prevention, as well as order HIV test kits.
His 2013 study, which focused mostly on Latino and African-American men in Los Angeles, concluded that participants who posted about HIV prevention and testing in a secret HIV prevention Facebook group, as opposed to a general public health Facebook group, were more likely to post about HIV topics like prevention, testing, knowledge, stigma and advocacy. And study participants who posted about prevention and testing on Facebook had over 11 times the odds of requesting an HIV testing kit than participants who did not discuss those topics.
Young was not part of Beymer's study about social GPS apps, but praised it for highlighting the need for public health departments to research and understand technology that could influence sexual health on a large scale. Young also said the study's findings have a practical takeaway for individuals, too.
"People want easy ways to romantically and sexually connect with each other. If a technology exists that can make this process more efficient, men will discover and use it," Young wrote in an email to HuffPost. "To maintain sexual health, men using these technologies should therefore be especially knowledgeable and aware of STI risks and ways to be safe."
Related