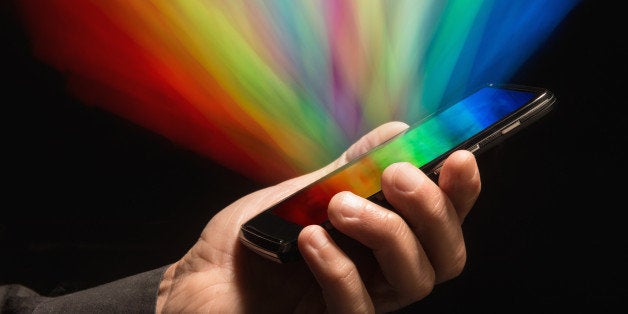 We're well aware of the reputation Grindr has. Millions of guys in just about every country around the world use it to chat, to expand their social circles and yes, in many cases, have sex. We're no stranger to the myriad of experiences that come from using Grindr. But there's a lot more that's going on in our grid.
What many people don't know about Grindr is that over the years, we've leveraged our technology and audience for purposes that go way beyond social networking. Through Grindr4Equality, we've been able to focus on social justice, here at home in the United States, but also with initiatives in places like Colombia, Syria, and Indonesia. We've educated men about their sexual health, removing barriers that prevent men from getting tested and giving them access to information on live-saving drugs like PrEP. We've helped raise funds to fight homophobia. We've used our geolocation technology to help users fleeing violence and oppression find health and legal services, and in some cases, direct them toward safe spaces for them to be themselves. We've created opportunities on a scale and reach never before seen in our community.
But there's still a lot of work to do.
As we know from our many conversations with LGBTQ activists and non-profit leaders, access to the kind of audience or technology needed to make real, impactful change is often unaffordable and out of reach. Social media has helped non-profits to connect with communities cheaply and effectively, but simply put, it's not enough. Census data should help, but you can't effectively collect data about a community that, in many cases, is afraid to identify themselves as who they really are. The information is lacking, and there simply aren't enough resources for non-profits to effectively do their jobs, which means that all over the world, there are still issues facing the LGBTQ community that desperately need solutions.
How can we expect to reach LGBTQ people on a global scale when, in some countries, being openly LGBTQ is potentially a death sentence? How can we strive to lower the HIV infection rate for people of color when, in so many communities, the pressure to stay in the closet or conform to a heterosexual lifestyle overpowers messaging around safe-sex, treatment and the availability of PrEP? One in four transgender people are living on less than $10,000 a year with little to no job-place protections. How do we turn the tide and make things better for a community that is often still being forced to live in the shadows? When lawmakers here in the Unites States are passing bills designed to make transgender people feel inhuman when they do something as simple as use the restroom? The answer is technology, and the solution -- or at least, we hope, a major step toward finding a solution -- is Hack4Equality.
Hack4Equality is a seven-week hackathon that's invites technologists around the world to work with people who have devoted their lives to making life better for LGBTQ people in every corner of the world -- to learn about the boundary-breaking work organizations like Planned Parenthood, the Los Angeles LGBT Center, the True Colors Fund, the It Gets Better Project, and OutRight Action International carry out everyday and how we can make enable them to operate faster, bigger and bolder. And in an effort to make up the difference where census data is lacking, we've given our technologists access to Grindr's highly-anonymized user data to better learn about and effectively reach the communities most in need of help.
In creating Hack4Equality, our goal was to get these technologists, brilliant minds in their own right, to learn about the reality of living as an LGBTQ person in 2016. That includes LGBTQ people who are experiencing homelessness, job discrimination and persecution in a hostile political climate. In that mindset and headspace, and with access to Grindr data and data made available by the White House's Opportunity Project (the Obama administration's open data initiative), we asked that they come together and create digital tools that can be used to combat these issues. It's simple, really. The technology is there. The information is there. The knowledge and the dedication is there. They just all needed to be connected, and Hack4Equality is that bridge.
This Sunday at our headquarters in Los Angeles, the tireless work of these dedicated individuals will culminate in a presentation of the digital tools they've created. Talented individuals who want to make a difference will connect to leverage new platforms and infrastructures, and the important conversations we've all been having with each other will culminate in important initiatives intended to push social justice up to the level it needs to be. Winners will be announced, prize money will be awarded, and the work that we started when we launched Grindr4Equality in 2012 will move on to the next level -- everything we've learned, and all the data we've collected, will be used to change people's lives.
Together we can crack the code to equality, and this is just the beginning. Progress happens when we all work together, and we're excited to be a part of the journey.
Calling all HuffPost superfans!
Sign up for membership to become a founding member and help shape HuffPost's next chapter