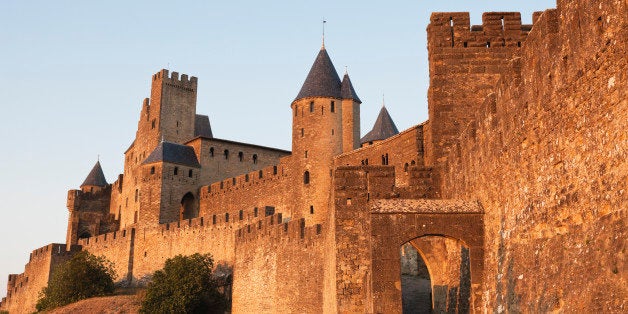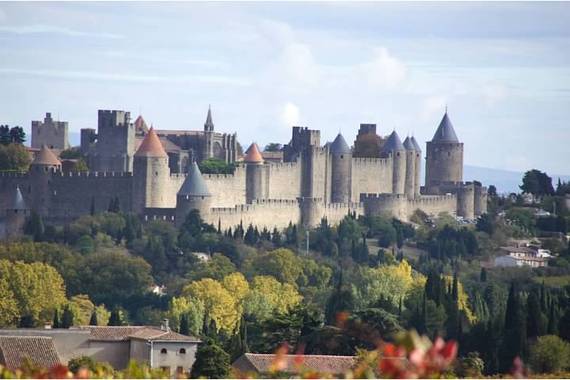 Seven weeks into our year of living in Europe, homesickness hit and hit hard.
They're inevitable-- those days that invade the life of an expat traveler. You miss home, you're a stranger in an alien place, and you're suddenly in the clutches of profound melancholia - you're in the grip of le cafard.
While the French have an apt expression for homesickness (mal du pays), I've always preferred another term for this dark visitor: le cafard, literally "the cockroach."
My husband, Joe, and I were off the grid, deep in the countryside of southwestern France. The autumn weather had turned decidedly cold under steely gray skies and thick cloud cover--certainly not conducive to lifting one's spirits. And everything we visited was deserted. It was off-season, of course, and fellow travelers were scarse. Though we never imagined our adventure abroad would be daily champagne and constant cheer, we didn't expect the blues to make their appearance so soon.
Exploring endless desolate, medieval stone hamlets of the Dordogne and Lot had darkened our mood. Everything had been touched not only by the savagery of the Hundred Years' War between the French and English in the fourteenth and fifteenth centuries but also by the thirteenth-century Cathar Crusade. Prior to leaving for Europe, I'd read extensively about the Cathars and decided we must make a pilgrimage to the location of this shameful yet fascinating period of history.
The bloodthirsty campaign of the pope, ironically named Innocent III, to eliminate the dualist offshoot of Catholicism in Languedoc-Roussillon was conducted with abandon against the heretics and spared no one--men, women, children, and the elderly were all slaughtered. And when Catholics refused to give up their Cathar neighbors, one religious leader (a monk, no less) famously declared, "Kill them all. God will know his own."
In a sunnier clime and with connectivity to the wider world, this depressing history might have seemed remote and intriguing. But against a backdrop of unrelenting gray, it left us feeling fogged in and low. Very low. After visiting so many places that witnessed sieges, starvation, plagues, pestilence, and butchery, even the cheeriest of souls would have succumbed to its grip.
Melancholia, tinged with some serious mal du pays, reared its ugly head without warning. Perhaps we'd had our fill of cold, antiquated spaces and lonely, abandoned stone villages. Or perhaps the total absence of others to provide even a bit of people-watching diversion had brought us down. But maybe we were just in a trough of normal travel vicissitudes. To put it simply, we missed our children and we missed our country--we'd come down with a serious case of le cafard.
Despite knowing that continuing to immerse ourselves in the brutal extinction of the Cathars was not what we needed, we plowed ahead toward our next destination village, just north of Carcassonne. En route, we stopped and hiked the steep Cathar hill town of Cordes-sur-Ciel, where the region's heretics took refuge, and took a midday break in Albi (home of Toulouse-Lautrec), with its austere, imposing redbrick cathedral of Sainte-Cécile, unlike any other church in the world. The nave's cylindrical exterior was like a space shuttle ready for launch. Sainte-Cécile was built after the Cathars were destroyed to remind others thinking of defying Rome, lest they forgot, who was in charge.

Back on the road, we drove farther south and finally into the constricted streets of Caunes-Minervois, where our Internet-enabled hotel awaited. It had been over a week since we'd communicated with our children, and we were lost in reverie about what we would learn when we fired up our laptops. Our son had had an interview the last time we spoke. Did he get the job? we wonder. Our daughter was coming down with a cold. Was she feeling better? Did my latest Amex payment process, and was the house we hoped to rent in Spain still available?

Our home for the next three nights was the Hôtel d'Alibert, a townhome in the heart of the medieval quarter. The affable but quirky owner (you cannot arrive at the hotel between 2:00 and 5:00 p.m., because he is napping--it says so right on the door) lets us in through the hotel restaurant at just after five. The front portal remained inexplicably locked all day.

The coda to our arrival in Caunes-Minervois was this: "Yes, the hotel has Wi-Fi," the proprietor confirmed, "but I'm afraid it's not working; there have been problems."
On the verge of tears in yet another deserted town with no means to connect, we dragged our devastated spirits up the spiral stone stairway to our room and dropped our luggage. Le cafard attacked with a vengeance. For the rest of the evening, in a fit of pique, we contemplated the possibility of returning home - of giving up on this gap year business -- but agreed after a few glasses of wine that the morning light would bolster our resolve to rally.