NEW YORK ― Thalia Cassuto, 86, remembers when birth control was banned in some states.
She can still picture herself in 1955, 25 years old and walking up the stairs of a Planned Parenthood clinic in Queens to get her first diaphragm. Birth control was legal in New York at the time, but not in neighboring Connecticut.
"In those days, if you did it before you were married, you had to really hide it," she said.
Cassuto, then a third-grade teacher, said she was "still growing up" in her mid-twenties and wanted to take some time to focus on her career before becoming a mother. "I was out to be certain I was a professional and good at what I was doing before I was going to go home and have children," she said.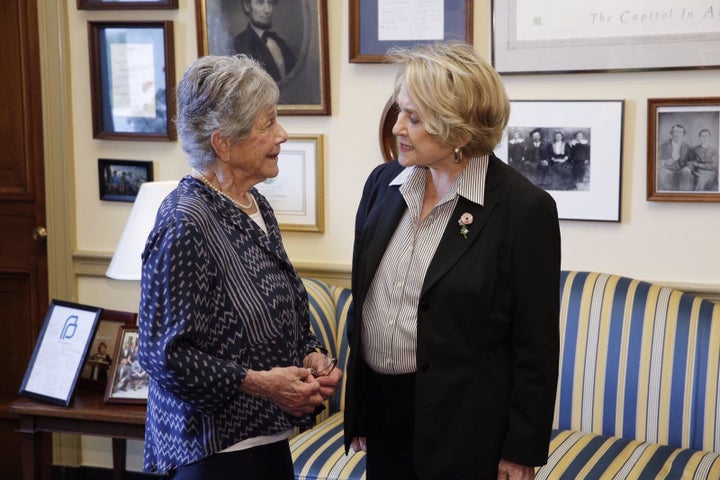 A decade later, in 1965, the Supreme Court ruled in Griswold v. Connecticut that the state's ban on contraception ― a 19th-century law that prohibited any person from using "any drug, medicinal article or instrument for the purpose of preventing conception" ― violated "the marital right to privacy." In 1972, the high court clarified that unmarried people also had the right to use birth control without "government intrusion."
Cassuto, now a women's rights activist in upstate New York, thought during the Obama administration that the fight to protect birth control access was over and won. But 52 years after the landmark Griswold decision, progress on the issue seems to be moving in reverse.
President Donald Trump and Republicans in Congress are moving to defund Planned Parenthood, the nation's largest provider of birth control to low-income women. And the Trump administration is now rolling back an Obama-era rule that required employers to cover contraception in their health insurance plans ― a benefit that has guaranteed birth control access at no cost to 55 million women.
The moves are "part of a large sweep of things that mean that men in blue suits are telling us what to do with our bodies," Cassuto said. "They're not understanding the dignity of women."
Cassuto traveled to Washington, D.C., on Wednesday, the anniversary of the Griswold decision, to lobby her congressman the issue. She has also attended town halls in the district of Rep. John Faso (R-N.Y.) and even showed up at his local office to denounce his vote against Planned Parenthood funding.
"I was taking my love of country for granted under President Obama," she said. "I don't take that for granted anymore ― I know I have to work for it. It's like my country is sick, and I have to take care of it."
"People think there was a glorious past. There wasn't. It wasn't glorious at all. It was frightening."
Nearly 9 in 10 sexually active women have used birth control, according to the Centers for Disease Control and Prevention. Before President Barack Obama passed the Affordable Care Act, more than 20 percent of American women of childbearing age had to pay out of pocket for contraception. Now, only 4 percent of women are shouldering the cost. The law, in addition to federal investments in family planning through organizations like Planned Parenthood, has contributed to an all-time low in unintended pregnancy and the lowest U.S. abortion rate since the procedure became legal in 1973.
Now that Republicans are in charge, they are framing the issue as one of "taxpayer-funded abortion." The longstanding Hyde Amendment prevents any federal dollars from paying for abortions, except in cases of rape, incest and protecting the life of the mother. However, because some of Planned Parenthood's clinics offer abortion services, Trump and many GOP congressman believe the organization should not be eligible for funding that subsidizes contraception for low-income patients. Further, because some people believe (erroneously) that certain forms of birth control are akin to abortion, Trump has decided to allow any employer or insurer to refuse to include any of it in their health plans for moral reasons.
Tom Price, the secretary of Health and Human Services, said the move will "safeguard the deeply held religious beliefs of Americans."
Dawn Laguens, an executive at Planned Parenthood, said the Griswold anniversary is a reminder of what's at stake under a government that decreases birth control access.
"Over the past half century, birth control has provided enormous benefits to women and their families, and has been nothing short of revolutionary for women and society," she said in a statement. "But under the Trump administration, we are now facing an immediate future where a woman's ability to make a most basic and personal decision ― when and if to have a child ― could be limited by her boss."
Cassuto said she "shriveled" when she heard Trump's "Make America Great Again" campaign slogan and remembered bans on abortion and contraception, and a society where white men were considered "better" than other people.
"That's the problem," she said. "People think there was a glorious past. There wasn't. It wasn't glorious at all. It was frightening."
Before You Go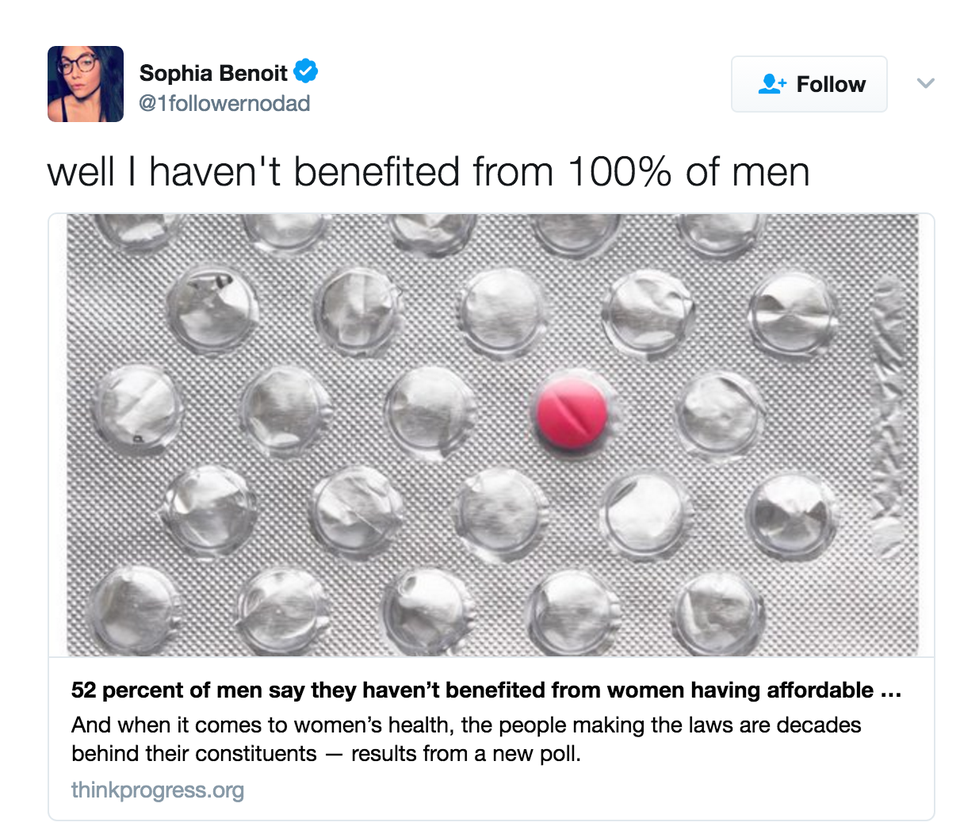 16 Women Respond To Men Who Don't Think They Benefit From Women's Birth Control Access
Popular in the Community