In March 2016, the US Fish and Wildlife Service (USFWS) proposed delisting the grizzly bear in the Greater Yellowstone Ecosystem in portions of Wyoming, Montana, and Idaho. As mandated by the Endangered Species Act (ESA), the Service opened a 60-day public comment period. They received a deluged of responses--63,000 in all--many scathingly opposing delisting the great bear.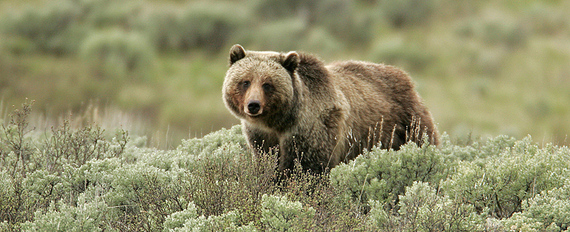 Yellowstone Grizzly Bear, NPS Image
Delisting is in part a numbers game. The Yellowstone grizzly bear population, which has grown from 136 bears in 1975 to an estimated 750 or more today, certainly meets the numerical delisting criteria in the federal Grizzly Bear Recovery Plan. USFWS director Dan Ashe called the Yellowstone grizzly bear recovery ". . . a historic success for partnership-driven wildlife conservation under the ESA." He asserted that ". . . final post-delisting management plans by these partners will ensure healthy grizzly populations persist across the Yellowstone ecosystem long into the future."
So why all the delisting opposition? Proposed grizzly bear hunting in Idaho, Montana, and Wyoming, which would open soon upon delisting, fuels much of it. Experts such as newly-retired 35-year grizzly bear recovery coordinator Chris Servheen maintain that hunting will reduce conflict between bears and people and check a grizzly bear population deemed at carrying capacity.
In the past few years, grizzly bears have been roaming increasingly onto the prairie east of the Continental Divide--reclaiming their ancestral Pleistocene range in a now human-dominated landscape. Consequently human-bear conflicts, which include livestock depredation, have escalated. As is the case with state-managed hunts for other species, a hunt would legally enable people to kill grizzly bears in a presumed sustainable manner, thereby reducing conflicts. The environmental community and many scientists disagree, because such a hunt will make a species with one of the lowest reproductive rates of any terrestrial mammal vulnerable to extinction. Furthermore, new science in the Upper Midwest shows that post-delisting wolf hunting has failed to increase human tolerance for the species. This raises doubts about whether such a hunt would do so for the grizzly bear.
The death of a beloved Yellowstone 25-year-old bear named Scarface, which has come to light recently, exemplifies this species' vulnerability to humans. This iconic bear acquired his name due to his battle-scarred face. At 600 pounds in his prime, he was a park favorite. In 2015 he emerged from hibernation very thin, in obvious physical decline. Biologists expected that he wouldn't live another year, due to his advanced age. However, Scarface wouldn't have a peaceful death. In November 2015, the bruin was shot illegally outside Yellowstone, in Gardiner, Montana. USFWS issued a media release about the killing and launched an investigation. Scarface's death triggered outrage and grief in the environmental community and among park visitors. It also caused people to question the wisdom of delisting this species at a time when there continues to be so much human intolerance for it.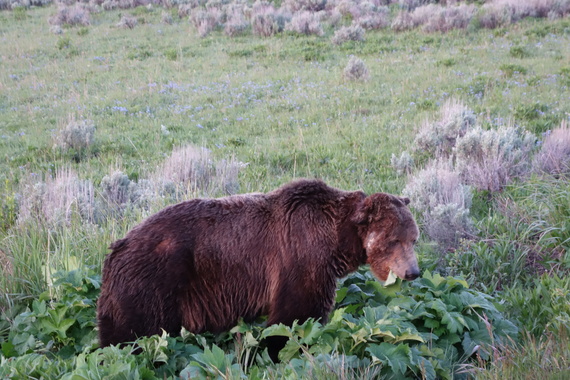 Scarface, Photo by Cristina Eisenberg
This is the second delisting attempt for Yellowstone Grizzlies. In 2008, with the Yellowstone grizzly bear population at 600, meeting ESA recovery criteria, the Service filed a delisting proposal. However, scientists had found that grizzly bear reproduction was down, due to a decline in whitebark pine, a protein-rich food. While grizzly bears can eat over 270 different foods, they require high protein at specific times of year--such as before hibernation. Protein-rich, high-fat items like pine nuts enable them to pack on pounds. For breeding females, body fat determines their ability to reproduce. Pregnant females going into hibernation with insufficient body fat absorb their fertilized eggs. A successful lawsuit resulted in renewed protection for the great bear.
Stay tuned for next steps with grizzly bear policy. In the meantime, people such as Montana Fish, Wildlife, and Parks grizzly bear management biologists Tim Manley and Mike Madel will continue to do what they've been doing for decades--working to help people and bears coexist. Their caring and tireless commitment to helping bears survive in increasingly human-dominated landscapes has done much to advance conservation. Such ongoing efforts are essential as we move toward delisting.
As the ESA comes of age in the 21st century, we must find a way to move gracefully and ethically forward in applying this law, whose original purpose was species recovery, not indefinite protection. Grizzly bears will be delisted sometime soon. In preparing to do so, scientists will continue to add to what we know about this species' needs, factoring in climate change impacts and other issues that didn't exist in 1975.
US Geological Survey scientist Tabitha Graves is just such a researcher. In her Earthwatch Institute project, Climate Change, Huckleberries, and Grizzly Bears in Montana, she and citizen scientist volunteers are studying productivity of this crucial pre-hibernation bear food. A warming climate and pollinator decline can alter huckleberry availability and size, negatively impacting grizzly bears and other species. However, her findings may take several years to emerge.
This begs the question, will the grizzly bear be delisted this time around? Maybe, but not until concerns about climate change, population viability, and conflict with humans are addressed in good faith using best science.
Popular in the Community